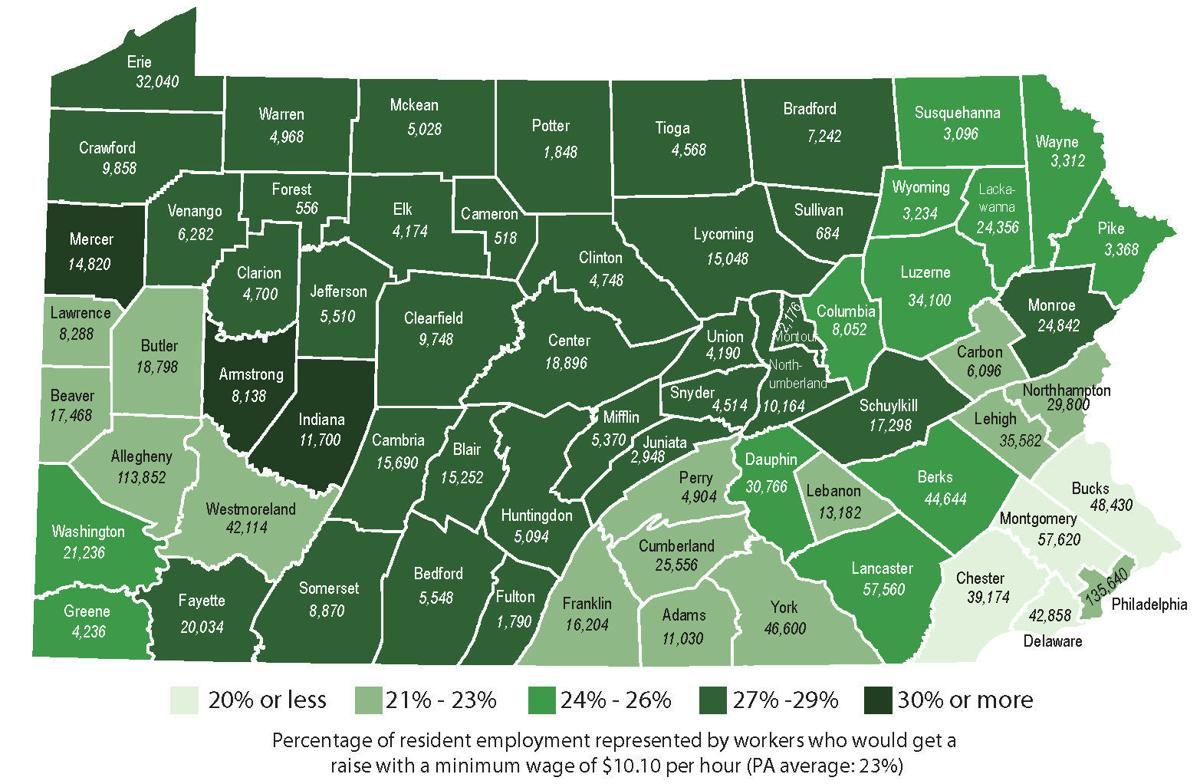 A new report from the Keystone Research Center in Harrisburg says a minimum wage increase to $10.10 would directly boost the wages of 25,556 workers in Cumberland County, or 23 percent of the county's resident workforce.
Whether that is a good thing is at the heart of two research centers' focus.
The study released Wednesday, "Giving the Local Economy a Boost: The Impact of Raising the Pennsylvania Minimum Wage to $10.10 Per Hour By County," shows that, overall, a minimum wage increase would affect 1.2 million workers in Pennsylvania. In Cumberland and Perry counties, the study said the wage increase would mostly affect adults (89.5 percent) who work full-time (56.3 percent).
The study said the majority of the affected workers were women (59.8 percent) who have at least graduated from high school (36.9 percent) or have some college experience (37.9 percent). Those affected were also most likely to be unmarried without children (47.6 percent), be a married parent (22.5 percent) or be married with no children (21.7 percent). Only 8.2 percent of the workers affected were single parents, according to the study.
The Keystone Research Center said raising the minimum wage is important because a full-time minimum wage worker has an annual income of $15,080, which is below the poverty line for a family of two.
"A minimum wage increase to $10.10 is broadly popular with Pennsylvania voters, would boost the economy, benefit the state's rural communities and, frankly, is long overdue," said Mark Price, labor economist at the center.
"By passing legislation to raise the minimum wage to at least $10.10 an hour, not only will over 1 million working families get a much needed raise in their wages, it will help boost the local economies of communities across Pennsylvania," said Rick Bloomingdale, president of the Pennsylvania AFL-CIO. "Raising the minimum wage will not only fight poverty, it will help increase profits for local businesses because every dollar goes right back into the local economy."
The Employment Policies Institute out of Washington, D.C., on Wednesday argued in its own news release that the study was faulty and did not include statistics on what else a minimum wage increase would affect.
"Policymakers should take this minimum wage 'research' from the union-backed Keystone Research Center with a grain of salt, if not the whole shaker," said Michael Saltsman, research director at the institute. "The report achieves its flawed conclusions about the county-by-county impact of a minimum wage hike to $10.10 by ignoring corresponding job loss associated with the 39 percent wage increase. A recent, more accurate analysis of Pennsylvania's proposed $10.10 wage hike — authored by economists at Trinity and Miami University, and based on research from the nonpartisan Congressional Budget Office — finds that a move to $10.10 would cost the state over 30,000 jobs, 19,600 of them among women. Given this impact, it's clear why the Keystone researchers chose to ignore this side of the equation."
"The 39-percent minimum wage hike that labor activists in Pennsylvania are calling for would bring pain rather than gain for many less-skilled jobseekers," he added. "Policymakers in Harrisburg should consider better targeted and less harmful options such as creating a state supplement to the Earned Income Tax Credit."
Just this past year, 29 states have increased their minimum wage above the federal government wage of $7.25, which is where Pennsylvania's minimum wage currently stands. There are proposals in the state Legislature that aim to change that, including Rep. Patty Kim's bill that would increase the minimum wage to $9 per hour immediately and then $10.10 per hour a year later.
"Keystone Research Center did a great job in explaining the impact of a minimum wage increase for workers. An increase to $10.10 would add $43.3 million to wages in Dauphin County, money that would most likely go right back to our local economy," said Kim, who represents the 103rd District in the county.
A minimum wage increase bill Kim introduced last year failed to gain traction in the Legislature.
The Keystone Research Center's study was released Wednesday in conjunction with a news conference in Harrisburg and 10 events held around Pennsylvania.