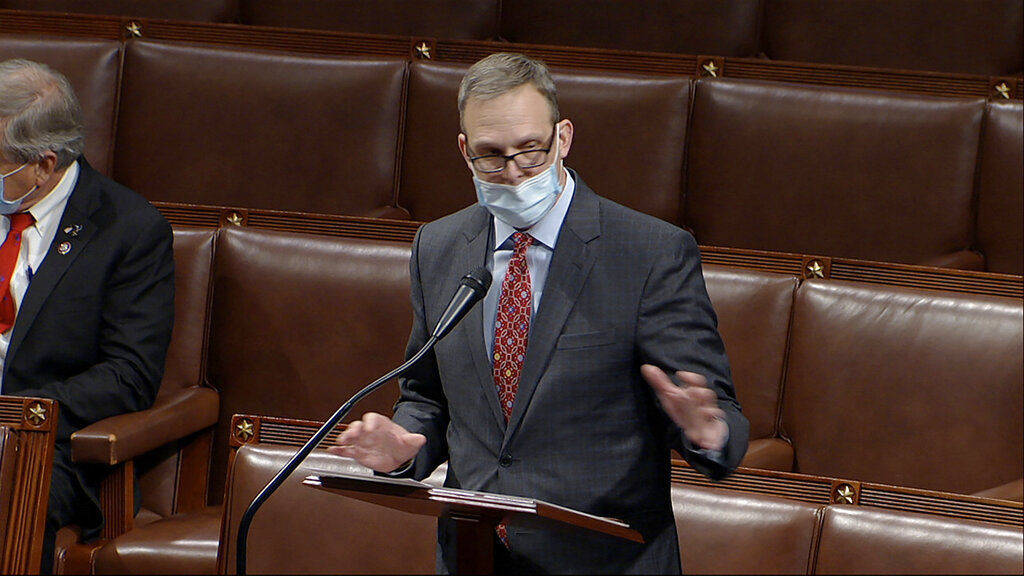 Rep. Scott Perry played a key role in a late-breaking plan by President Donald Trump to oust his own acting attorney general and invalidate Georgia's election results, the New York Times reported Saturday night.
The Times identified Perry, whose district includes Carlisle and eastern Cumberland County, as the previously-unidentified figure who introduced Trump to Jeffrey Clark, a U.S. Justice Department official sympathetic to Trump's conspiracy theories about voter fraud.
Perry and Clark discussed a scheme to send a letter to Georgia officials informing them of investigations into voter fraud, although no substantive investigations of such existed, in an attempt to justify invalidating the state's results, the Times reported.
Trump reportedly liked the plan enough that he discussed ousting the current Acting U.S. Attorney General, Jeffrey Rosen, and replacing him with Clark in late December, according to the Times' sources.
The Times' report places Perry at the center of efforts to keep Trump in power despite having lost the election - a gambit that culminated in the Jan. 6 attack on the U.S. Capitol, as a group of Trump supporters stormed the building in an attempt to prevent Congress from making the final count of Electoral College votes.
A myriad of Democratic officials at the state and federal level on Sunday called for Perry, a Republican, to step down or possibly be expelled from the House of Representatives.
PA Attorney General Josh Shapiro posted to Twitter that Perry "ought to familiarize himself with Section 3 of the 14th Amendment," referring to the section of the U.S. Constitution which states that no person "engaged in insurrection or rebellion" against the Constitution, or who has "given aid or comfort to the enemies thereof," may hold office.
Eight of Pennsylvania's nine U.S. Representatives, including Perry, voted against accepting their own state's Electoral College results, having previously issued letters and statements alleging that Pennsylvania's election procedures were illegal, despite a multitude of court opinions finding otherwise.
Perry's rhetoric also went beyond those legal arguments, and became increasingly conspiratorial as time progressed after the Nov. 3 election.
Speaking on the House floor hours after the Jan. 6 attack, Perry repeated the false claim that more votes were cast in Pennsylvania than voters who voted, and alleged that Pennsylvania's ballot drop box policy had facilitated illegal ballot harvesting, despite no evidence of such existing. He also insisted that state officials co-mingled late arriving ballots to sabotage a Supreme Court order, which they did not.
During impeachment hearings for Trump shortly thereafter, Perry used his floor time to suggest that House Speaker Nancy Pelosi had known about plans for the attack on the Capitol but allowed it to happen, a conspiracy theory that has circulated on far-right internet forums.
Despite his hard-right stances, Perry is actually the most vulnerable Republican in Pennsylvania's Congressional delegation, having won re-election in 2020 with 53.3 percent of the vote against Democratic challenger Eugene DePasquale; given the upcoming redistricting, however, it is unclear what Perry's 2022 fortunes may look like.