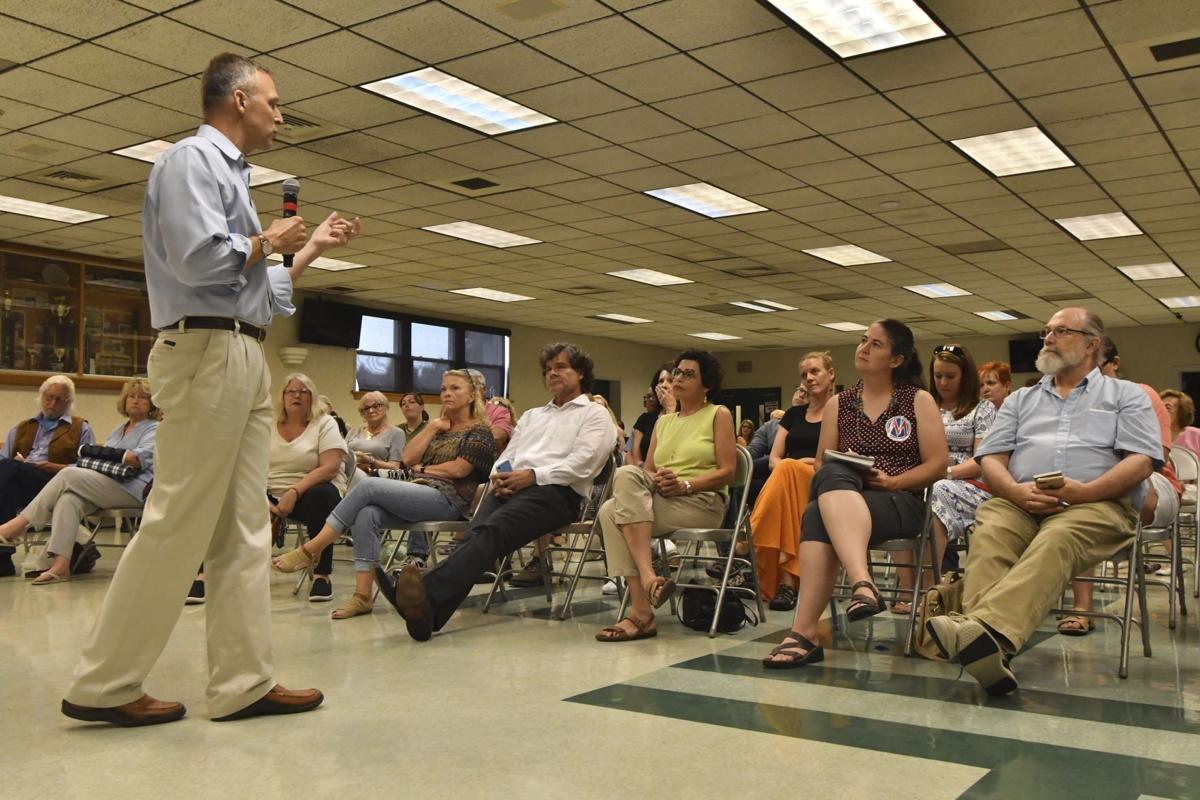 A war of words has raged over the past several weeks between Republican legislators and the Democratic Wolf administration over the latter's policy regarding nursing homes' admission of patients who had been hospitalized with COVID-19.
But the core assertion of this critique — that requirements for nursing homes to accept COVID-19 patients correlate to a greater rate of deaths in senior care facilities — is not borne out by the data, at least yet.
This isn't to say that the policy is not a matter of concern, according to industry experts. But the outcomes related to that policy aren't clear, even using the data the legislators say substantiate their claims, particularly given inconsistencies in the way that data is reported.
"We're digging into that data now, and we don't have the data yet — and we may never have it — that shows this is exactly what happened with COVID-positive residents if they came into a nursing home and spread this virus," said Zach Shamberg, CEO of the Pennsylvania Health Care Association.
The PHCA has raised alarms with Gov. Tom Wolf's administration over Pennsylvania's policy, Shamberg said, because it could create an adverse impact "given what we know about the virus, and given what we know about nursing homes and who they care for."
But, Shamberg said, "I don't know that we have the data to show that."
The premise of the political debate, however, is that the data does show it, specifically in five states.
That debate was highlighted last week when U.S. Rep. Scott Perry featured House GOP Whip Steve Scalise in a press call with Pennsylvania reporters, in which Perry and Scalise discussed the letters Scalise's subcommittee sent to five governors, including Wolf, whom Scalise said had gone against federal guidance on nursing home admissions, and whose states had experienced a more adverse impact in nursing homes from COVID-19 as a result.
"Unfortunately, what we found out was the largest percentage of COVID deaths among seniors in nursing homes was limited to five states, and it was five states who decided to go in a different direction from the federal standard," Scalise said during the June 30 press call.
But the data referenced in Scalise's letters suggests that many of the states that have experienced the most severe COVID-19 death rates in nursing homes did not receive the disapproving letters from Scalise's committee.
In fact, one of the states with the highest rate of COVID-19 lethality in nursing homes had followed the policy that Perry and Scalise suggested Pennsylvania should have adopted.
In an email, Perry's spokesperson, Laura Detter, said Perry "is unable to answer" for the inconsistencies.
"Rep. Perry is not on the House Select Subcommittee on the coronavirus crisis and was not a co-signer of the initial five letters that were sent to governors," Detter said.
The guidance at issue is a March 4 memo from the federal Centers for Medicare and Medicaid Services, which advises nursing homes that they "should admit any individuals that they would normally admit to their facility, including individuals from hospitals where a case of COVID-19 was/is present."
If a nursing home cannot take the proper precautions against transmission, CMS wrote, it should wait to accept any residents who are or may be COVID-19 positive.
On March 18, the Pennsylvania Department of Health issued its own guidance that nursing homes in Pennsylvania "must continue to accept new admissions and receive readmissions for current residents who have been discharged from the hospital who are stable to alleviate the increasing burden in the acute care settings. This may include stable patients who have had the COVID-19 virus."
The result, according to Perry and Scalise, is that Pennsylvania nursing homes were forced to re-admit residents who had been hospitalized with COVID-19, and that these residents subsequently accelerated the spread of the virus in their nursing facilities.
"CMS did not mandate COVID-19 patients back to nursing homes," Perry said, but Pennsylvania did, and "people are still dying and the policy is still in place."
Pennsylvania's policy was also mirrored in four other states, Scalise said — New York, New Jersey, California, and Michigan.
"What we saw when you take the five states that went against the CMS guidelines, there was a dramatic increase in those states" regarding COVID-19 deaths in nursing homes, Scalise said, which is why his committee sent letters demanding answers as to why those five states had pursued such a policy.
Metrics
But the data appended to the letter Scalise's subcommittee sent to the five states, as well as official CMS data, does not fully bear that out.
When asked what measures were being used to determine the severity of COVID-19 impacts in nursing homes, Perry and Scalise frequently referred to the portion of total COVID-19 deaths in a state that are attributable to nursing homes and other long-term care facilities for seniors.
In Pennsylvania, for instance, 68% of the total COVID-19 fatalities in the state are among long-term care facility residents, according to state health department data, which is included in the think tank's data compilation.
This statistic presents two problems, however.
First, the Committee to Unleash Prosperity compilation indicates that some of the states that were singled out by Scalise's committee actually had comparatively low rates of long-term care fatalities versus total deaths; and that the states with the highest numbers, conversely, did not receive the letters.
Michigan received a letter from Scalise even though, at the time the letters were written on June 15, only 41% of the state's COVID-19 deaths had come from long-term care sites. That ratio has since declined, according to Michigan data.
On the other hand, New Hampshire, Rhode Island and Minnesota all have had a greater share of their state's COVID-19 deaths attributable to such facilities than Pennsylvania has, according to the Committee to Unleash Prosperity compilation, but were not subject to scrutiny by Scalise's committee.
Secondly, that statistic by itself is not particularly informative; after all, the ratio of long-term care deaths to total deaths will decrease as the number of deaths outside long-term care facilities increases, which is clearly not the desired outcome.
An alternative statistic to judge the impact on nursing homes would be the number of deaths in long-term care facilities relative to the total population in those facilities. The Committee to Unleash Prosperity data includes such an estimate, as does the official COVID-19 nursing home data from CMS itself.
CMS numbers do not exactly match the think tank's compilation, but appear to be more consistent between states.
This is because CMS data only runs, as of this writing, through June 21, as opposed to including updates at whatever interval states issue them. The Committee to Unleash Prosperity also appears to have included deaths from states that report COVID-19 fatalities in personal care or assisted living communities, which other states may not; CMS data, on the other hand, includes only facilities that meet the CMS definition of a nursing home.
CMS began collecting data weekly in May, but asked nursing homes to report COVID-19 totals going back to the beginning of the year. Additionally, the Committee to Unleash Prosperity data relies on long-term care facility population projections from the American Health Care Association, which may be different from CMS data.
The ranking of states in terms of COVID-19 deaths to facility population, however, is roughly comparable between both data sets, despite the respective limitations of each.
In either set, looking at the ratio of resident deaths to total long-term-care facility residents, the five states targeted by Scalise's committee do not stand out.
The Committee to Unleash Prosperity estimates that COVID-19 has killed 3.4% of Pennsylvania's long-term care facility residents; CMS reports an average of 48.5 deaths per 1,000 residents among reporting nursing homes in Pennsylvania.
Both data sets have the same top four states in terms of COVID-19 severity in long-term care facilities; Massachusetts, Connecticut, Rhode Island, and New Jersey, the latter of which was the only state to receive direct criticism from Scalise's committee.
Massachusetts, for instance, saw a COVID-19 lethality for long-term care residents that was two to three times higher than Pennsylvania's, with the think tank estimating the state has lost 9.6% of its total long-term care resident population to COVID-19, and CMS data indicating an average death rate of 110.1 per 1,000 residents in Massachusetts nursing homes.
Shamberg cautioned that both the data issued by states, and that collected by CMS directly from nursing homes has been inconsistent, with miscounts and misattributions of deaths being corrected over time.
This makes is difficult to prove or disprove the theorem that readmission policies are a key determinant.
"I actually reached out to the other four states where these orders were issued, and I just said 'can we get a call together, because I want to talk about what you're seeing based on this mandate,'" Shamberg said. "I hope to learn more as we have these conversations, but we don't have the data yet that would show a direct correlation."
Policy prescriptions
Massachusetts also presents a test case, given that the state enacted the exact policy that Perry and Scalise claimed would have reduced nursing home deaths in Pennsylvania.
Last week, the congressmen were asked by a reporter what should have been done with COVID-19 positive nursing home residents instead of having them return to their facilities. Perry and Scalise said Pennsylvania should have set up separate quarantine facilities where residents discharged from hospitals would be housed.
"I understand options were offered to set up temporary hospitals" and other segregation facilities for nursing home residents, Perry said, but "those options were rejected out of hand" by Wolf.
However, Massachusetts Gov. Charlie Baker did what Perry and Scalise suggested. On March 27, Baker announced the state would create "dedicated skilled nursing facilities" for those with a COVID-19 diagnosis, having patients who needed nursing care discharged to those facilities instead of a regular nursing home.
That plan had to be modified in April amid difficulties in controlling the spread of COVID-19 among patients who were being relocated to different facilities, according to the Boston Globe.
Pennsylvania Health Secretary Dr. Rachel Levine, in defending the Wolf administration's policy, has argued that returning COVID-19 patients to the nursing homes where they previously resided has not affected infection or death rates — after all, the nursing home is where they contracted the disease to begin with, Levine has argued.
Rather, the prevalence of COVID-19 in nursing homes is tied to the prevalence of the virus in the surrounding community, Levine has said, which increases the chances that a nursing home staff member will unknowingly bring the virus into the home.
"In a community where the prevalence of COVID-19 was much higher, there is a greater chance the nurse could become an asymptomatic or pre-symptomatic carrier, and then unknowingly bring the virus into a facility," Levine's spokesman, Nate Wardle, said this week.
Parallel to this argument, one correlation in the Committee to Unleash Prosperity and CMS data stands out. Those four states found to have the highest death rate in both data sets are also the four states with the highest population density in the nation.
Levine and Wolf have faced significant criticism for their handling of Pennsylvania nursing homes and other long-term care facilities during the pandemic.
Pennsylvania was one of the last states to roll out a comprehensive testing plan for all nursing homes, announcing in May that the Pennsylvania National Guard would be used to implement regular population testing. The move came on the heels of news reports that the state health department had developed a testing and containment plan for nursing homes, but failed to implement it amidst fumbles in finding staff and testing supplies.
This is the PHCA's core issue with the way the pandemic has been handled, and one that makes it more difficult to get accurate statistics, Shamberg said.
Lack of testing, and testing delays, make it difficult to gauge how many residents are returning to their nursing homes from hospitals still showing positive for COVID-19.
"Right now, there has to be a test, but a resident's test result doesn't have to come back before they're discharged from the hospital," Shamberg said.
Data through CMS is available, he said, indicating the number of discharges from hospitals to nursing homes of patients who had been treated for COVID-19, but that doesn't mean they ever had a confirmed test result.
"It means they were treated for COVID in the hospital. It doesn't necessarily mean they were COVID positive or negative when they came back to the nursing home," Shamberg said. "It's one of the reasons we've advocated for testing for so long, and why we've been so adamant that nursing homes should not have to accept a resident that hasn't had a COVID test."