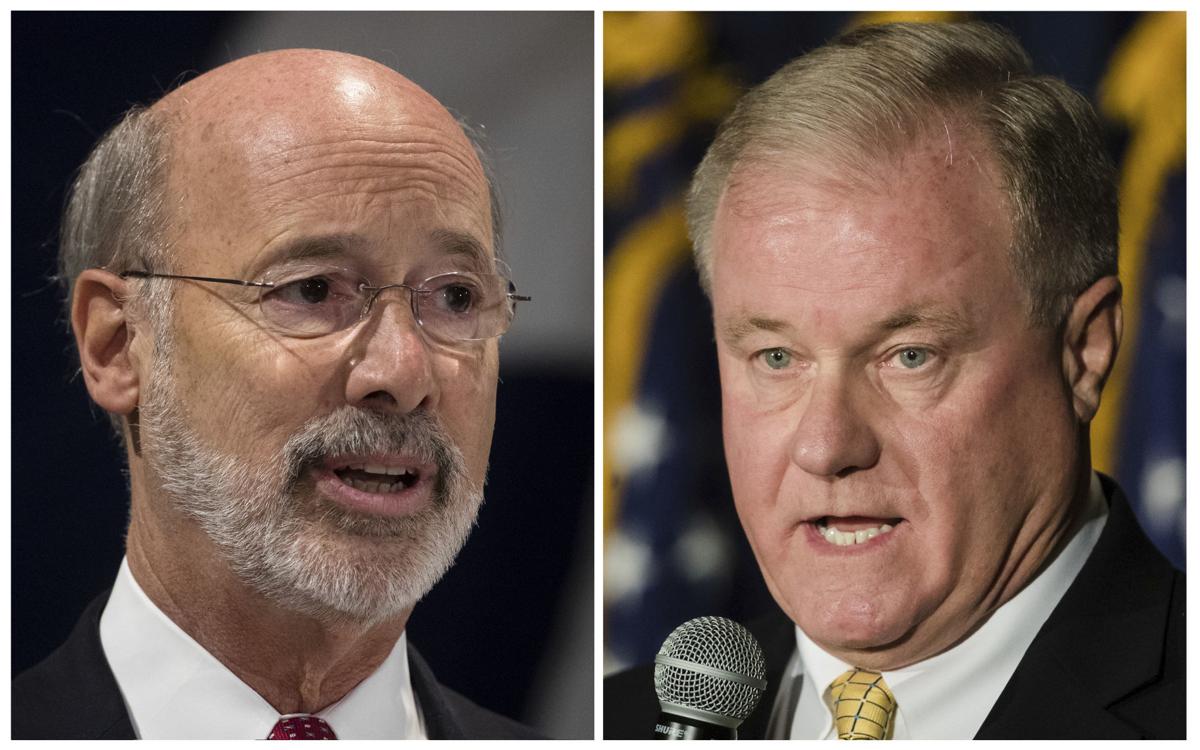 No matter the outcome, the education rhetoric in the Pennsylvania governor's race has already upended some of Harrisburg's political orthodoxy.
Namely, conservatives have been blindsided by GOP candidate Scott Wagner's 180-degree turn on education spending, a change to the playbook that some say is obscuring the real issue, one that will be decided by the courts if the governor and Legislature don't act soon.
"The election rhetoric on both sides has become really disappointing. It's become entirely political rather than substantive," said Marc LeBlond, an analyst for the libertarian-leaning Commonwealth Foundation.
"We're at the point where we can either legislate this, or the court is going to issue an order to do something," LeBlond said.
In addition to his mathematically dubious pledge to put an additional $1 billion of state funding into education without raising taxes, Wagner has gone after Democratic Gov. Tom Wolf for suggesting that the state distribute all of its local education aid through the new "fair funding" formula.
That formula, passed as Act 35 in 2016, is currently used only to allot new state education dollars — previous apportionment levels are locked in under a legislative clause called "hold harmless," whereby local school districts cannot receive less funding from the state than they did in a previous year.
Because of this, only about 8.8 percent of the state's basic education aid — that which has been added since 2016 — is being apportioned through the "fair funding" formula, according to state Department of Education data.
Wolf's team clarified that the governor did not want to reapportion state education funding overnight, but likely phase the Act 35 funding formula in over a number of years.
But Wagner jumped on the comment, using the talking point that Wolf wants to cut funding for 362 school districts, based on an analysis of districts that are currently over-funded relative to a scenario in which all state education assistance was apportioned through the new funding formula.
That formula takes into account a number of factors, including a district's poverty levels, real estate values, density, need for special programs, and others.
But generally speaking, revoking the hold harmless funding provision and using the Act 35 formula would pull money away from districts that have seen declining populations, but maintained their total dollar figure of state education aid due to hold harmless. This has caused per-pupil state subsidy levels to skyrocket for districts with declining enrollment, and vice-versa.
This phenomenon has long been lambasted by conservatives.
Rather, organizations such as the Commonwealth Foundation contend that revoking hold harmless and using the Act 35 formula for all state education funding is a perfect conservative solution — making government spending more efficient without increasing the dollar figure overall.
"You have this argument that we need more money, even though we also admit that the money we already have is spread around in an ineffective manner," LeBlond said. "Hold harmless is the ultimate sort of preserve-the-system, status-quo funding scheme."
Wagner's position over the past three months has been a turnaround.
In 2015, Wagner wrote an editorial in the Pottstown Mercury stating that "one of the most needed changes in the way we fund schools is the elimination of what is called the 'hold harmless' clause," and criticizing Wolf's call for additional education dollars, stating that "the bottom line is a lack of money is not the problem, and additional money is not the solution."
Wagner spokesman Andrew Romeo said last week that Wagner "worked with Democrats and Republicans to implement the 2016 fair funding formula, which keeps hold harmless in place but also ensures new dollars are allotted in a way that accounts for growing districts."
"Scott does not and never has supported running all public education dollars through the 2016 formula," according to Romeo.
But regardless of whether Wagner wins or Wolf sees a second term, a future governor will need to grapple with the possible outcomes of the William Penn School District vs. Pennsylvania Department of Education case.
That suit, currently being heard in Commonwealth Court, was levied by William Penn in cooperation with five other school districts that claim the state is violating its constitutional requirement to "provide for the maintenance and support of a thorough and efficient system of public education."
The crux of the school districts' argument is that, because Pennsylvania provides low levels of state education funding, districts are forced to rely mostly on local property taxes, making education opportunities largely a function of where a student lives.
Many observers predict that a court decision in favor of the plaintiffs will force the governor and Legislature to begin re-apportioning all of the state's education aid, not just the "new dollars" as specified by the hold harmless clause.
"We sympathize with the plaintiffs," LeBlond said. "The state has the constitutional obligation to provide for a thorough and efficient education. It's common sense to observe that that's not happening everywhere."
The Commonwealth Foundation identified four bills in the Legislature, one written by a Democrat, and three by Republicans, that would transition more of the state's education funding to the Act 35 formula.
"If the political courage does not arise to move the any of these forward, we'll end up with a judicial solution," LeBlond said. "It should be a bipartisan issue."
But even before the war of words between Wolf and Wagner this summer, prominent Republicans had started to use the William Penn case and education funding apportionment as a wedge issue.
In May, The Sentinel reported on an appearance in Carlisle by state Sen. John Eichelberger, the Republican chair of the Senate Education Committee, in which he said the William Penn case was an attempt at not just geographic, but racial redistribution.
"There's a case that's been brought into court on the equity of school funding by schools that say minority students are not getting funding … they're not being funded fairly compared to white students in Pennsylvania," Eichelberger said.
He told those in attendance that the Legislature was "not going to be able to backfill" funds to predominantly white districts if the courts mandated a change to education fund disbursement, something Eichelberger suggested was intended as a further affront to Republicans following the Supreme Court's gerrymandering decision.
Eichelberger endorsed Wagner's education plan when the campaign rolled it out in July, according to WJAC.
Wagner himself has stumped on the fact that the schools that fare worst under the fair funding formula are predominantly rural, given that those districts have lost greater shares of enrollment than urban ones.
Wolf is trying to "decimate rural school districts," Wagner said at a July campaign rally, according to the Pittsburgh Tribune.
Get Election 2020 & Politics updates in your inbox!
Keep up on the latest in national and local politics as Election 2020 comes into focus.