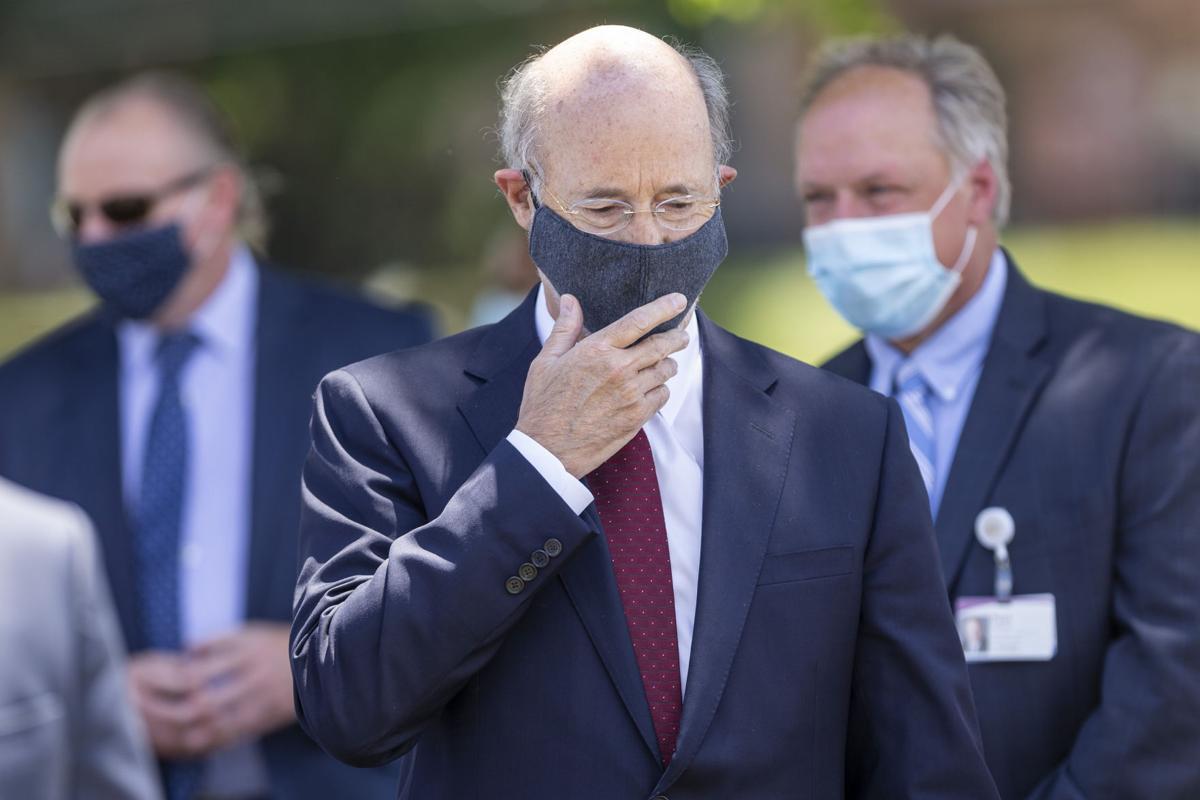 HARRISBURG — Gov. Tom Wolf's administration moved Wednesday to expand its indoor mask order to public places outdoors where social-distancing is impossible, while he also said that he prefers to let Pennsylvania's local governments handle further coronavirus restrictions, as opposed to the broad shutdown orders he imposed this spring.
Also on Wednesday, the Pennsylvania Supreme Court turned back an effort by Republican legislators to end Wolf's emergency declaration.
Since April, Wolf's administration has had a standing order that businesses must require employees and customers to wear masks.
But Wednesday's order is similar to a days-old order in Philadelphia, extending it to crowded public places where it is consistently impossible to remain six feet away from other people, as well as on public transportation and any indoor location where the public is generally permitted.
"The sooner we can all get to the point where all 13 million Pennsylvanians recognize ... that when we say, 'we wear masks,' that's one way we're going to reduce the risk of infecting other people," Wolf said at a news conference Wednesday just before his administration announced it was expanding the mask order.
Wolf also suggested, as have officials in Philadelphia and Allegheny County, that it is a good idea for travelers to Pennsylvania to self-isolate themselves for 14 days after returning from a state with a lot of cases.
"It's like wearing a seat belt," Wolf said. "The sooner we get to the point of saying, 'I think this is good for me,' the sooner we're going to defeat this disease," Wolf said.
Wolf's broader mask order boosts Pennsylvania into the ranks of about 13 other states, according to information from the National Governors Association, as more states move aggressively to adopt such a requirement. The expansion comes as Americans are dealing with surging cases of COVID-19 and confusion over best practices in public, especially on masks. It also comes amid alarm from officials in Philadelphia and Allegheny County about rising numbers in their daily case reports.
In a statement, Wolf said the mask-wearing order is essential to stopping the recent increase in COVID-19 cases in Pennsylvania, "hot spots" that can be traced to situations where Pennsylvanians were not wearing masks or practicing social distancing.
Those are two practices "that must be adhered to if we want to maintain the freedoms we have in place under our reopening," Wolf said.
Statewide, Pennsylvania has seen an uptick in the percentage of new positive cases since mid-June, as Wolf lifted many of the restrictions he had imposed statewide to contain a pandemic that, according to his administration, has infected at least 87,000 Pennsylvanians and killed about 6,700. The new mask order builds in various exceptions, including for children under two, workers for whom it would be unsafe, those communicating with the hearing impaired and people with a disability, mental health condition or respiratory illness.
Separately, Wolf said that he does not envision another broad shutdown order to contain the coronavirus in Pennsylvania and, rather, hopes to leave those more "surgically precise ways of dealing with problems" to local governments.
As examples, he cited moves by Allegheny County to halt drinking alcohol in bars and restaurants or by Philadelphia to halt plans to allow indoor dining, bars, gyms and fitness centers to reopen.
"I want the local folks to feel confident that they have the ability to take control of the things that they have to control in their area,"
Wolf's Department of Health will continue to be a partner in supporting local officials, such as sharing information and best practices, he said.
Wolf acknowledged concerns over the disease spreading through July Fourth gatherings, but said he feels pretty good about Pennsylvania's situation.
Emergency order decision
A divided state Supreme Court on Wednesday ruled that a resolution passed with mostly GOP votes to end Wolf's pandemic shutdown orders was a "legal nullity" because it was not sent to Wolf to sign or veto.
"We express no opinion as to whether the governor's response to the COVID-19 pandemic constitutes wise or sound policy," wrote Justice David Wecht, joined by three others. "Similarly, we do not opine as to whether the General Assembly, in seeking to limit or terminate the governor's exercise of emergency authority, presents a superior approach for advancing the welfare of our commonwealth's residents."
Republican majorities in both chambers, along with a few Democrats, voted early last month to end the emergency disaster declaration that has led to closure of "non-life-sustaining" businesses, bans on large gatherings and orders that people stay at home.
"A legislative veto in the context of a statute delegating emergency powers might be a good idea. It might be a bad idea. But it is not a constitutional idea under our current charter," Wecht wrote.
Wolf has gradually been reopening the state, although a recent uptick in infections in some parts of the state has produced some additional restrictions.
Senate President Pro Tempore Joe Scarnati, R-Jefferson, and Majority Leader Jake Corman, R-Centre, sued to enforce their resolution, and the high court took up the matter and ruled without hearing oral argument.
In a statement, Scarnati said the court "elected not to uphold the foundation of our democracy," and Corman said the decision granted Wolf "governor king status."
"We understand the need for a temporary suspension of civil liberties under dire circumstances, something we agreed needed to happen initially as we worked to flatten the curve," Scarnati said. "However, while we work to protect lives, we cannot continue to disregard the civil liberties of Pennsylvanians."
The state constitution grants governors the right to approve or veto nearly all types of concurrent resolutions, but the emergency services law included a provision that gave the Legislature power to end disaster proclamations "at any time."
The majority acknowledged that the Emergency Management Services Code gives the General Assembly the ability to end a disaster emergency, but "the statute also provides that the state of disaster emergency ends only after the governor so finds."
Chief Justice Thomas Saylor said he would have ruled to give lawmakers the ability to put a stop to a disaster emergency on their own.
"I am of the view that the breadth of the essential delegation of emergency powers to the executive in light of future and unforeseen circumstances justifies an equally extraordinary veto power in the Legislature," Saylor wrote, joined by Justice Sallie Mundy. They are the court's only Republican members.
Wecht said allowing the General Assembly to overturn the governor's proclamation without presenting it to him to sign or veto "would be to rewrite our constitution and remove the governor from the lawmaking process. Such a view is inimical to our system of checks and balances, a system in which presentment plays a critical role."
Wolf's office issued a statement saying the administration was pleased with the decision to keep the disaster proclamation in place.
Concerned about COVID-19?
Sign up now to get the most recent coronavirus headlines and other important local and national news sent to your email inbox daily.