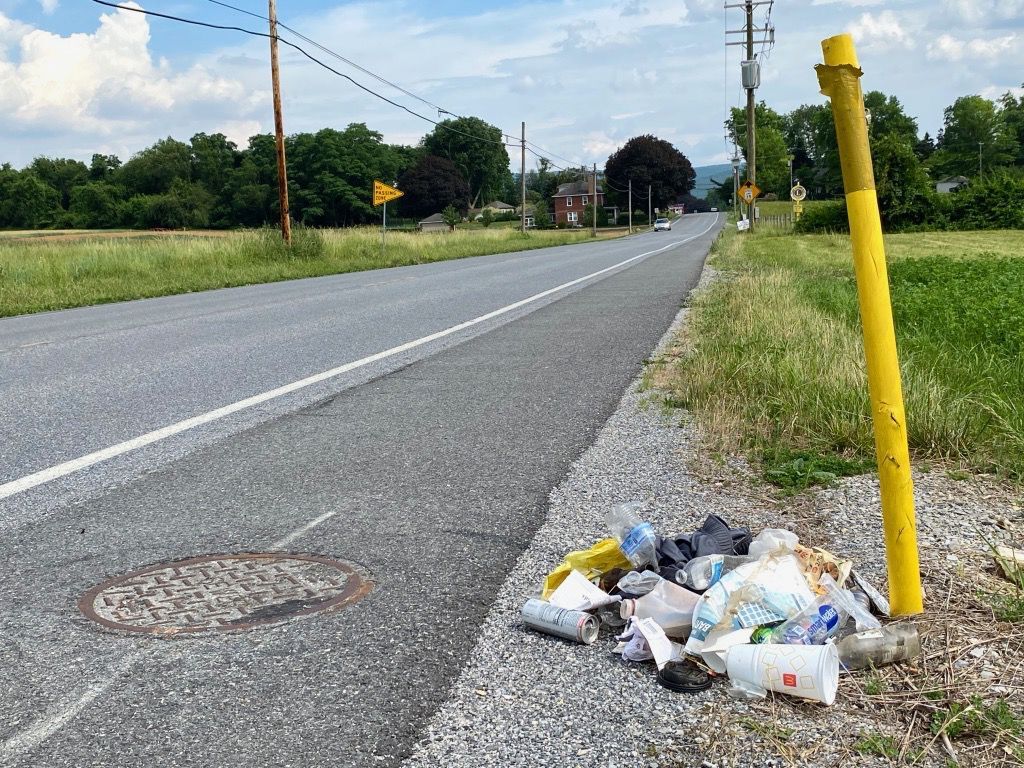 Green landscapes and local nature can be a welcome sight for area runners and walkers, but plenty of residents also notice something far less charming outdoors: litter.
"We see quite a bit of cans, bottles, and trash — especially along many of the main roads like High Street, Forge Road, even some of the parks," said Linda Reilly, assistant manager at Appalachian Running Company who helps organize weekly group runs that begin at the store.
Cumberland County is far from the only area of the state to see an increasing litter problem. In the most recently completed study on litter in 2018 to 2019 (the Pennsylvania Litter Research Study) the state Department of Environmental Protection, PennDOT and Keep Pennsylvania Beautiful found that an estimated 502 million pieces of litter were found on Pennsylvania roads, with local roads having an average of 1,030 items of litter per mile.
The study interviewed residents who said litter reduces property value, negatively affects tourism and business, raises taxes due to cleanup, and is an environmental problem, with some litter ending up in waterways. About half of those who responded said people litter because they either don't care or can't find a conveniently placed trash can.
Since that study, cleanup programs are beginning to appear more like a costly Band-Aid than a solution.
Keep Pennsylvania Beautiful estimated that from 2014 to 2018, PennDOT spent more than $65 million in removing litter from within highway rights-of-way. In its 2019 study, the organization said nine cities in the state spent $68 million annually on cleanup, education, enforcement and prevention efforts to address litter and illegal dumping, with 80% of that going toward cleanup.
Keep Pennsylvania Beautiful still has a cleanup initiative and program that connects volunteers and groups with supplies to help offset the costs of cleanup for municipalities, but other initiatives are being eyed as better ways to address litter issues.
"DEP, PennDOT and Keep Pennsylvania Beautiful are coordinating an initiative to develop a littering prevention plan in Pennsylvania," said Deb Klenotic, deputy communications director with the DEP. "Bottom line, it's an effort to shift our approach to litter away from cleanup to primarily littering prevention. As litter continues to pile up, state agencies and municipalities just can't keep up with the costs of cleanup."
There are four working groups in the littering prevention initiative. The groups are education and outreach, infrastructure, regulation and enforcement, and partnerships.
After a pandemic-related delay, the working groups, consisting of local government, community and business leaders from around the state, started working last month.
"Over the rest of the spring and into the summer they're going to review the findings and recommendations of two Pennsylvania-specific research studies that DEP, PennDOT and Keep Pennsylvania Beautiful commissioned in 2019," she said. "By the end of summer, they're going to develop a draft plan of recommended strategies tailored to Pennsylvania; and DEP, PennDOT and KPB will review for finalization by the end of this year."
In the meantime, Gov. Tom Wolf has been encouraging residents this spring to help reduce litter by joining the statewide "Pick Up Pennsylvania" campaign about community cleanups.
"DEP, PennDOT and KPB have partnered to support these local litter cleanup volunteer events for about 20 years," Klenotic said. "Many thousands of Pennsylvanians have participated."
But has that really helped, and is there anything to be learned from other states regarding litter problem solutions?
Putting it into law?
Like Pennsylvania, Oregon had a littering habit, but in 1971 that state decided to address the litter by enacting a "bottle bill."
Oregon's bottle bill, which is similar to what has been since instituted in nine other states, was first viewed primarily as a littler control measure. At the time, bottles and cans made up about 40% of litter in the state. Eight years later, that type of litter dropped to just 6%, according to the Oregon Department of Environmental Quality.
Oregon's bottle bill is container deposit legislation, the first in the United States. It requires people to pay a 10 cent container deposit when they buy all beverage containers three liters or less in size, except distilled liquor, wine, dairy or plant-based milk, and infant formula.
Consumers can return the empty containers to stores and redemption centers and receive 10 cent refunds for each container returned.
The refund can be a boon to cash-strapped consumers and a windfall for charities when consumers donate their recyclables to their cause.
The Brightside Animal Center and Thrift Store in Redmond, Oregon, is in a community of about 30,000 people and reported significant financial benefits from the system.
"Our wonderful volunteers sort the cans and bottles that arrive from our eight donation locations around Redmond. A recycler in a big semi comes once a week to pick them up," said Patricia Bowling, director of accounting at the center. "In 2019, we grossed about $100,000, netting about $75,000 after expenses."
Locally, the Cumberland Valley Animal Shelter has a somewhat similar effort involving cans to raise extra funds.
"We currently have a drop-off area for aluminum cans at the shelter where people provide us their empty cans and then we take them to be recycled here in Franklin County," said Jenn Vanderau, director of communications at the shelter. "It's quite a nice little fundraiser for us, so I can definitely see how a bottle and can law could be a real boon to nonprofit organizations, as well as help the environment."
Despite Oregon's reported success with the bill, such legislation in Pennsylvania has largely been nonstarters.
Over the last 20 years, there have been two legislative efforts to introduce container deposit legislation to the state.
Senate Bill 855 in 2009 introduced something similar to Oregon's system, as did House Bill 1322 in October 2019, but both efforts died in committee.