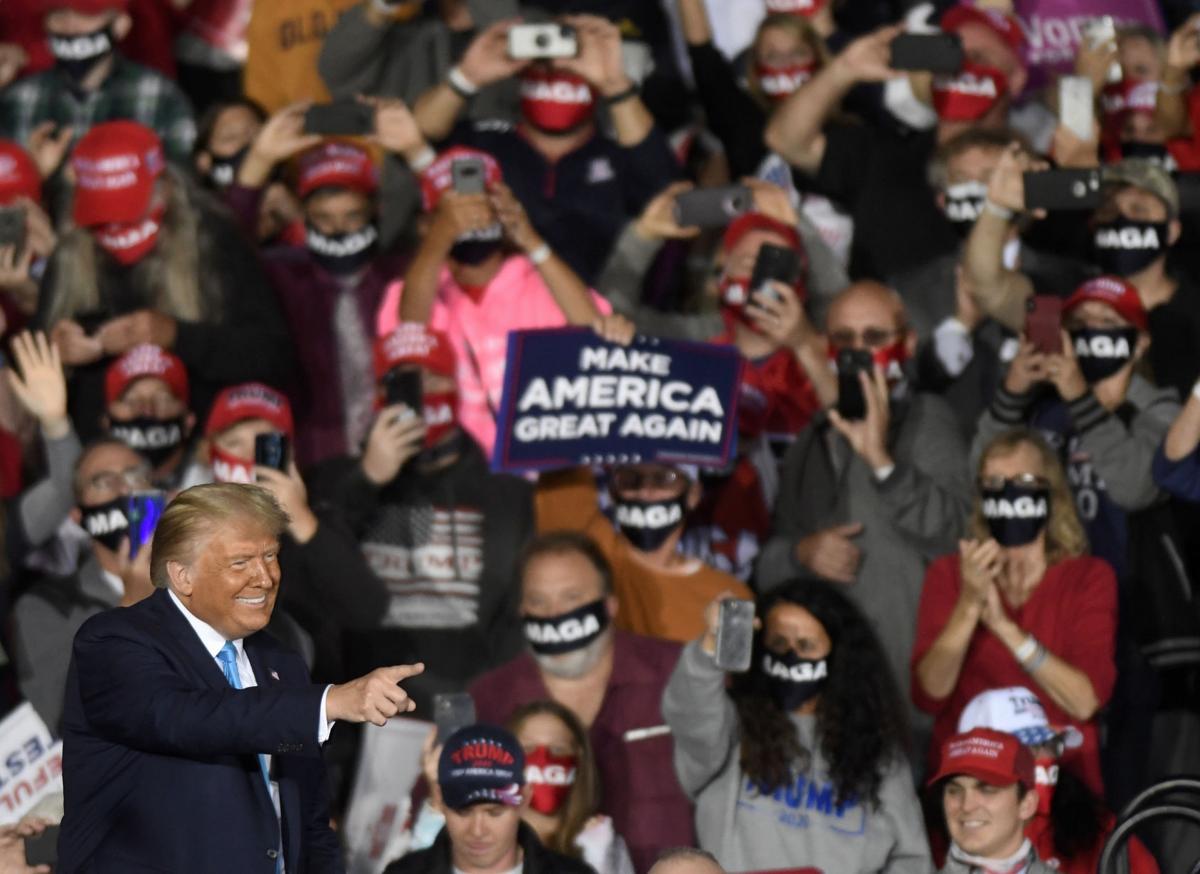 President Donald Trump and his reelection campaign are signaling they will pursue an aggressive legal strategy to try to prevent Pennsylvania from counting mailed ballots that are received in the three days after the election.
The matter could find its way to the Supreme Court, especially if those ballots could tip the outcome in the battleground state.
The three-day extension was ordered by Pennsylvania's top court. The Supreme Court refused to block it, but several conservative justices have indicated they could revisit the issue after the election.
Pennsylvania Secretary of State Kathy Boockvar, a Democrat, already has told local elections officials to keep the late-arriving ballots separate, but also to count them. She acknowledged that a post-election court fight could change that.
Trump's threat of legal action comes as he has been delivering a chaotic closing message during the waning days of the campaign as he lags behind Democratic rival Joe Biden nationally and by narrow margins in key battleground states. The president has made a flurry of last-minute campaign stops trying to hold onto states he won in 2016, including Pennsylvania, Florida and North Carolina. Over the weekend, he continued to rail against absentee ballots, frustrated by a Supreme Court ruling that didn't deliver a clear GOP win, continuing a monthslong push to sow unfounded doubt about potential voter fraud.
Trump said the high court's pre-election refusal to rule out the extension was a "terrible decision." He also said that once the polls close Tuesday, "we're going in with our lawyers."
Justin Clark, the deputy Trump campaign manager and senior counsel, said Boockvar "is blatantly attempting to steal this election for Joe Biden and the Democrats. But make no mistake: President Trump and his team will continue to fight for the free, fair election and the trustworthy results all Americans deserve."
The legal issue is whether the extension ordered by the Pennsylvania Supreme Court, relying on voter protections in the Pennsylvania constitution, violated the U.S. Constitution. The argument advanced by Republicans is that the Constitution gives state legislatures — not state courts — the power to decide how electoral votes are awarded, including whether absentee ballots received after Election Day can be counted.
Roughly 20 states allow for late-arriving ballots, but Pennsylvania's Republican-controlled legislature did not authorize an extension, even with the huge increase in mailed ballots because of the coronavirus pandemic. Similar ballot-deadline extensions have resulted in court fights in Minnesota and North Carolina.
The Supreme Court generally does not second guess state courts when they rely on their own constitutions. But Democrats were alarmed by Justice Brett Kavanaugh's reference to the court's 2000 Bush v. Gore decision that effectively decided the presidential election in favor of George W. Bush. Although it was not the majority opinion in the case, an opinion joined by three conservative justices in 2000 would have ruled for Bush because the Florida Supreme Court's recount order usurped the legislature's authority.
The Supreme Court has never cited Bush v. Gore as the basis for a decision of the court. Kavanaugh is one of three justices who worked for Bush in the Florida case 20 years ago. Chief Justice John Roberts and new Justice Amy Coney Barrett are the others.
Despite Trump's recent criticism of the court, he has said that one reason he pushed for Barrett's quick confirmation as a justice was to have her on the court for any post-election disputes. Barrett, Kavanaugh and Justice Neil Gorsuch are the three Trump appointees on a court that now has a 6-3 conservative advantage.
Voting In-Person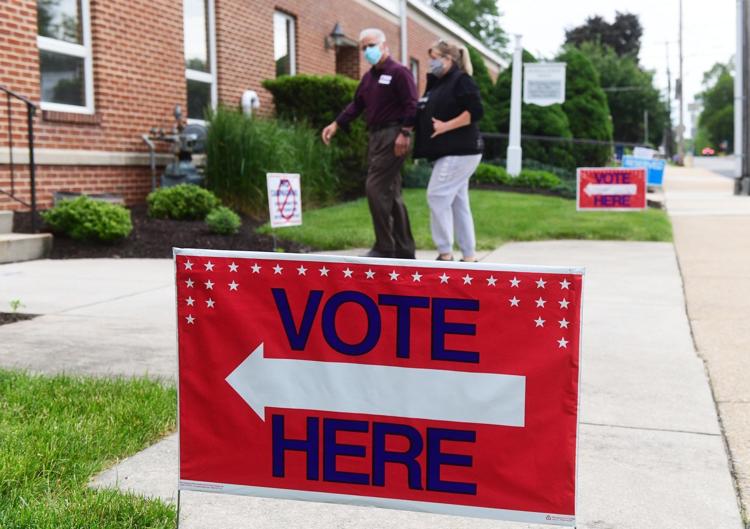 Watch Now: 5 things to know about voting in person in Cumberland County
Voting In-Person
Mail-in ballots may have taken the spotlight this year for both the primary and the general election, but polling locations will be open across Cumberland County from 7 a.m. to 8 p.m. for in-person voting.
Cumberland County officials say they are ensuring there are appropriate COVID-19 precautions in place at all polling locations to ensure the safety of residents and poll workers.
According to the Pennsylvania Department of State, voters should wear a face covering and follow social distancing guidelines when at polling locations, though voters will not be turned away if they are not wearing a face covering. The department said it is supplying counties with masks, face shields, hand sanitizer, floor marking tape for social distancing and other supplies for polling places to help with pandemic guidelines and safety protocols.
Though residents are urged and not required to wear face coverings, county election officials and poll workers are required to wear masks.
For those who did not vote in person during the June primary, Cumberland County residents will vote on the county's new voting machines. A video of how the new machine works is available on the county's website at www.ccpa.net.
For those who applied and received a mail-in ballot but never sent it to the county, those ballots can be "surrendered" to election officials and volunteers at the resident's polling place. From there, the resident can instead vote in person. County officials say those surrendering their mail-in ballots should expect to spend a little more time at the polling place.
Poll watchers
One concern that has arisen in this political climate is voter suppression and intimidation. Part of that concern comes into play with "poll watchers."
Pennsylvania State Police said last week that they are not aware of any coordinated campaigns or specific threats, but Pennsylvania's status as a swing state could motivate individuals or groups to claim to be poll watchers and intimidate or photograph voters, which is illegal.
According to police, a poll watcher must be a registered voter in the county who is credentialed by the county to be a poll watcher. Such a person must carry their credentials with them and show it on demand.
Pennsylvania Department of State guidelines require poll watchers to wear face coverings at all times within a polling place or room where votes are being canvassed, and those who refuse to wear a covering will be asked to leave the polling place by the judge of elections at that location. A candidate, party or political body that the poll watcher represented will be told if that person is told to leave the premises, and they will be able to replace that poll watcher.
State Police said poll watchers must also adhere to a code of conduct. They are not allowed to approach voters or otherwise interfere with someone's right to vote, except under certain circumstances. Violations of conduct include photographing voters, spreading false or misleading information, blocking the entrance to the polling place, asking voters for documentation when none is required, threatening violence, using offensive language or raising their voice to confront or question a voter.
Anyone who wishes to complain about a poll watcher can call the Pennsylvania Department of State's voter hotline at 1-877-868-3772.
Mail-in Ballots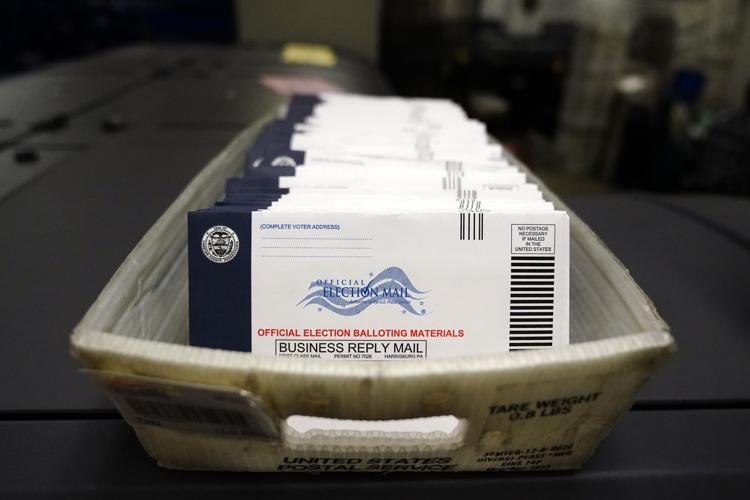 5 things to know about voting by mail in Cumberland County
Mail-in Ballots
For those who have a mail-in ballot but have yet to mail it or turn it in, state election officials highly recommend that such voters drop the ballots off by hand instead of mailing it to ensure it reaches the bureau of elections in time and is counted.
The only drop-off location in Cumberland County is at the county's Bureau of Elections, 1601 Ritner Highway, Suite 200, Carlisle. The bureau will accept dropped off ballots until 8 p.m. Tuesday, when polls close across the county.
Cumberland County Bureau of Elections Director Bethany Salzarulo said the county issued 60,075 mail-in ballots for the general election, compared to about 37,000 mail-in ballots for the June primary. As of this past Thursday, 46,961 mail-in ballots were received by the county. Of the ballots requested, 30,932 went to Democrats and 21,021 went to Republicans.
What happens with the mail-in ballots after that has attracted state and national attention.
Cumberland County opted to not pre-canvass the mail-in ballots, or work on opening and tallying the ballots, which could have started as early as 7 a.m. Tuesday. The county instead will start canvassing the mail-in ballots at 9 a.m. Wednesday.
Salzarulo said that by doing it this way, election staff can focus on only in-person voting on Tuesday, and then they can turn their attention to the mail-in, absentee, provisional and military ballots.
The 13-hour delay means the county may not have results as quickly as other counties in the state, but Salzarulo said that even if they started early on election night, the county would not complete results by midnight.
The delay in counting the mail-in ballots had some county residents concerned given recent rhetoric and litigation over what ballots will be counted in Pennsylvania. The most recent U.S. Supreme Court decision was to not expedite an appeal by the GOP in Pennsylvania regarding the extension for receiving postmarked ballots through Friday, Nov. 6. If, at some point, the Supreme Court rules that such ballots should not have been counted, as the lawsuit stands now, the ruling would only affect ballots mailed by Nov. 3 but not received until Nov. 6. The ruling would not affect any mail-in ballot that was received by the county before 8 p.m. Nov. 3, whether it is handed in or received via mail.
Counting Election Results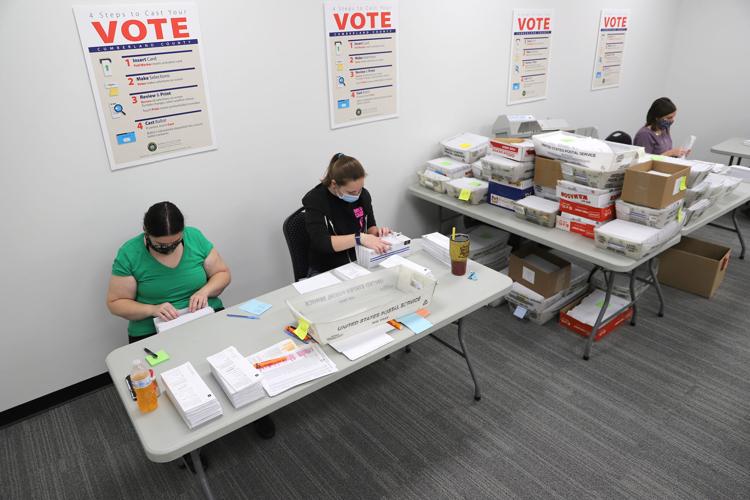 Election Results
Instead of one night of election results, Cumberland County residents can expect to get multiple nights of updates.
Though some argue that no results should be reported until all of the votes have been tallied, Salzarulo said that by law, the county is required to report Election Day polling results to the Department of State on that day. The unofficial results of in-person voting will be available after polls have closed on the county website, and will be updated throughout the night as precincts report in their data.
The website will then be updated daily after the election with results from the ongoing tally of mail-in ballots as county officials work to count them. The last ballots that could potentially arrive and still be counted must arrive by 5 p.m. Friday.
The Pennsylvania Department of State needs the total vote count by Nov. 11, which gives the county eight days to get the department the completed count. However, Salzarulo said she believes the county election staff will be done days in advance of that date.
Voting Machines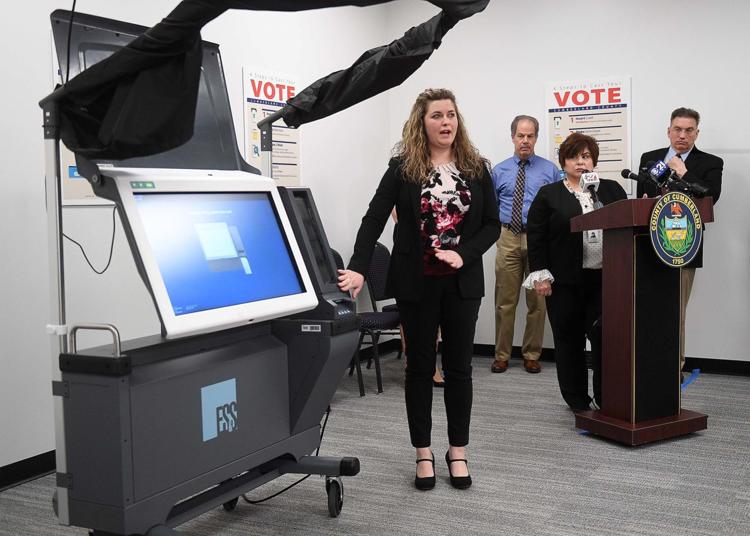 Watch Now: State officials assure people it will be safe to vote in person Tuesday despite COVID
Pennsylvania officials are assuring residents that it will be safe to vote in person while reminding voters and potential poll watchers about guidelines related to COVID-19 precautions.
Secretary of State Kathy Boockvar and Secretary of Health Rachel Levine offered an update on the guidelines during a press call on Friday.
Boockvar said poll watchers and authorized representatives of candidates or parties must adhere to COVID-19 requirements, including maintaining social distancing and wearing a mask or face covering at the polling place. Those who refuse to wear a mask or face covering will be asked to leave and the party or candidate will have the opportunity to replace that person with someone who will wear a mask or face covering.
Voters themselves should take COVID-19 into consideration when heading to the polls, carrying what Levine called a "COVID Kit" consisting of a mask, hand sanitizer and a blue or black pen. She also urged voters to download the COVID-19 app which assists with contact tracing should a voter come in contact with someone who tests positive for the virus.
"You will need to wear a mask when you are waiting in line and voting," Levine said.
Levine also said poll workers will be wearing masks and maintain social distancing. In addition, they will be sanitizing voting machines between each voter.
Election 2020 Preview: Polling places in Cumberland County
Though the COVID-19 pandemic is increasing the interest in mail-in ballots, Cumberland County still plans on offering in-person voting locations for the November general election.
Here are polling places in Cumberland County for the Nov. 3. election, including up-to-date temporary locations for this year's election. For maps of polling places, check out the county's website at www.ccap.net.
Camp Hill Borough Precincts
Cleve J. Fredricksen Library, 100 N. 19th St., Camp Hill
Camp Hill Community Room-Prosser Hall, 2145 Walnut St., Camp Hill
Camp Hill Church of Christ, 3042 Cumberland Blvd., Camp Hill
Camp Hill Community Room-Prosser Hall, 2145 Walnut St., Camp Hill
Camp Hill High School, 100 S. 24th St., Camp Hill
Carlisle Precincts
St. John's Episcopal Church, 1 N. Hanover St., Carlisle
Carlisle Alliance Church, 237 E. North St., Carlisle
Carlisle Band Hall, 35 E. South St., Carlisle
Bosler Memorial Library, 158 W. High St., Carlisle
Second Presbyterian Church, 528 Garland Drive, Carlisle
Carlisle Baptist Church, 701 Walnut Bottom Road, Carlisle
Carlisle Alliance Church, 237 E. North St., Carlisle
Grace Baptist Church, 777 W. North St., Carlisle
Stuart Community Center, 415 Franklin St., Carlisle (was Grace Baptist Church in June)
Cooke Township Precinct
Cooke Township Building, 1700 Centerville Road, Newville
Dickinson Township Precincts
Dickinson Township Municipal Building, 219 Mountain View Road, Mount Holly Springs
Mt. Zion Evangelical Lutheran Church, 4200 Carlisle Road, Gardners
East Pennsboro Precincts
West Creek Hills Elementary, 400 Erford Road, Camp Hill
Enola Fire Company #3, 118 Chester Road, Enola
West Creek Hills Elementary, 400 Erford Road, Camp Hill
Enola First Church of God, 9 Sherwood Drive, Enola
Enola Fire Company #2, 17 E. Manor Ave., Enola
Northeast Fire & Rescue Company #2, 1400 Third St., Enola
Our Lady of Lourdes Catholic Church, 225 Salt Road, Enola
East Penn Elementary, 840 Panther Parkway, Enola
East Penn Senior Center, 98 S. Enola Drive, Enola
East Penn Elementary, 840 Panther Parkway, Enola
Hampden Precincts
Hampden Township Recreation Building-Community Room, 5001 Hampden Park Drive, Mechanicsburg
Hampden Township Sporting Hill Station, 295 S. Sporting Hill Road, Mechanicsburg
Graceway Church of God, 220 St. Johns Church Road, Camp Hill
St. Timothy Evangelical Lutheran Church, 4200 Carlisle Pike, Camp Hill
Good Hope Middle School, 451 Skyport Road, Mechanicsburg
Good Hope Middle School, 451 Skyport Road, Mechanicsburg
New Covenant Fellowship, 4500 Creekview Road, Mechanicsburg
New Covenant Fellowship, 4500 Creekview Road, Mechanicsburg
Good Hope Station, 1200 Good Hope Road, Mechanicsburg
Aldersgate United Methodist Church, 1480 Jerusalem Road, Mechanicsburg
St. James Presbyterian Church, 1425 Orrs Bridge Road, Mechanicsburg
Vibrant - A Christian Church, 1775 Lambs Gap Road, Mechanicsburg
Hopewell Precinct
Hopewell Township Building, 415 Three Square Hollow Road, Newburg
Lemoyne Borough Precincts
Trinity Lutheran Church, 509 Hummel Ave., Lemoyne
Grace United Methodist Church, 309 Herman Ave., Lemoyne
Lemoyne Borough Building, 510 Herman Ave., Lemoyne
Lemoyne Borough Building, 510 Herman Ave., Lemoyne
Lower Frankford Precinct
Lower Frankford Township Building, 1205 Easy Road, Carlisle
Lower Mifflin Precinct
Lower Mifflin Township Building, 529 Shed Road, Newville
Mechanicsburg Borough Precincts
St. Mark Lutheran Church, 117 W. Keller St., Mechanicsburg
Mechanicsburg Presbyterian Church, 300 E. Simpson St., Mechanicsburg
Wesley United Methodist Church, 203 S. Filbert St., Mechanicsburg
First Church of God Community Center, 201 E. Green St., Mechanicsburg
Mechanicsburg Municipal Center, 36 W. Allen St., Mechanicsburg
Mechanicsburg Volunteer Fire Department, 208 S. York St., Mechanicsburg
Middlesex Township Precincts
Middlesex Township Building, 350 N. Middlesex Road, Carlisle
Hickorytown United Methodist Church, 1510 W. Trindle Road, Carlisle
Monroe Township Precincts
Monroe Township Municipal Building, 1220 Boiling Springs Road, Mechanicsburg
Monroe Township Fire Company, 1225 Peffer Road, Mechanicsburg
Mount Holly Springs Precinct
Citizen's Fire Company #1, 100 Chestnut St., Mount Holly Springs
New Cumberland Borough Precincts
New Cumberland Fire Dept., 319 Fourth St., New Cumberland
New Cumberland River Rescue Building, 1127 Market St., New Cumberland
St. Theresa Parish, 1300 Bridge St., New Cumberland
New Cumberland Public Library-Foundation Hall, 498 Ninth St., New Cumberland
Newburg Precinct
Newburg-Hopewell Fire Department, 106 N. High St., Newburg
Newville Precincts
Friendship Hose Company (Corporation Street Door), 15 E. Big Spring Ave., Newville
Friendship Hose Company, 15 E. Big Spring Ave., Newville
North Middleton Township Precincts
North Middleton Fire Company #2, 2061 Spring Road, Carlisle
Lighthouse Church of God, 910 Cavalry Road, Carlisle
North Middleton Fire Company #1, 310 North Middleton Road, Carlisle
North Newton Township Precinct
North Newton Township Community Park Building, 528 Oakville Road, Shippensburg
Penn Township Precinct
Penn Township Volunteer Fire Company, 1750 Pine Road, Newville
Shippensburg Precincts
Oasis of Love Church, 303 S Washington St., Shippensburg
First Church of God Annex, 5 N. Prince St., Shippensburg
Vigilant Hose Company, 20 Walnut Bottom Road, Shippensburg
Shiremanstown Precinct
Shiremanstown Borough Hall, 1 Park Lane, Shiremanstown
Silver Spring Township Precincts
New Kingstown Fire Company, 277 N. Locust Point Road, New Kingstown
Good News Free Methodist Church, 124 State Road, Mechanicsburg
Calvary Evangelical Lutheran Church, 208 Woods Drive, Mechanicsburg
Silver Spring Presbyterian Church, 444 Silver Spring Road, Mechanicsburg
CV School District-Administration Building, 6746 Carlisle Pike, Mechanicsburg
Saint Katharine Drexel Church, 1 Peter Drive, Mechanicsburg
Silver Spring Township Social Hall, 6475 Carlisle Pike, Mechanicsburg
Young's United Methodist Church, 7075 Wertzville Road, Mechanicsburg
St. Paul's Evangelical Lutheran Church, 6839 Wertzville Road, Enola
South Middleton Township Precincts
Mount Victory United Methodist Church, 1 Victory Church Road, Gardners
South Middleton Township Building, 520 Park Drive, Boiling Springs
Mount Holly Springs Church of God, 602 McLand Road, Mount Holly Springs
St. Patrick Church, 85 Marsh Drive, Carlisle
Carlisle Evangelical Free Church, 290 Petersburg Road, Carlisle
Citizen's Fire Company #2, 405 Forge Road, Boiling Springs
Citizen's Fire Company #2, 405 Forge Road, Boiling Springs
Community Christian Fellowship, 360 York Road, Carlisle
Otterbein United Methodist Church, 647 Forge Road, Carlisle
South Newton Township Precinct
South Newton Township Fire Company, 16 Firehouse Road, Walnut Bottom
Southampton Township Precincts
Southampton Township Building, 200 Airport Road, Shippensburg
Middle Spring Presbyterian Church, 35 Middle Spring Road, Shippensburg
Southampton Township Multi-Purpose Center, 56 Cleversburg Road, Shippensburg
Upper Allen Township Precincts
Daybreak Church, 321 Gettysburg Pike, Mechanicsburg
Bowmansdale Church of God, CE Building, 101 E. Lisburn Road, Mechanicsburg
Shepherdstown United Methodist Church, 1934 South York St., Mechanicsburg
St. Peter Lutheran Church, 130 Nittany Drive, Mechanicsburg
Bowmansdale Church of God, 101 E. Lisburn Road, Mechanicsburg
Crossroads Community Church, 1425 S. Market St., Mechanicsburg
Upper Allen Municipal Building, 100 Gettysburg Pike, Mechanicsburg
Upper Allen Municipal Building, 100 Gettysburg Pike, Mechanicsburg
Immanuel Alliance Church, 800 S. Market St., Mechanicsburg
Geneva Green Apartments, Building 1, 500 Geneva Drive, Mechanicsburg
Upper Frankford Township Precinct
Upper Frankford Fire Company, 4080 Enola Road, Newville
Upper Mifflin Township Precinct
Upper Mifflin Township Building, 455 Whiskey Run Road, Newville
West Pennsboro Township Precincts
West Pennsboro Fire Company, 20 Park Road, Plainfield
Newville Assembly of God, 403 Oak Flat Road, Newville
Wormleysburg Borough Precincts
Knisely Hall, 20 Market St., Wormleysburg
Holy Trinity Greek Orthodox Church, 1000 Yverdon Drive, Camp Hill