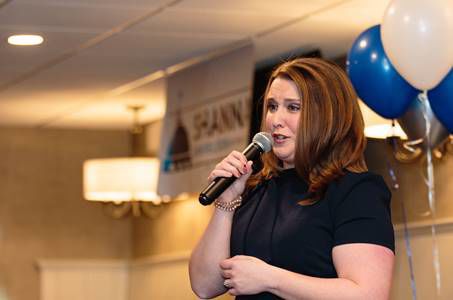 Pennsylvania's 31st State Senate District is guaranteed a contested race for 2020, with its incumbent Republican, Mike Regan, and a Democratic challenger, Shanna Danielson, both announcing election plans this week.
The district, which includes Carlisle and eastern Cumberland County, as well as a portion of northern York County, was won by Regan in 2016 at a landslide margin of over 36 points. State Senate terms are four years.
But the district is not necessarily a lock for the GOP. Democratic Gov. Tom Wolf carried the district in 2018 against GOP challenger Scott Wagner, albeit by a razor-thin 699 votes, according to a Sentinel tally of precinct-level returns, amidst an ongoing leftward shift in Cumberland County's eastern reaches.
How far this shift extends down the ballot will likely be a major factor in the race. Cumberland County's Republican state representatives, even those in districts that favored Wolf, still managed to win re-election in 2018.
In a campaign announcement, Danielson said she "advocates for strong public education; affordable, quality health care for all Pennsylvanians; transparency and accountability in the state Legislature; and a focused, rapid response to climate change."
Danielson ran unsuccessfully against Dawn Keefer in 2018 for the 92nd District state House seat. A public school music teacher, Danielson said she "sees first-hand the struggles of Pennsylvania families due to underfunded schools, crushing education and health care costs, and a lack of personal safety due to unchecked gun violence."
In a video announcing his re-election campaign, Regan, a former U.S. Marshal, said "our mission of protecting Pennsylvania families is more important now than ever."
Regan highlighted his work in staving off proposed tax increases, while working as the chair of the Senate Veterans' Affairs and Emergency Preparedness Committee on measures such as the state's 2019 Family GI Bill, which expanded Pennsylvania National Guard educational benefits to guard members' families.
Regan also touted passage of his legislation on school safety — Act 44 of 2018 and Act 67 of 2019 — which created rules for school security personnel and a framework for state funding of school security enhancements. The legislation has already driven $120 million in funding, Regan said.
His campaign video also emphasizes his welfare reform bill "that stops the most egregious abuses of the system and protects those most in need." Enacted as Act 125 of 2018, Regan's legislation, among other provisions, placed a cap on the value of welfare beneficiaries' vehicles, as well as any lottery winnings, above which those assets would be counted against them in determining eligibility.
Although Regan's bills were signed into law by Wolf, they still earned Regan considerable negative recognition from Democrats.
Wolf was also encouraged from within his party to veto the bill that became Act 125 over charges that it created excessive red tape and punitive measures, including a $100 fee if a recipient needs to replace a lost or stolen electronic benefits transfer card on more than one occasion.
Wolf also carried Regan's district despite being pro-choice on abortion. Late last year, Regan voted in favor of legislation that would ban abortions performed "solely due to a diagnosis of possible Down syndrome," a measure that gained national attention, and which Wolf vetoed.
Get Election 2020 & Politics updates in your inbox!
Keep up on the latest in national and local politics as Election 2020 comes into focus.