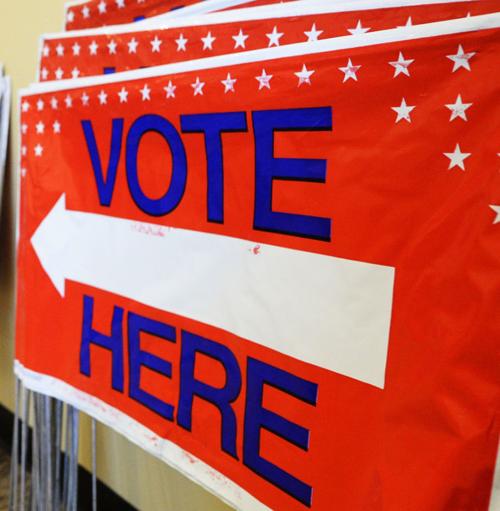 In next month's general election, there are candidates seeking state, county, municipal and school board positions across Cumberland County.
The only contested statewide race in November involves judges for the Superior Court of Pennsylvania. Local county judge Christylee Peck won the Republican nomination in May's primary and will face Megan McCarthy King, Amanda Green-Hawkins and Daniel McCaffery. Voters will get to choose two candidates to fill judge seats on the Superior Court. Cumberland County also has its own judges race, also with two seats open. Lisa Grayson and Matt Smith won the Democratic nominations in the primary, and Smith also won one of the Republican nominations to get to November's ballot. The other Republican nomination went to Kirk Sohonage, who recently dropped out of the race due to family obligations. The county GOP chose Carrie Hyams, who ran for county judge in 2015, to fill the spot on the ballot. Independent Susan Pickford will also be on next month's ballot in the race.
Three county commissioner seats are up for grabs, with only two incumbents seeking re-election. Current commissioners Gary Eichelberger and Vince DiFilippo ran unopposed in the Republican primary to get to November, and they will be joined on the ballot by Democrats Michael Fedor and Jean Foschi.
There are two more contested county races next month — one for district attorney and the other for treasurer.
M.L. "Skip" Ebert, who was chosen to fill the remaining term of former District Attorney David Freed after he was appointed to fill a U.S. attorney position, won a contested primary to face Democrat Sean Patrick Quinlan in the November election. Democrat Jake Miller and Republican Kelly Neiderer will face each other in the county treasurer race.
Only one of the district judge seats is contested this year, with Democrat Robert Kline and Republican Christopher Delozier seeking the District Court 09-1-01 seat, which covers Lower Allen Township, New Cumberland Borough and Shiremanstown Borough and is held by Judge Charles Clement Jr., who did not seek re-election.
Though South Middleton, Mechanicsburg and Camp Hill school districts will not see contested races this year, voters in other parts of the county will get a chance to narrow down a list of candidates for school boards.
The same candidates in the primary will again be on the ballot in November for the Carlisle school board, with Linda Manning, Paula Bussard, Jon Tarrant, Bruce Clash, Sophia Parker and Gerald Eby seeking election to five seats. Likewise in East Pennsboro, primary candidates Stephanie Andrejack, Denise Pearson, Michael Nguyen, Anna Levin, Cher Comp, Jason Oyler, Dennis Helm and Leslie Marshall all moved on to the November election for five available positions.
Only one of Cumberland Valley's school board seats, which is divided by municipality, is contested next month, with Nicole Miller facing Michelle Nestor after the two won the Democratic and Republican nominations, respectively.
Cumberland County voters won't be using new election machines for next month's ballot, but they will be for the April 2020 primary, assuming t…
All of Shippensburg's school board district seats are contested, with Austin Taylor, Jim Bard and Charles Suders seeking two District A seats. District C has two races, with Tracy Montoro and Fred Scott Sr. seeking a 4-year seat, and Susan Spicka and Dwayne Burt seeking a 2-year seat.
There are scattered municipal races across Cumberland County that will see contested November ballots, though others will be uncontested after successful primary wins.
Carlisle Borough Council has four open seats and five candidates: Democrats Sean Shultz, Sean Crampsie, Joel Hicks and Jeff Stuby and Republican Robin Guido. Each of the five faced an uncontested race in their respective primaries to get to the November ballot.
You have free articles remaining.
Mechanicsburg Borough Council did not have a contested primary, but four candidates seek three open slots in the November election. Democrat Sara Agerton will face Republican incumbents Kyle Miller, Mark Stoner and John Anthony in the race.
Mount Holly Springs Borough Council has five candidates on the ballot next month for three open seats: Republicans James Collins II, Gay Bowman and Lois Stoner and Democrats Jen Dieter and Pam Still.
Camp Hill Borough Council has three open seats and six candidates: Democrats Melissa Schoettle, Alissa Packer and Erin Vroman, and Republicans Julie Mowery Young, Beth Kozicki and Bonnie Bentz.
Lemoyne Borough Council also has three open seats, and five candidates seek to fill them: Jesse Monoski, Kasha Griva, Bob Rapak, Gene Koontz and Rebecca Coleman. Griva and Rapak won the Democratic nominations, Koontz and Coleman won the Republican nominations, and Monoski won both party nominations.
New Cumberland Borough Council has three open seats with three candidates from each party looking to fill the open spots. Republicans David Stone, Donald Kibler and Chad Wilson will take on Democrats Donna Johnson, Robert Hasemeier and Donald James Dissinger in the race.
Hampden Township has two open seats and four candidates: Republican incumbents Al Bienstock and John V. Thomas and Democrats Ryan Argot and David Fish. Hopewell Township has only one supervisor position open, and Democrat Dana Hoover and Republican Verne Wadel seek that seat.
North Middleton Township has two open seats for supervisor and three candidates: Democrat Kimberly Largent, Republican Harry Kelso and Republican David Smith.
South Middleton Township also has three candidates for two seats: Democrat Benjamin Ramirez, Republican incumbent Ron Hamilton and Shelly Capozzi, who won the nomination from both parties. Long-time supervisor Tom Faley did not seek re-election.
East Pennsboro Township is looking for two commissioners among three candidates: George Tyson won the Republican nomination in the primary, John Kuntzelman won the Democratic nomination, and Walter Joe Fidler won a nomination from both parties in the primary.
Lower Allen Township has three commissioner positions available with four candidates seeking the seats: Thomas Kutz and Carolyn Holtzman won nominations from both parties, and they will be joined on the ballot by Democrat John Freidhoff and Republican H. Edward Black.
Monroe Township has only one supervisor seat open, and Republican Philip Kehoe is looking to retain that seat against challenger Democrat Ryan Barrick.
Upper Allen Township has three commissioner seats available on its board and three candidates from each party on the ballot. Republicans Ken Martin, James Cochran and Jeff Walter, and Democrats Judith Gilroy, William Holloway and Bob Melphis will be on the ballot.
Donald Agar managed to win both nominations in a contested West Pennsboro Township supervisor race, but he will again have a contested race in November against Libertarian challenger Karl Smith.
Shippensburg Borough has the only contested tax collector race in the county next month, and Democrat Patricia Bowser and Republican Steven Brenize are seeking the position.