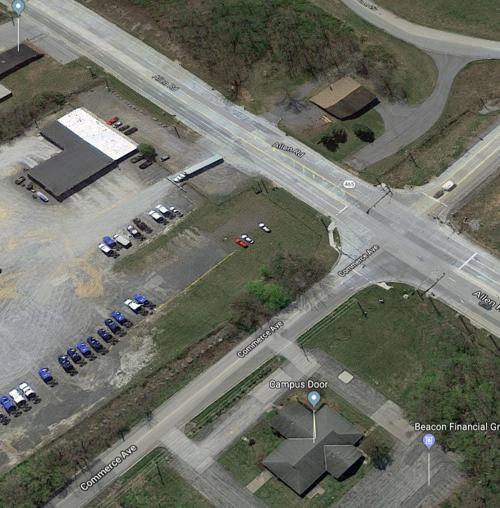 A new hotel, restaurant and regional commercial center could be in the works just off Interstate 81 in South Middleton Township directly across the street from a similar proposed development.
South Middleton Township supervisors were presented a sketch plan on Thursday night from Nittany Engineering & Associates and Glenmark Holding LLC and Paradigm Architecture for a restaurant, hotel and commercial center that would be built between Alexander Spring Road and the I-81 Exit 44 interchange at Allen Road.
The proposed development area is divided into three parcels, one of which is the former location of Brenneman's Furniture that closed in 2006. Of these, a MainStays Suites hotel is proposed for a parcel measuring 2.46 acres, according to Mark J. Nesselroad, chief operating officer and chief legal officer of Glenmark Holding, LLC. The proposed hotel would comprise 106 rooms with 134 parking spaces.
A 120-seat restaurant with 41 parking spaces is proposed for another 1.10-acre parcel in the development, but a potential tenant for the eatery hasn't been finalized, Nesselroad said.
Finally, a 1.99-acre parcel between the proposed hotel and restaurant would be the site of a regional commercial center with a potential for two business drive-thrus. However, no businesses have been contracted to occupy the commercial center.
"This land is perfect for what you're proposing. It's right off I-81. There's going to be a lot of eating out there and a lot of sleeping. Your neighbors out there want a hotel and restaurant, too," Supervisor Tom Faley told developers on Thursday.
The newly proposed hotel/restaurant/commercial center complex is directly across the street from a proposed project that township supervisors reviewed last year. In July 2018, supervisors approved a conditional use application submitted by Akash Patel & Associates for an 82-room hotel and a separate, 3,300-square-foot fast-food restaurant with a drive-thru near Commerce Avenue and Allen Road. Faley said earlier on Thursday that he hadn't heard much recently about that project.
On Thursday, township engineer Brian O'Neill asked representatives from Nittany Engineering and Glenmark Holding to redesign a thoroughfare in the new plan to discourage potential tractor-trailer through traffic. As currently proposed, a thoroughfare would run through the planned complex from Allen Road to Dennison Circle. O'Neill said truckers exiting I-81 might use the thoroughfare as an undesirable shortcut to three warehouses on Dennison Circle
As an alternative, O'Neill's suggested that developers place a curve in the thoroughfare that would relocate the complex's access point on Dennison Circle to directly across from proposed access to Akash Patel & Associates' plans. Although O'Neill's plan would require a township waiver, he said supervisors were likely to approve it.
Developers already have submitted a conditional use application for the complex to the township planning commission, which gave suggestions about the plan this month. The developer is expected to return to the planning board in May before returning revised plans to township supervisors.
A conditional use is required for the project because it involves a multi-use commercial center. A regional commercial center plan fits into the area's I3 industrial/transportation zoning, but township ordinance requires commercial centers to apply for a conditional use for development.
Landscape island revision
Also on Thursday, township supervisors revised an ordinance governing landscape islands within parking areas. The revised ordinance now requires landscape islands to be installed between every 10 parking spaces and at the end of each row only in instances where 50 or more parking spaces are located. Faley said this is a "loosening" of the existing ordinance.
Get Government & Politics updates in your inbox!
Stay up-to-date on the latest in local and national government and political topics with our newsletter.