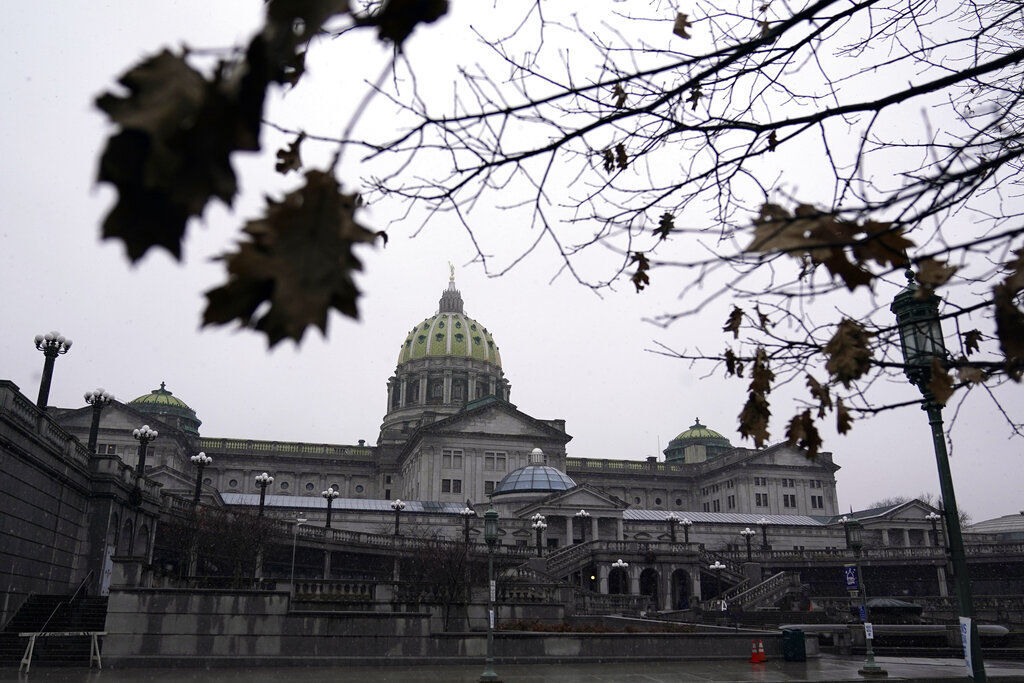 With the meeting of the state's Electoral College members on Monday, Pennsylvania's presidential election is a done deal, despite the majority of Cumberland County's state legislators and it's congressmen signing onto an effort to nullify their constituents' votes.
Pennsylvania's 20 votes in the Electoral College were cast Monday for Joe Biden, the winner of the state's popular vote by a margin of over 80,000 ballots, leaving it unclear what avenues remain for Republican hard-liners who seek to challenge that outcome.
That includes most of Cumberland County's lawmakers, who signed onto amicus briefs in a U.S. Supreme Court case late last week in a last-minute attempt to discard the election results of Pennsylvania and three other states.
The case, initially brought by the state of Texas and supported by the campaign of President Donald Trump, was dismissed by the court Friday evening. The suit asked the Supreme Court to stay or restrain the defendant states from participating in the Electoral College.
Multiple groups of Republican officials filed in support of the plaintiffs. Congressmen Scott Perry and John Joyce, whose districts include Cumberland County, joined a brief filed on behalf of 126 Republican U.S. representatives.
A brief filed by a group of Pennsylvania state senators included Mike Regan, Doug Mastriano and Judy Ward, whose districts cover Cumberland County. A similar brief from state House members included Barb Gleim, Dawn Keefer and Torren Ecker.
The core argument from Texas and the Trump campaign is that the presidential votes of Pennsylvania, Georgia, Michigan and Wisconsin should be discarded because the states' voting processes were allegedly inconsistent with the election laws set down by the states' legislatures. They argued that the U.S. Constitution's requirement that presidential electors are appointed "in such a manner as the legislature of each state may direct" was thus not being adhered to.
The filing was a long-shot from the start, given that Texas' legal brief hinged on the idea that Texas was somehow injured by the manner in which other states conducted their elections, even though those states' decisions do not affect the way Texas conducts its own elections.
This was the reason for dismissal, with the Supreme Court justices writing that "Texas has not demonstrated a judicially cognizable interest in the manner in which another state conducts its elections."
Even if Texas had somehow established such an interest, its central argument — and the arguments made by Republican officials' amicus briefs — would be difficult to litigate at a federal level because they are disputes over the interpretation of state law that have already been largely resolved by state-level courts.
In Pennsylvania's case, the issue arises with certain guidance from Pennsylvania Secretary of State Kathy Boockvar, which Republicans say circumvents the intent of the state's election laws.
This includes Boockvar's guidance allowing mail-in ballots to count as received by Election Day as long as they were in the mail on Nov. 3. It also includes guidance that ballots cannot be discarded because they can't be signature-matched, and that counties may, if they can administratively do so, notify voters of technical errors on their ballots and give them an opportunity to fix them.
In many instances, such as with the mailing date and signature-matching policies, Boockvar's guidance was either upheld or directly ordered by the Pennsylvania Supreme Court, which found that the signature rule was not inconsistent with state law, and that the extended timetable for mail-in ballots was necessitated under the Free and Equal Elections clause of the Pennsylvania Constitution.
Thus, if Texas were to have been found to have standing, the U.S. Supreme Court would have then had to step in and overrule state courts on matters of state law and state constitutional doctrine, an extraordinary standard under the basic concept of federalism.
This is what the Trump campaign, as well as the amicus filers, desired. Pennsylvania legislators' briefs alleged that the PA Supreme Court "usurped" and "contravened" their authority, and although the briefs did not explicitly endorse Texas' desired remedy of disenfranchising the four states from the Electoral College, the briefs also did not explicitly oppose it.
But as Pennsylvania Attorney General Josh Shaprio wrote in his defense brief, "nothing in the text, history, or structure of the Constitution supports Texas's view that it can dictate the manner in which four sister states run their elections, and Texas suffered no harm because it dislikes the results in those elections."
What further avenues, if any, are available to local Republicans who still wish to scrap Pennsylvania's presidential election results is unclear.
Perry told the Washington Post last week that he would dispute Pennsylvania's electors. Members of Congress can do so when the body meets to certify the Electoral College votes, although it requires concurring motions in the House and Senate, which are highly unlikely.
Perry's office did not elaborate on the disputation of electors when contacted by The Sentinel; in a statement issued following the amicus brief filing, Perry said that "action at the federal level must be considered" but did not go into further detail.
Perry's statement also said "an inordinate number of citizens are deeply concerned about the violation of the Equal Protection Clause by the state's inconsistent application of Pennsylvania election law," a claim that mirrors one made by the Trump campaign in lawsuits against Boockvar last month.
Those cases alleged that different procedures in different Pennsylvania counties regarding the correction of deficient ballots, as well as how close poll watchers could get to ballot-counters, constituted an equal protections violation.
Federal judges shot down such an argument, as well as the Trump campaign's requested relief that Pennsylvania's Electoral College votes be remanded to the Republican-controlled state Legislature.
Variations in counties' methods to ensure the right to vote do not constitute discrimination, Judge Matthew Brann of the U.S. District Court for the Middle District of Pennsylvania wrote; further, even if it constituted a valid equal protections claim, the Trump campaign's remedy is nonsensical.
"Rather than requesting that their votes be counted, they seek to discredit scores of other votes, but only for one race. This is simply not how the Constitution works," Brann wrote.
The U.S. Court of Appeals for the Third Circuit concurred, with Judge Stephanos Bibas, a Trump appointee, writing that the Trump campaign "never alleges that any defendant treated the Trump campaign or its votes worse than it treated the Biden campaign or its votes. Calling something discrimination does not make it so."
In Harrisburg, Republican leadership in the Legislature has indicated that a review of Act 77 of 2019, which expanded mail-in voting, will be conducted. But, they shied away in recent weeks from suggestions that this would somehow have the power to retroactively change the rules from November 2020, with state House Speaker Bryan Cutler telling LNP last week that some GOP actions had created an "unrealistic expectation" about reversing Pennsylvania's election results in Trump's favor.
Gleim and Keefer have signed onto a proposed state resolution that "urges the United States Congress to declare the selection of presidential electors in this Commonwealth to be in dispute," although such as move is unlikely to succeed if it is raised by Perry next month.
Both state representatives were also among a group that called last month for Boockvar and Gov. Tom Wolf to delay the certification of the state's final election returns, citing "irregularities" that had sapped voter confidence, although that remains unproven.
In a message to The Sentinel on Monday, Gleim said she has "many constituents who don't think their vote counted," laying the blame on the state Supreme Court for "changing the agreed-to election process and putting the results in question."
But according to the Brann and Bibas rulings, state court rulings that expand the right to vote do not nullify the votes of those who disagree with those rulings, a legal hurdle that Gleim or any other challenger would need to overcome.