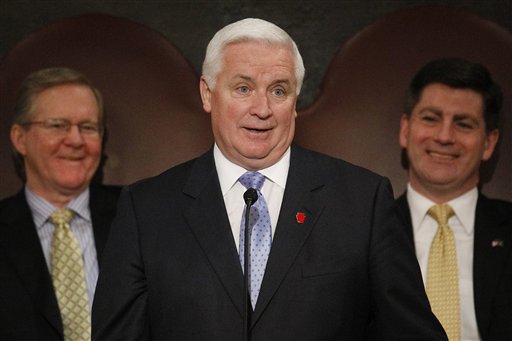 HARRISBURG - The state Treasury Department has loaned money to the administration of Gov. Tom Corbett so work can continue on a range of state-supported construction and improvement projects like hospitals and bridges, a top aide to Treasurer Rob McCord said Monday.
The low-interest $500 million loan is expected to be repaid in the fall, when the Corbett administration will have to issue higher-priced bonds, McCord's chief of staff, John Lisko, said.
In the meantime, the treasury loan will save millions of taxpayer dollars and might become a routine practice for that reason, Lisko said.
"This is an innovative way of handling these types of situations," Lisko said.
The loan's 0.5 percent interest rate is higher than the treasury typically earns on the short-term investments it uses for a pool of state government operating funds, but it is lower than the interest rate that the Corbett administration would pay if it were to borrow money, Lisko said. The money is not expected to be needed to pay day-to-day bills for the next few months, he said.
The state most recently issued $650 million in bonds for the projects last winter at a rate of 3.44 percent, Lisko said. That money has run out.
It will be easier to say how much taxpayer money the arrangement saved once the treasury is repaid by the Corbett administration, Lisko said.
Lisko said more than $55 million was released last week under the arrangement.
The state has several billion dollars in outstanding commitments for projects that include bridges, prisons, university dormitories, National Guard armories, ports, community centers, downtown improvements, hospitals and a slew of cultural facilities, from zoos to symphony halls.