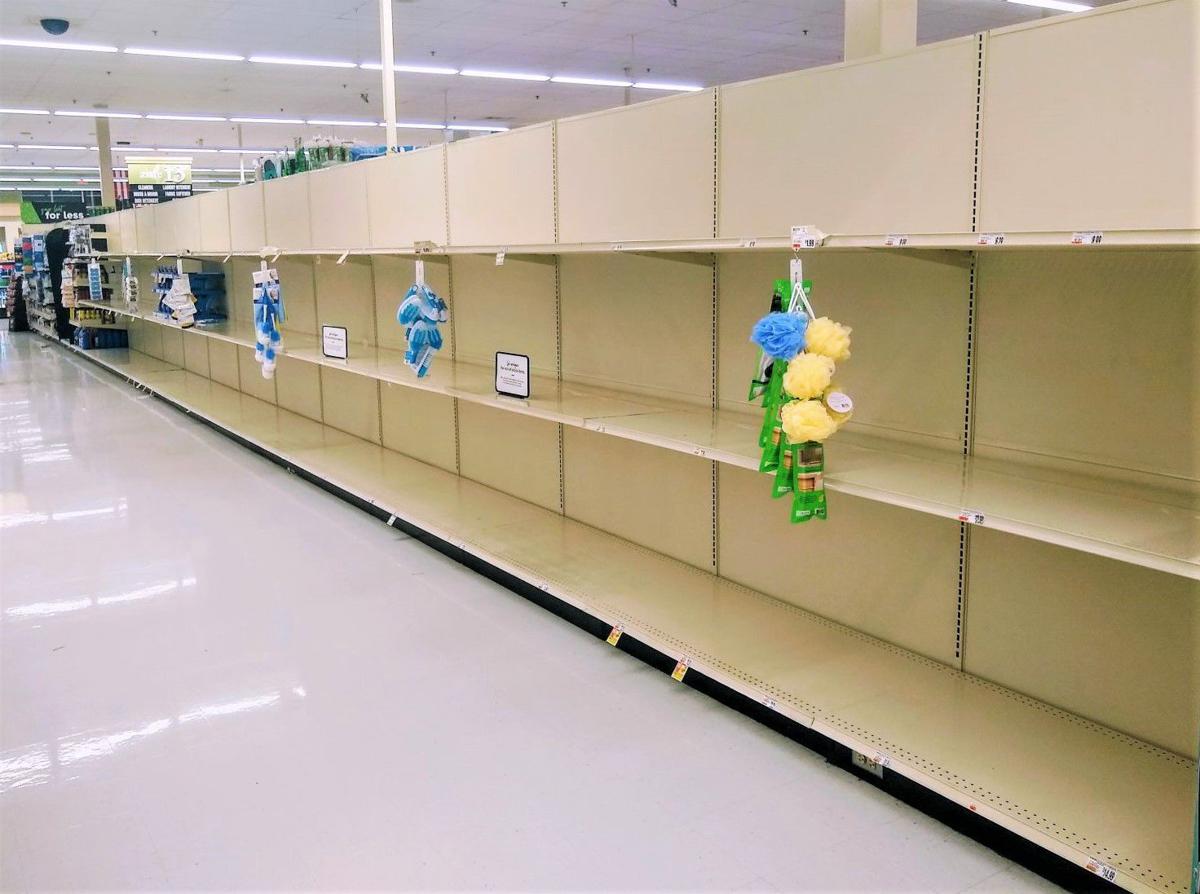 The man who distributes a large chunk of Pennsylvania's toilet paper supply is also stumped as to why we're buying so much of it.
In an interview on Friday, the Giant Co. President Nick Bertram discussed the unprecedented run on paper products, and the company's efforts to keep employees and customers safe, amid the likelihood that the COVID-19 pandemic will continue to escalate.
"In my career, there's never been a sustained period of demand quite like this," said Bertram, whose company, the Carlisle-based subsidiary of Ahold Delhaize, operates Giant and Martin's supermarkets in Pennsylvania, Maryland, Virginia, West Virginia and Washington, D.C.
The run on paper products is probably the most visible impact for the average consumer of the coronavirus pandemic, and it doesn't appear to be letting up.
"The panic buying has not yet subsided, and that's why we've had product limits in place for a lot of different categories," Bertram said Friday. "There's still quite a bit of demand that we're seeing on a day-in, day-out basis. Not the level that it was, it's calmed down a little, but the buying is still much more than it normally would be."
This is easily explained for common food items, since Gov. Tom Wolf's statewide shut-down order limits restaurants to take-out only business, likely increasing the number of meals being prepared at home as residents try to wait out the spread of COVID-19.
For paper products, the issue is less clear.
"No one in our industry has ever seen anything quite like this in that particular category," Bertram said of paper products. "I haven't read or talked to anybody yet who has been able to articulate why exactly consumers have gone after this. It's unusual, and nobody's really come up with a good reason quite yet."
Bertram said Giant's supply chain, for paper products and otherwise, is operating at peak capacity.
The issue is demand. Stores are still getting in their usual stocks of toilet paper, but employees tell Bertram that customers pick it off the pallets even before the stock clerks can move it to the shelves.
This also backs up the supply chain at certain points, Bertram said. Giant's supply chain from its distribution centers to grocery stores has not had any issues, he said, but truckers bringing goods from manufacturers to Giant distribution centers have reported having to camp out.
"For example, one of our drivers was going to a water plant to pick up packaged water. They were in line to pick up a full truckload that was going to come back to our distribution center. The line of trucks was half a mile long just to get into the loading dock," Bertram said. "The transportation side, from the distribution centers to the stores, is not the issue. The issue is from the manufacturer to the distribution center."
Some manufacturers are rationing their output among customers, with each buyer only getting a certain amount regardless of how much they've ordered, he said.
This is more of a problem with national suppliers than it is with local ones, Bertram said, and shoppers may notice that local produce, meats from in-state packers, and other such items come back into stock much faster than national-level brands.
Changes
All of Giant's stores are operating on a 6 a.m. to 10 p.m. schedule, giving workers an opportunity to re-stock and deep clean the stores overnight without any customers around. Approximately 1,500 employees have been hired since the COVID-19 pandemic began, on top of an existing employee base of around 32,000.
Giant also instituted a $2 per hour across-the-board raise, although Bertram said this was intended less to attract new employees and more to thank existing employees for continuing to work under difficult circumstances.
The company has also rushed to make some physical modifications to its stores, such as installing plexiglass barriers at checkouts to separate clerks and customers. Giant stores are now using every-other checkout aisle.
"It's causing longer lines, but it's about protecting people and really taking that six-foot social distancing gap seriously," Bertram said.
Salad bars have also been stopped, and delis are now fresh-slice only to limit the handling of pre-packaged items. Asked if the company was prepared for the possibility of more drastic measures, such as limiting the number of customers in stores, Bertram said his team has "considered all of those."
"We've had these tabletop exercises to anticipate other scenarios if this escalates," Bertram said. "If it becomes necessary to limit the number of people who come into the stores, we have protocols for that."
Thus far, one Giant employee is known to have tested positive for COVID-19, a worker at a standalone pharmacy location in Montgomery County. The location was immediately closed and deep cleaned according to Centers for Disease Control and Prevention guidelines, Bertram said.
"The things we had planned to do, such as closing early, doing the cleaning, notifying the Department of Health, all of those things worked as they were designed to work," Bertram said.
The same protocol will be used if and when other Giant employees test positive, although the possibility remains that the greater concern is with employees who may call off sick but not know whether they have the virus, with testing potentially taking up to a week or more to get a result.
This is why deep cleaning is being done on a regular basis, and why employees are being urged to use the company's heightened sick leave policy, Bertram said. An additional two weeks paid time off is available immediately to any employee with health concerns regarding themselves or a family member.
Despite the shortages and changes to stores, Bertram said, one of his biggest goals is to "keep Giant as a place that gives a little bit of normalcy."
"As much as possible, we're trying to be there so that there's maybe one constant in a world where everything is shut down and people are isolated," he said.
Concerned about COVID-19?
Sign up now to get the most recent coronavirus headlines and other important local and national news sent to your email inbox daily.