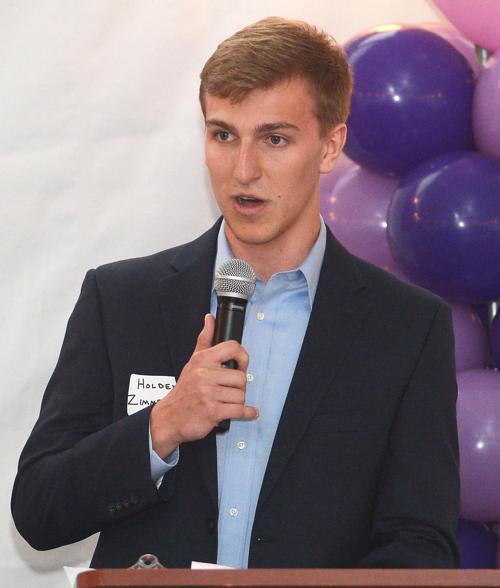 It's been one year since former Cumberland Valley School District student Holden Zimmerman was named The Sentinel and UPMC Pinnacle Teen of the Year.
Zimmerman returned to Carlisle Wednesday to address the 2017-18 class of Teen of the Week recipients and reflect on the intervening 12 months.
He recently completed his freshman year at Penn State University.
"I want to be a doctor," he told the crowd of students, parents and school and business officials. "So, after four years undergrad, four years in medical school, an internship and several years of residency, I should be able to start seeing patients when I'm 60, just in time to retire."
Zimmerman reflected on the night he won the award and the moments leading up to his name being announced.
He said as the qualifications of each of the other students were read off, he started to feel his accomplishments were lacking.
"To be honest, I didn't think it would be able to win the award," he said. "I found myself thinking 'how can I compete (with these other students)?'"
But being named Teen of the Year, and receiving a $5,000 scholarship, gave Zimmerman confidence to go even further in college.
He said he wanted to think ahead to medical school and get experience working in a laboratory during his freshman year.
Sentinel Teens of the Week for 2017-18
A llok back at The Sentinel and UMPC Pinnacle Carlisle Teens of the Week for the 2017-18 school year.
That did not go exactly according to plan initially and he was turned down by several professors.
"When spring rolled around, I went through another round of lab applications," he said.
Zimmerman interviewed with the head of his chemistry department and was awarded a research position for the next three years, he said.
He said he was excited to go back to school in the fall and continue on to a career in medicine.
As for his advice for the current graduating class, Zimmerman said, "I encourage you all to not get hung up on feeling like you have to be the best at something. There are probably some of you out there who feel like I did last year. Remember that you all have the skills and the gifts to succeed. You are all here for a reason and you are all headed for a path to success, so don't underestimate yourself."
Get local news delivered to your inbox!
Subscribe to our Daily Headlines newsletter.