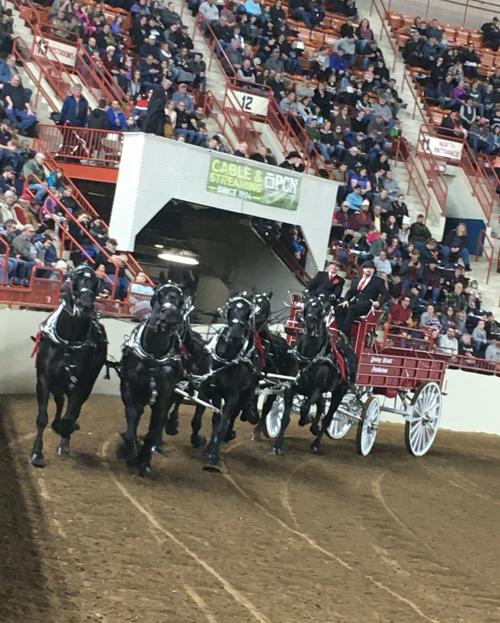 HARRISBURG – Tens of thousands of visitors arrived at the 104th Pennsylvania Farm Show on Sunday in casual jeans, sweat shirts and sneakers.
The draft horses they came to see looked considerably more dressed up in their Scotch collars, silver hames, saddles and more. Although only two teams participated in the six-horse hitch this year, they gave a stylish performance to more than 5,000 people in the New Holland Arena.
"Nothing beats a shiny black horse in a shiny harness," David Hershey of Warriors Mark said earlier Sunday as three generations of his family worked on Valentino, Ross, Hulk, Dan, Champ and Dexter in the Equine Barn.
The six Percherons, all from Hershey's Spring Mount Percherons farm in Huntingdon County, stood patiently as they were primped and shined up for a charming piece of Americana, which shows off the largest animals at the Farm Show.
"Percherons are an obsession with us," Hershey said. "They have style and animation. We love taking care of them and don't consider it work."
His daughter, Monica, braided the horses' forelocks, weaving in red and white ribbons. His son-in-law, Jimmy Brokenshire, applied sheen to the horses' coats. His grandchildren, Mia, 9, and Lincoln, 8, worked on the horses, too.
His wife, Linda, was back at the trailer making lunch while daughter, Melissa, stayed home to run the family business.
You have free articles remaining.
"It takes all of us," Hershey said with a grin. After getting the horses ready, they were hitched to the red and white wagon and headed to the arena.
Lincoln, celebrating his eighth birthday on Sunday, beamed. "I like being at the Farm Show."
Soon, six Hershey Percherons and six Belgians owned by Don Sherwood of Tunkhannock were clip clopping their way into the arena, with two horses as each lead team, two in the middle as the swing team and two at the rear as the wheel team.
The spirited horses thundered through the arena as the crowd applauded the beauty, gracefulness and brute strength of the horses and the drivers who had hands strong enough to keep thousands of pounds of horseflesh moving. The horses gracefully walked, reversed directions and lined up when directed to do so.
Both teams did well, with the judge awarding Hershey first place and Sherwood second place in the six-horse hitch.
Two horses were removed from each team for the four-horse hitch and four Percherons from Burgundy Rose Farms of York joined the other teams for that competition. The teams then went down to three horses for the unicorn class and two horses after that. Hershey won first place in the four-horse hitch and in the team hitch, and Sherwood won first place in the unicorn hitch.
Sherwood has been bringing his draft horses to the Farm Show for 32 years while Hershey has or more than 20. Both said they weren't surprised that the number of horses at this year's show was down.
"The horses are tired from being in several horse shows last year," Sherwood said. "This is a tough time of the year to come to a show because we all just finished our showing seasons. Lots of people pull the horses' shoes off after the October shows and just want to let the horses relax."