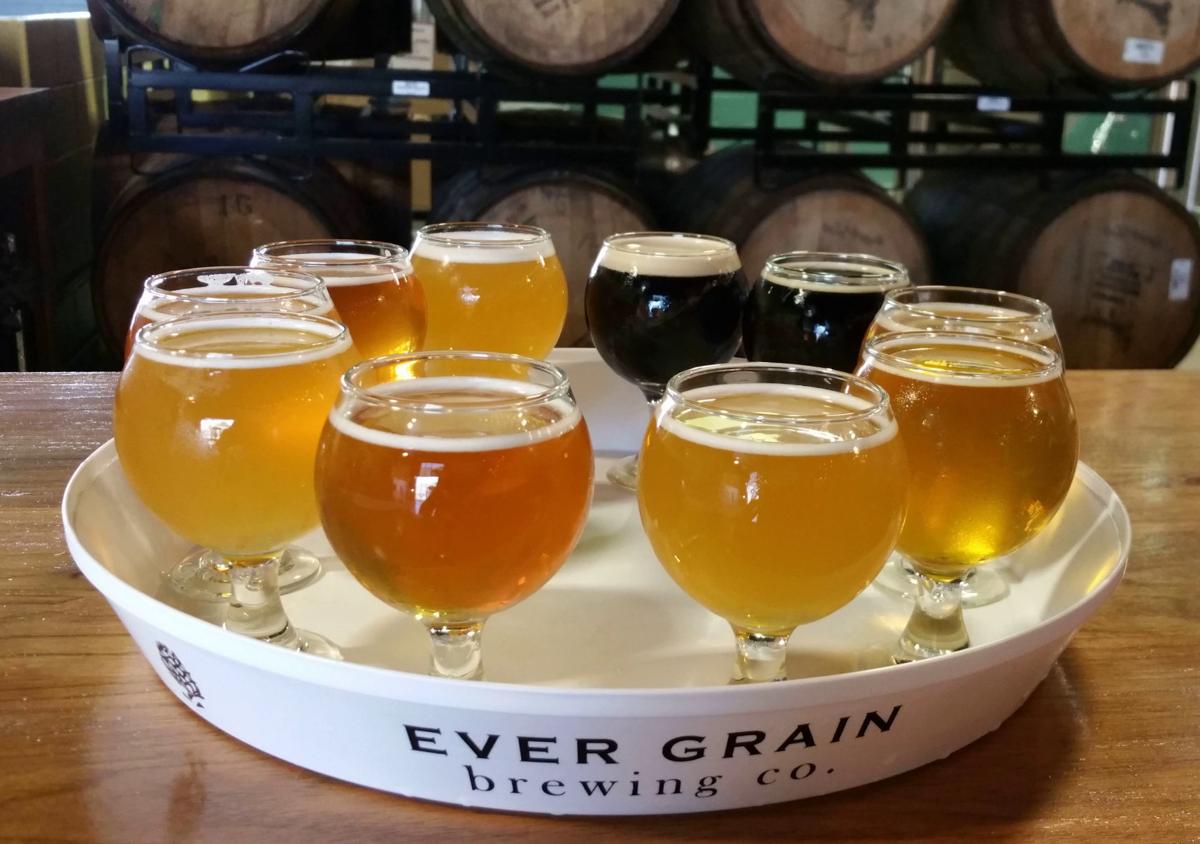 Since opening in fall 2016, Ever Grain Brewing Co. has found success in Hampden Township, and during the ongoing COVID-19 pandemic has been able to make adjustments to stay afloat.
Co-founders Norm Fromm and Larry Dolan met through work before first opening Brewhouse Grille in Lower Allen Township, and today they stay busy running back and forth between the two. Their passion for local ingredients and hiring creative people who they trust is key to their business.
"Everybody has their own niche, you know, so why do you want to be like everybody else?" Fromm said. "To a certain degree you want to have your own identity. That's what's great about breweries, there's so many different breweries but everybody has their own identity."
In late May, Ever Grain was featured in a Forbes article that touted the brewery's creativity in craft beer lines and marketing. Part of the success comes from the brewers the company has on staff.
Derek Testerman started working as one of their three brewers in April 2019 after meeting the owners while at his old job. He said the owners ensure quality product by providing the best equipment and giving the brewers free rein as they are always open to the ideas posed by the brewers.
An important factor of their relationship is that everybody is able to voice their opinions, Fromm said.
"We want to disagree, you know you don't want somebody just to be a yes person because you're not going to get a better product, which is the ultimate goal," Fromm said, adding that, "Most of the time these guys are right on, and certain ideas we present to them, but at the end of the day they're on the same page as us. They do an awesome job."
Although brews are not created with a particular audience in mind, as customers will find something they want to try, a lot of IPAs are made since they remain popular. There are always one or two sour beers on tap along with a few lagers, and flavors are always being switched out, Testerman said.
Sometimes new flavors are influenced by ingredients. At the moment Testerman said they are trying to make a beer with honey because of the 60 pounds from their first harvest at their new sour ale brewing facility in Upper Allen Township, which they call the Farm.
After beer is brewed at the brewery, it ages at the Farm, where in addition to the bees for honey production, there are chickens, a garden from which the chef takes ingredients, and fruit trees. The plan is that the trees will eventually provide fruit for use in their beer, said Testerman.
The farm has also helped cut down costs during COVID-19, which Fromm said in the beginning was a scary situation. Although they did take-out orders and deliveries, they did not have any revenue and simply had the goal to break even, he said.
"We had to rethink everything because, you know, we have a large building, and we turn the lights on for 10 people or a hundred people," Fromm said.
At the time they just tried to keep paying their bills and the staff, but after almost three months they were a little nervous, Fromm said. Although things are now starting to look up, if the shut down had gone on longer, Fromm said he does not know if they would be open.
During reopening, they are doing their best to follow state and federal guidelines, although Fromm said it can be difficult since information changes every day. Employees have their temperatures taken daily. Many of the staff in a variety of positions did not want to return as they started to reopen, Fromm said.
Fromm said they try their best to abide by social distancing practices, and although customers are encouraged to stay six feet apart, Testerman said it can be difficult, especially when it rains and the line waiting outside is moved indoors. However, both he and Fromm said that most customers seem understanding and are just sick of being home.
Although hours are now back to normal, Fromm said he thinks things will likely not be completely back to normal until there is a vaccine. Outdoor seating remains more popular, and inside seating has been adjusted. Plastic barriers sit on the bar counter between every few seats.
"So you can sit at a table cross from somebody that you can serve in the bar. Some of the rules are kind of strange," Fromm said.
During the shutdown, take-out and delivery orders meant that the production side stayed busy with a growth in demand from distributors, said Testerman, and he noticed that awareness of the brand and audience increased as a result.
Before the pandemic, Testerman said he typically worked 45 to 50 hours a week, and during the pandemic he has been working about 75 hours a week. Although the three brewers have been able to adjust to the workload, Testerman said they are short-staffed and have had some help from Fromm and Dolan, as well as their wives. They also took the time in the shutdown to make adjustments to improve all of their recipes.
Both Testerman and Fromm said they hope to spend more time at the Farm after the pandemic, since it has taken the backseat. Any plans have been delayed, Fromm said.
Get local news delivered to your inbox!
Subscribe to our Daily Headlines newsletter.