When Madelyn Mitchell, 10, grows up she plans to become a veterinarian.
Until then though, the fifth-grader at Newville Elementary will glean the skills she can through working at PawMart, the school's student-run store.
Open on Thursdays and Fridays during lunch and recess, PawMart offers a selection of treasures for third- to fifth-grade students to purchase with Bulldog Bucks, earned from their teachers by exhibiting behavior that is respectful, responsible or safe.
After submitting an application in fourth grade and going through an interview process the following year, fifth-grade students take turns working at the store, performing tasks like setting up displays, running the register, wrapping items and helping peers as they shop.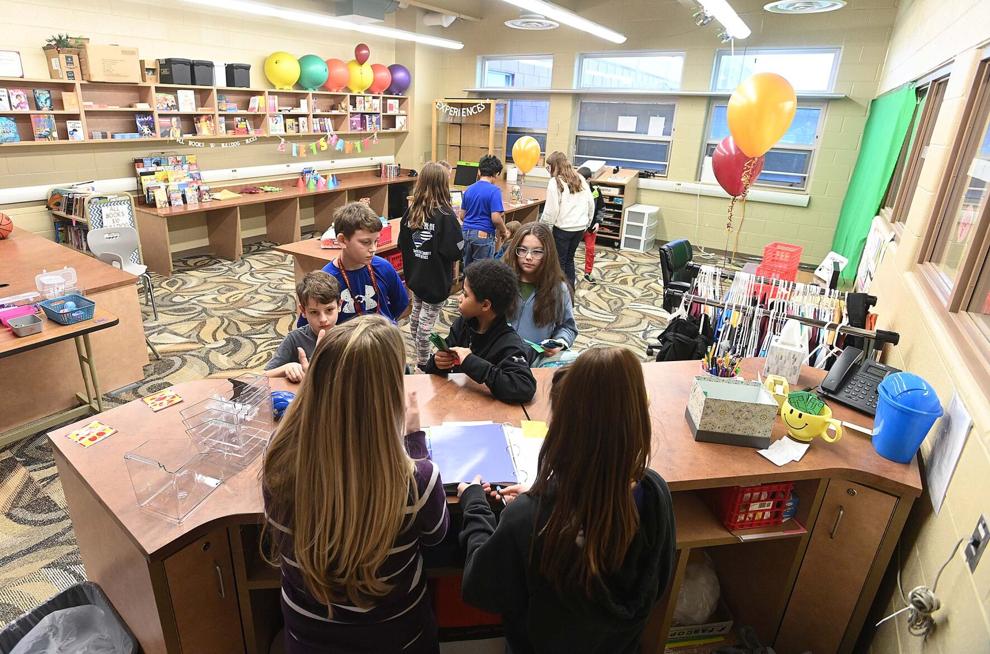 The job means skipping recess, but student workers don't seem to mind.
"I feel like it's fun and something different that not all students have," Mitchell said. "My favorite part about it is probably being able to work the register and help people out."
Kristen Boles, who serves as PawMart's staff helper and Newville Elementary's counselor, said students work for a week (consisting of Thursday and Friday) and if they do a good job and continue to be responsible by turning in their work in class, they're allowed to work a second time.
Students are even paid for their efforts at a rate of five Bulldog Bucks per 30 minutes of work, which works out to be about 30 Bulldog Bucks per work week, Boles said. Workers also have the opportunity to buy an item for 50% off.
"We're trying to kind of make it like it would be if you worked at a real like retail store," Boles said.
She said items and experiences typically cost from five to 100 Bulldog Bucks.
"The students might tell you it's a little expensive, but we remind them that we do have to pay real money that they pay their Bulldog bucks in," Boles said.
Items for sale range from erasers to books to basketballs to school apparel, something she said some students might not otherwise have the opportunity to purchase for themselves.
Funding comes in part through the school's PTO.
Students can also swap their Bulldog Bucks for experiences, like lunch with a teacher, basketball with one of the school resource officers or doughnuts for them and a friend. For 100 Bulldog Bucks, students can purchase extra recess for their class, something Boles said students typically combine earnings to afford.
If a student wants to buy an item they can't afford, they're allowed to reserve it and save up their Bulldog Bucks for the purchase. Several students also bought items from PawMart for their family and friends over the holidays, Boles said.
"I had a student that said, 'I bought my mom a scrunchie ... and she's wearing it everyday to work,' you know, and like that built their relationship," she said.
Building skills
PawMart teaches shoppers how to make purchases and save money while student workers gain the opportunity to develop interview skills and learn about topics like business and marketing.
"We're talking about careers, too," Boles said. "So a lot of times, if I see a student that really excels with customer service, I will say, 'Have you thought about doing this? Have you thought about doing that?'"
While the work doesn't involve live animals like Mitchell's future career interests, she said she believes that a lot of the skills she learns working at PawMart would transfer to veterinary work.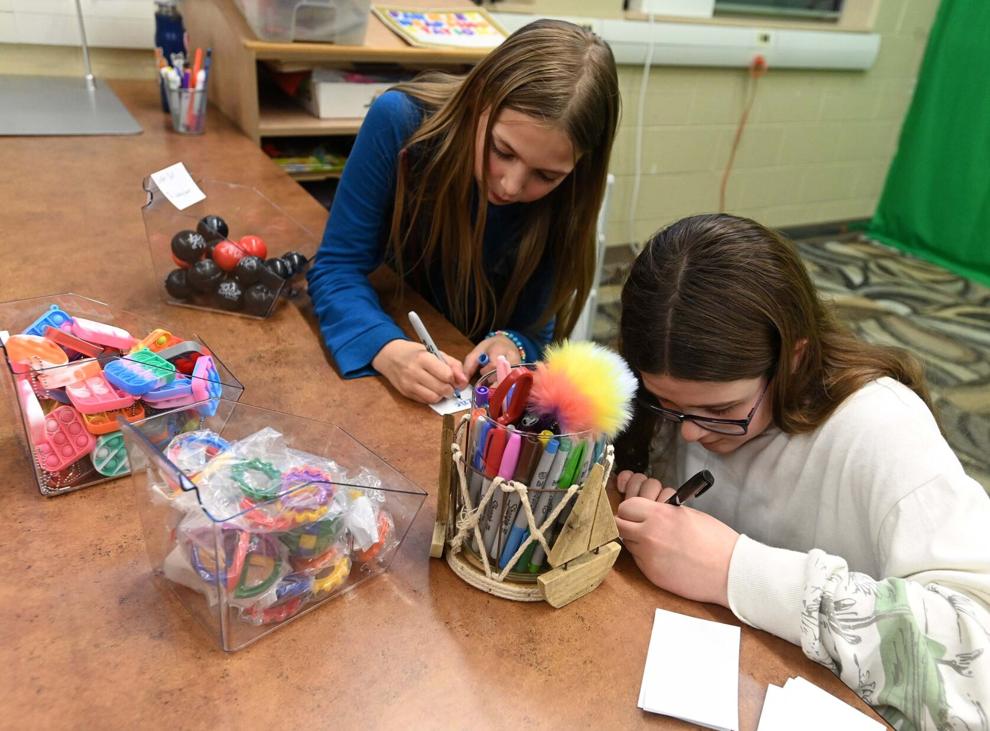 "We work with a lot of people, there's like five people here at a time working, so working with people and being able to collaborate and stuff," she said.
Like Mitchell, Kacey Barrick, 10, who has also worked at PawMart, believes the skills she's learned will help with her aspirations of being a photographer.
"If when I'm older I want to save up my money for a camera, I can just work a grocery job or cashier," she said.
Barrick was one of three students to help debut a wrapping station at PawMart, designed to allow students to wrap items they purchase as a gift.
"It's 100% free because you already bought something for someone else so we would think it would be nice to have it not even have a price," she said.
Student workers can help at the wrapping station and Barrick said before the station was set up, flyers were distributed to fifth-grade classes to allow students to sign up to work in that area, cutting, wrapping and taping.
PawMart's growth
The inclusion of a wrapping station is hardly the only way the store has grown since it began in 2018.
That's when Boles said a group of staff was considering how to encourage positive behavior from students, which lead to the creation of Bulldog Bucks. She got the idea of a school store from a family member who saw something similar at another school and worked with staff to map out PawMart.
The store began as a display in the cafeteria.
"That first year, I would take a table into lunch and set up a few items," Boles said. "And I'd have the clothing rack there too, because first it was like anybody donate your Big Spring items, and that's kind of how it started. We didn't know how big it would be."
When it outgrew the lunch table, PawMart relocated to a countertop in a hallway outside Boles' office.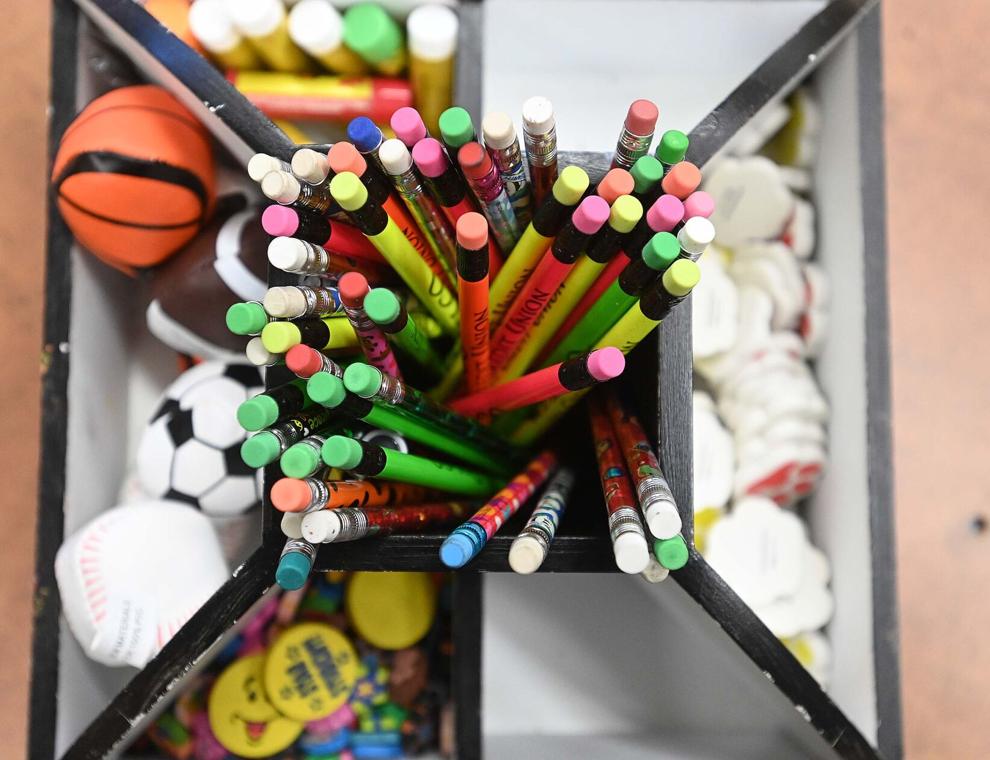 Around November it inherited its own classroom.
"I think in the future, growing more would also be reaching out to businesses and seeing how we can partner with them," Boles said. "Because I think that would allow us to be able to, like grow bigger."
Opportunities for younger students
The ability to shop at PawMart beginning in third grade serves almost as a right of passage for Newville Elementary students, but other opportunities exist for younger students. Students in kindergarten through second grade can win raffle prizes and first- and second-graders can shop at the minimart, a rolling cart with bins of prizes for students to buy with Bulldog Bucks.
Raffle prizes and the minimart allow students to become comfortable with the process by the time they're able to shop at PawMart in third grade.
"We slowly start to let them do this, because we're like, it's a big privilege and I think a first-grader would be a little bit overwhelmed by our options here," Boles said.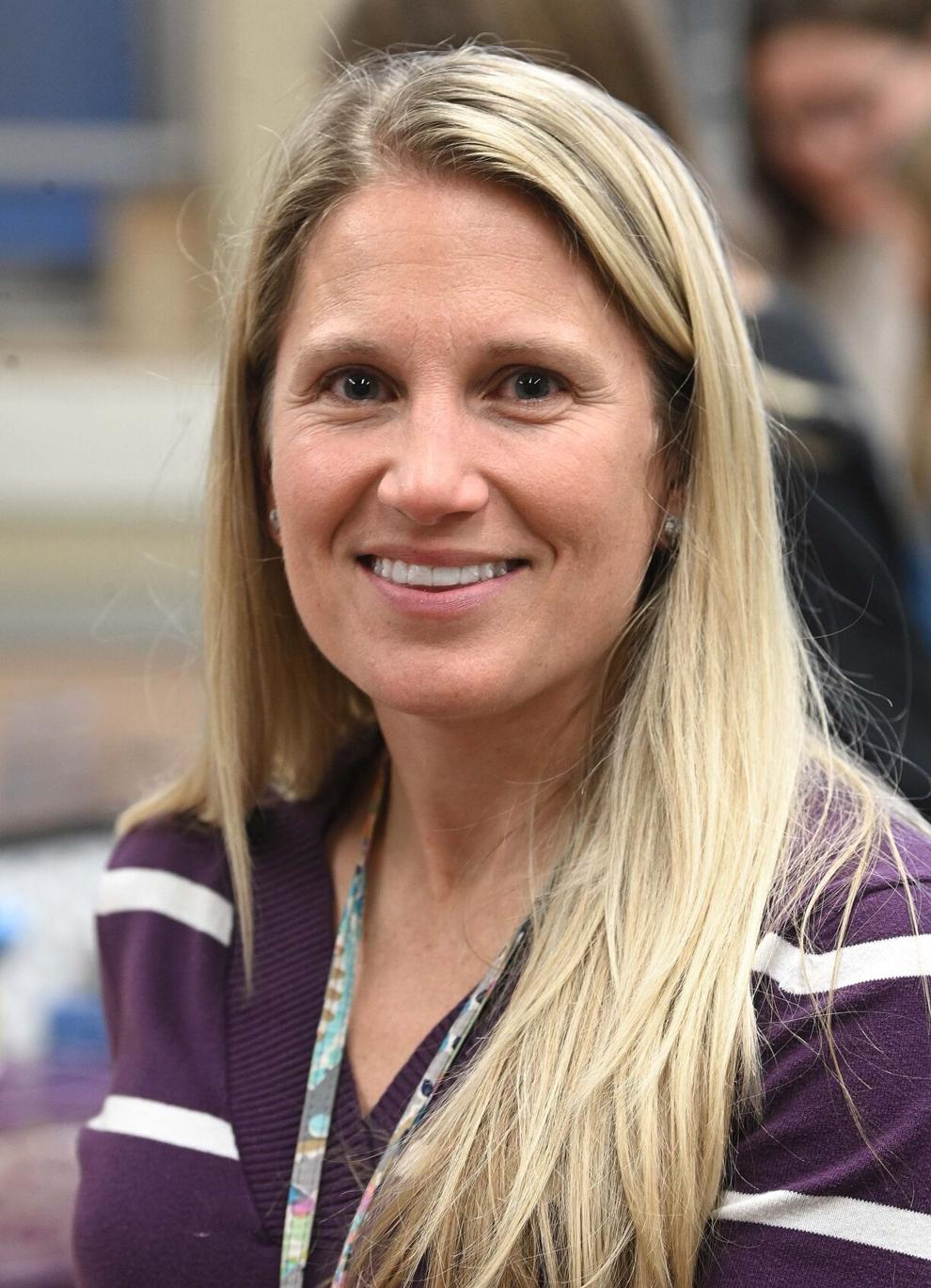 If a student is overwhelmed by those options, workers like Noah Carpenter, 10, are ready to help.
When he's not behind the cash stand, Carpenter can be found in the store recommending items for his peers to purchase. As for him, he's got his eye on the slap bracelets.
Carpenter said working at PawMart has taught him the importance of teamwork, as the store operates like a system with students taking money, reserving items and checking on shoppers to be sure they're doing well.
"My favorite part I would say [is] sending the people out with something," he said. "Honestly, it's nice seeing someone walk out of the place with something they want."
Maddie Seiler is a news reporter for The Sentinel and cumberlink.com covering Carlisle and Newville. You can contact her at mseiler@cumberlink.com and follow her on Twitter at: @SeilerMadalyn