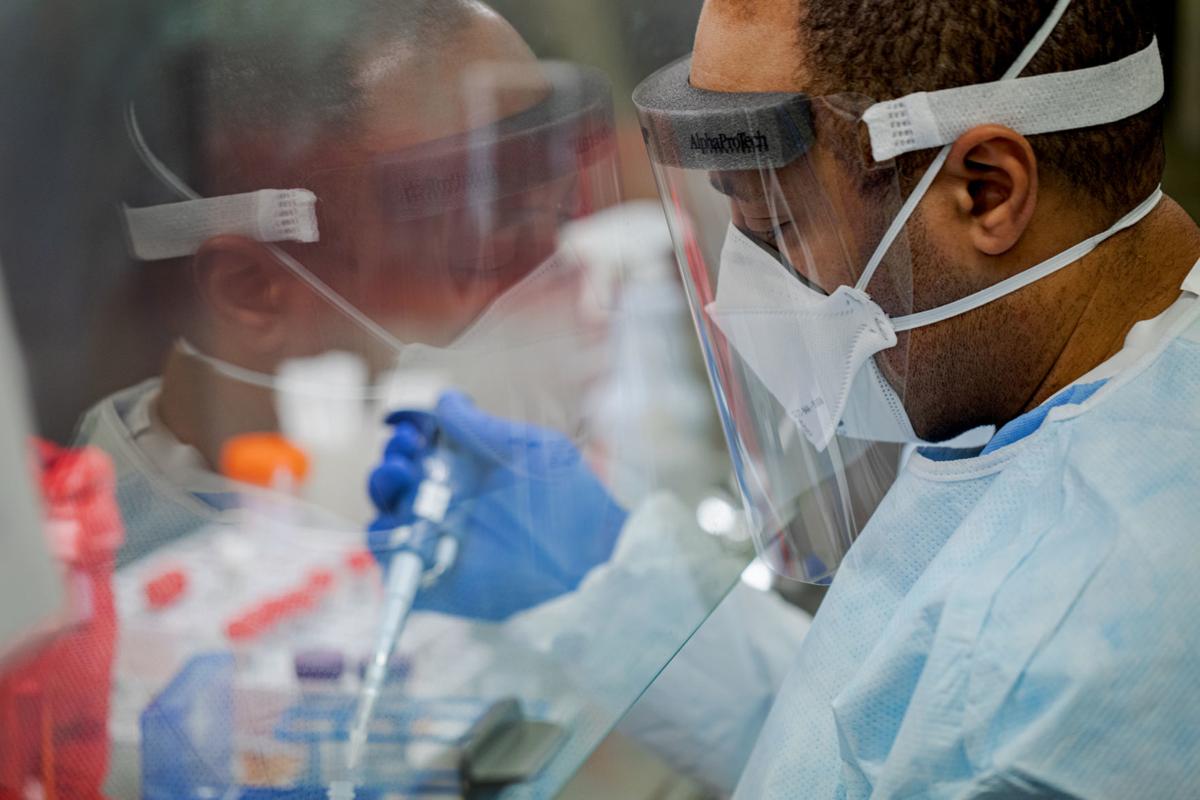 Though municipality-level information is still not yet available for areas of Pennsylvania without a county or city public health bureau, the state Department of Health is slowly releasing more demographic details of COVID-19 cases.
After more than a month of tracking positive cases, the department on Thursday released information regarding negative cases on a county-level, a gender breakdown of state cases and a look at racial demographics, though 74 percent of the total cases currently in the state have no reported racial data.
According to the new information, Cumberland County had 724 negative tests performed as of midnight Thursday. The county currently has 137 positive cases and four deaths.
Though the new negative count shows quite a few people in the county getting tested, it also reveals that fewer Cumberland County residents are being tested at all compared to other counties in the Midstate, even those with fewer positive cases.
Adams and Franklin counties both have fewer positive than Cumberland County - 67 and 80, respectively - but the department reported that 1,088 negative tests were reported out of Adams and 1,932 negative tests were reported in Franklin.
In the Midstate, only Perry County reported fewer negative tests. The county had 99 negative tests, with 17 positives.
The counties in the area with more COVID-19 cases also had more testing results, save for Lebanon County, which has 380 positives and 1,697 negative tests, fewer than Franklin County.
Lancaster County had the most reported negative tests - 5,013 - but it's also been the hardest hit with 970 cases as of Thursday and 33 deaths. York County residents are also getting tested, with the county having 4,691 negative tests and 393 positive tests.
Dauphin County's numbers have been rising, with the county now reporting seven deaths, and it has 2,110 negative tests with its 287 positive tests.
The department also released a bit more information on nursing homes, in addition to what they revealed Wednesday. The department's data now shows how many of the nursing home cases are in staff members and in residents. Cumberland County's 33 cases are split to 30 residents and three staff members in three facilities. The department isn't specifying the breakdown in deaths, and two of the county's four COVID-19-related deaths are in long-term care facilities.
Dauphin County also has three facilities affected by COVID-19, with 35 resident cases and two staff cases, with one death.
Like the larger population, Lancaster County has the highest number of affected facilities in the region, with 17 facilities reporting at least one COVID-19 case. In Lancaster, 210 residents have the virus, along with 48 staff members. The department says 23 of the county's 33 deaths are in long-term care facilities or personal care homes.
Adams, Lebanon and York only have one care facility affected by the disease, each, and there are no reported facility infections in Franklin or Perry counties.
Though the information was not broken down by county, the department also released what information it had on gender and race in positive cases.
So far in Pennsylvania, women make up slightly more of the positive cases than men, with 52 percent being women and 46 percent being men. About 2 percent of the cases did not have a sex reported in the data.
The department is missing racial data in 20,551 positive cases - or 74 percent of what the state has so far - though Health Secretary Dr. Rachel Levine said they are pushing for better efforts in reporting on ethnicity for future cases. With the hole in the data, the department still reported that 4,540 of the cases involved whites (16 percent), 2,324 cases were in blacks (8 percent), 237 were among Asians (1 percent) and 83 were listed as other.
Regional data could be gleaned by looking at the tables or map on the department's website, but state health officials did create a table comparing case counts in the region for residents to get a better idea of where COVID-19 has hit the hardest.
The worst area remains to be the Southeast, where Philadelphia and Montgomery counties report the highest numbers, but the Northeast has overtaken the Pittsburgh region as the second location of concern for officials. Of the positive cases, 16,856 are in the Southeast and 6,875 are in the Northeast.
Though Allegheny County had reported a higher number of positive cases, the Southcentral region isn't far behind the Southwest. The Southwestern region has 1,719 of the reported positive cases, while Southcentral has 1,448, Northwest has 207 and Northcentral has 440.
---
Posted earlier on Cumberlink:
Of Cumberland County's 33 COVID-19 cases in three long-term care facilities, three are in staff members and 30 cases are residents, according to new data from the state Department of Health.
The department on Thursday gave a few more details on its website about nursing home cases. The department first issued a county breakdown and an accurate list of cases on Wednesday after an analysis into reporting data.
The department did not report any further nursing home cases in Cumberland County Thursday, but it did report 1,245 more cases statewide among all state residents, as well as another 60 deaths. There are now 27,735 cases of COVID-19 in the state since March 6 and 707 deaths due to the disease.
Though its nursing population numbers didn't rise, Cumberland County did see another four COVID-19 cases overall, bringing its number to 137.
Dauphin County saw an increase to seven deaths, and it now has 287 cases in the county. Like Cumberland County, Dauphin County has three facilities with COVID-19 cases, and it has 35 home residents infected, two staff members infected and one death in a facility.
Lancaster County's overall positive cases is nearly at 1,000, with new reports raising county numbers to 970 cases and 33 deaths. Lancaster has 17 long-term care facilities with a COVID-19 infection, and has 210 infected residents, 48 infected staff members and 23 related deaths.
Overall across the state, there are 306 long-term care facilities with at least one COVID-19 infection, with 3,290 residents, 394 staff members and 365 deaths.
More than half of the new deaths are in nursing facilities. Wednesday's report had only 324 deaths reported in such facilities.