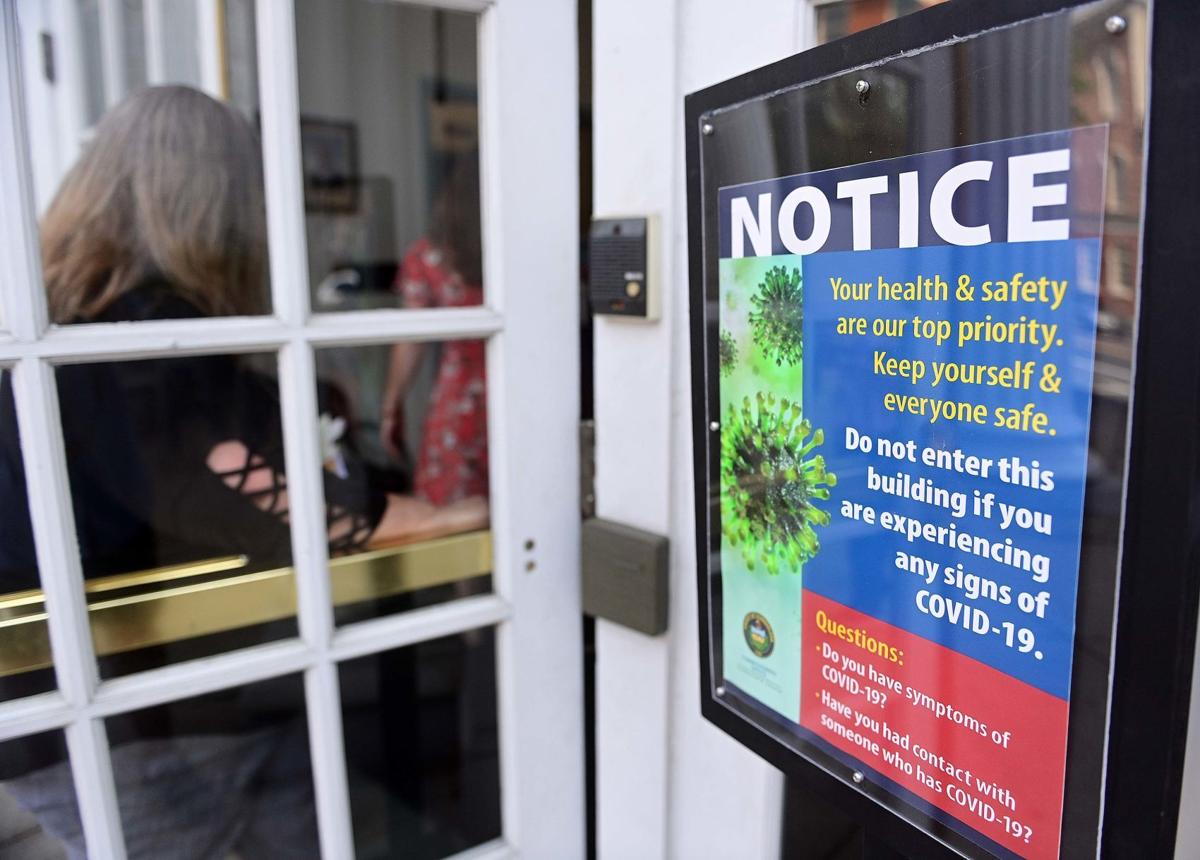 The Pennsylvania Department of Health reported 9 new cases of COVID-19 for Cumberland County Thursday, with no additional deaths.
That breaks a string of days with double-digit increases that began July 24.
Cumberland County's 7-day rolling average of new cases now sits at 17.57, the eighth straight day the rate has increased. In the past 14 days, 204 new cases have been reported in Cumberland County, giving the county a per capita rate of 80.51 cases per 100,000 people for the 14-day period.
The DOH reported Wednesday that 173 new people in Cumberland County had confirmed negative test results.
The southcentral region reported 101 new positives in Thursday's report. Three counties in the region reported double-digit increases in new COVID-19 cases. Dauphin County had 24 more cases while Franklin County had 28 more cases. York County reported 20 additional cases.
Statewide, the DOH reported 860 new positives Thursday, bringing the total number of cases in Pennsylvania to 111,078.
Allegheny County reported an increase of 132 cases and Philadelphia County reported an increase of 127 cases.
There were 200 new cases reported in the six-county region around Pittsburgh and 287 cases in the four-county Philadelphia region. Combined, those regions account for 56% of the reported cases in the state on Thursday.
There are 7,176 total deaths attributed to COVID-19 in Pennsylvania; 14 deaths were reported Thursday.
Three of those deaths were in the southcentral region with one additional death each reported in Adams, Blair and York counties.
In nursing and personal care homes, there are 19,366 resident cases of COVID-19, and 3,918 cases among employees, for a total of 23,284 at 846 facilities in 61 counties. Of Pennsylvania's total deaths, 4,887 have occurred in residents from nursing or personal care facilities.
County numbers in the southcentral region (through July 30):
Adams County (pop. 103,009): 7 new cases; 461 total cases (445 confirmed, 16 probable); 7,865 negatives; 19 deaths
Bedford County (pop. 47,888): 3 new cases; 127 total cases (111 confirmed, 16 probable); 2,543 negatives; 4 deaths
Blair County (pop. 121,829): 2 new cases; 201 total cases (188 confirmed, 13 probable); 9,610 negatives; 3 deaths
Cumberland County (pop. 253,370): 9 new cases; 1,180 total cases (1,122 confirmed, 67 probable); 17,285 negatives; 70 deaths
Dauphin County (pop. 278,299): 24 new cases; 2628 total cases (2,560 confirmed, 68 probable); 25,830 negatives; 155 deaths
Franklin County (pop. 155,027): 28 new cases; 1,259 total cases (1,207 confirmed, 52 probable); 12,135 negatives; 46 deaths
Fulton County (pop. 14,530): 0 new cases; 22 total cases (20 confirmed, 2 probable); 725 negatives; 2 deaths
Huntingdon County (pop. 45,144): 0 new cases; 287 total cases (278 confirmed, 9 probable); 2,888 negatives; 4 deaths
Juniata County (pop. 24,763): 0 new cases; 125 total cases (118 confirmed, 7 probable); 1,325 negatives; 6 deaths
Lebanon County (pop. 141,793): 3 new cases; 1,562 total cases (1,496 confirmed, 66 probable); 12,116 negatives; 54 deaths
Mifflin County (pop. 46,138): 5 new cases; 98 total cases (94confirmed, 4 probable); 7,060 negatives; 1 death
Perry County (pop. 46,272): 1 new case; 111 total cases (103 confirmed, 8 probable); 2,477 negatives; 5 deaths
York County (pop. 449,058): 20 new cases; 2,243 total cases (2,193 confirmed, 50 probable); 32,967 negatives; 85 deaths
ZIP code-level counts (through July 29):
17013: 162 positives, 2,772 negatives - +1 since July 28
17015: 66 positives, 1,330 negatives - +1 since July 29
17050: 153 positives, 2,046 negatives - +1 since July 29
17055: 155 positives, 2,560 negatives - +2 since July 29
17011: 214 positives, 3,472 negatives - +3 since July 29
17007: 12 positives, 288 negatives - +1 since July 29
17065: 12 positives, 202 negatives - +1 since July 19
17324: 17 positives, 252 negatives - +1 since July 28
17241: 52 positives, 1,001 negatives - +1 since July 29
17257: 224 positives, 901 negatives - +1 since July 29
17240: 17 positives, 96 negatives - +1 since July 27
17025: 52 positives, 921 negatives - +2 since July 28
17070: 58 positives, 979 negatives - +2 since July 28
17043: 18 positives, 411 negatives - +3 since July 26
17019: 35 positives, 1,048 negatives - -1 since July 28
Long-term care facilities and personal care homes in Cumberland County (as reported to the DoH through July 28):
Artis Senior Living of West Shore (Lemoyne): fewer than 5 resident cases; 0 staff cases; fewer than 5 deaths
Bethany Village Retirement Center (Mechanicsburg): 0 resident cases; fewer than 5 staff cases; 0 deaths
Bridges at Bent Creek (Hampden Township): 0 resident cases; fewer than 5 staff cases; 0 deaths
Brookdale Grandon Farms (Hampden Township): 9 resident cases; 5 staff cases; 0 deaths
Carriage Courts Personal Care at Green Ridge Village (Newville): 0 resident cases; fewer than 5 staff cases; 0 deaths
Chapel Pointe (Carlisle): 0 resident cases; fewer than 5 staff cases; 0 deaths
Claremont Nursing & Rehabilitation Center (Carlisle): 0 resident cases; 11 staff cases; 0 deaths (county reported July 20 that there were 2 resident cases, as well)
Country Meadows of West Shore (Mechanicsburg): fewer than 5 resident cases; fewer than 5 staff cases; 0 deaths
Cumberland Crossings (Carlisle): 0 resident cases; 0 staff cases; 0 deaths
Forest Park (Carlisle): 0 resident cases; 0 staff cases; 0 deaths
Fox Subacute (Mechanicsburg): 0 resident cases; 0 staff cases; 0 deaths
Gardens at Camp Hill: 47 resident cases; 21 staff cases; 8 deaths
Gardens at West Shore (Camp Hill): 82 resident cases; 26 staff cases; 19 deaths (no July 28 data was available; numbers are from June 10)
Gilliland Manor (Newville): 0 resident cases; fewer than 5 staff cases; 0 deaths
Manorcare Health Center (Camp Hill): 0 resident cases; 0 staff cases; 0 deaths
Manorcare Health Center (Carlisle): 23 resident cases; 6 staff cases; 5 deaths 
Messiah Lifeways (Upper Allen Township): 0 cases; fewer than 5 staff cases; 0 deaths
Sarah A. Todd Memorial Home (Carlisle): 65 resident cases; 32 staff cases; 11 deaths
Shippensburg Health Care Center: 92 resident cases; 28 staff cases; 31 deaths
Swaim Health Center (Newville): 0 resident cases; 0 staff cases; 0 deaths
Thornwald Home (Carlisle): fewer than 5 resident cases; fewer than 5 staff cases; 0 deaths
Vibra Rehabilitation Center: 0 resident cases; fewer than 5 staff cases; 0 deaths (no July 28 data was available; numbers are from June 30)
Vibra Senior Living: 0 resident cases; fewer than 5 staff cases; 0 deaths
PCR diagnostic tests percent positivity (updated weekly on Sundays)
Pennsylvania: 4.7% last 7 days; 4.4% previous 7 days
Adams County: 4.2% last 7 days; 3.1% previous 7 days
Cumberland County: 3.8% last 7 days; 3.0% previous 7 days
Dauphin County: 5.3% last 7 days; 5.1% previous 7 days
Franklin County: 7.7% last 7 days; 3.8% previous 7 days
Lebanon County: 4.4% last 7 days; 6.0% previous 7 days
Perry County: 3.1% last 7 days; 1.4% previous 7 days
York County: 5.4% last 7 days; 6.1% previous 7 days