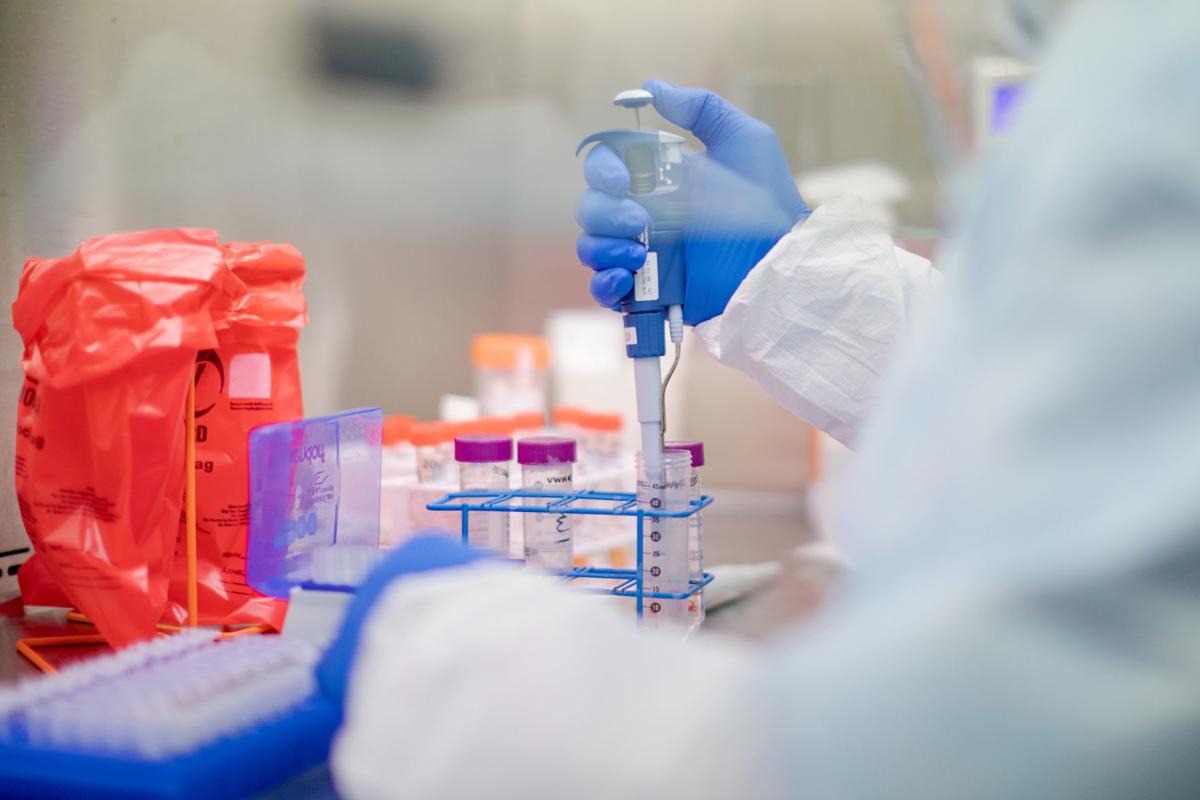 In the latest report from the state Department of Health, Cumberland County saw nine new cases of COVID-19 as positive tests continued to rise for the majority of the southcentral region.
In Tuesday's report, most counties in the region, except for Fulton, Huntingdon, Juniata and Mifflin counties, reported an increase in the number of coronavirus cases.
The highest increase was in Dauphin County, which saw 41 new cases tabulated from Monday's data. The county also had two new reported deaths.
For days, York County had reported the highest increases, and while it was lower than Dauphin County in Tuesday's report, the county is still seeing a larger spike than most of the region. York had 30 new confirmed and probable positives Tuesday, as well as three new reported deaths.
The state Department of Health did not update its facility-level data for nursing homes, but in an overall look across counties, Dauphin County saw an increase of four resident infections, one staff infection and two deaths at its previously reported nine affected long-term care facilities. York County has 10 affected facilities, and among those it saw an increase in eight resident cases and two staff cases.
Cumberland County's long-term care facility numbers didn't change overall, which could mean the latest increases were not located in nursing facilities. According to ZIP code level data updated Tuesday, the 17050 ZIP code in Silver Spring and Hampden townships has seen the highest increase with 12 cases since last Friday, and about half of that increase was reported in the 17055 Mechanicsburg area ZIP code and the 17257 Shippensburg ZIP code.
Lebanon County, which remains the only county in the state that is not scheduled to yet move to the green phase of Gov. Tom Wolf's reopening plan, saw 11 new positive cases, as well as one new death.
Of the region, Cumberland County had the fourth highest increase, along with Franklin County, which also saw nine new cases Tuesday.
Perry County continued to see a rise in cases with two new positives reported Tuesday, and Adams County also grew by five new positives and one new death.
Bedford and Blair counties have largely been quiet with few increases reported, but both saw an increase of three positives each in Tuesday's report.
County numbers in the southcentral region (through June 23):
Adams County (pop. 103,009): 5 new cases; 322 total cases (311 confirmed, 11 probable); 4,671 negatives; 12 deaths
Bedford County (pop. 47,888): 3 new cases; 69 total cases (62 confirmed, 7 probable); 1,249 negatives; 2 deaths
Blair County (pop. 121,829): 3 new cases; 61 total cases (56 confirmed, 5 probable); 4,921 negatives; 1 death
Cumberland County (pop. 253,370): 9 new cases; 801 total cases (766 confirmed, 35 probable); 9,847 negatives; 61 deaths
Dauphin County (pop. 278,299): 41 new cases; 1,851 total cases (1,798 confirmed, 53 probable); 16,004 negatives; 122 deaths
Franklin County (pop. 155,027): 9 new cases; 891 total cases (863 confirmed, 28 probable); 7,680 negatives; 42 deaths
Fulton County (pop. 14,530): 0 new cases; 18 total cases (16 confirmed, 2 probable); 400 negatives; 1 death
Huntingdon County (pop. 45,144): 0 new cases; 240 total cases (233 confirmed, 7 probable); 1,416 negatives; 4 deaths
Juniata County (pop. 24,763): 0 new cases; 108 total cases (101 confirmed, 7 probable); 653 negatives; 5 deaths
Lebanon County (pop. 141,793): 11 new cases; 1,272 total cases (1,225 confirmed, 47 probable); 7,467 negatives; 40 deaths
Mifflin County (pop. 46,138): 0 new cases; 61 total cases (58 confirmed, 3 probable); 2,075 negatives; 1 death
Perry County (pop. 46,272): 2 new cases; 85 total cases (78 confirmed, 7 probable); 1,313 negatives; 5 deaths
York County (pop. 449,058): 30 new cases; 1,381 total cases (1,343 confirmed, 38 probable); 20,087 negatives; 39 deaths
Long-term care facilities in Cumberland County (through June 10):
Artis Senior Living: fewer than 5 resident cases;  0 staff cases; 0 deaths
Chapel Point: 0 resident cases; 1 staff cases; 0 deaths
Claremont Nursing & Rehabilitation Center: 0 resident cases; fewer than 5 staff cases; 0 deaths
Forest Park Healthcare & Rehab Center: 0 resident cases; fewer than 5 staff cases; 0 deaths
Gardens at Camp Hill: 45 resident cases; 21 staff cases; 8 deaths
Gardens at West Shore: 82 resident cases; 26 staff cases; 19 deaths
Manorcare Health Center Carlisle: 9 resident cases; 0 staff cases; 0 deaths
Messiah Lifeways: 0 cases; 3 staff cases; 0 deaths
Sarah A. Todd Memorial Home: 52 resident cases; 26 staff cases; 11 deaths
Shippensburg Health Care Center: 91 resident cases; 27 staff cases; 31 deaths
Swaim Health Center: 0 resident cases; fewer than 5 staff cases; 0 deaths
Thornwald Home: 0 cases; fewer than 5 staff cases; 0 deaths
ZIP code-level counts (through June 23):
17013: 122 positives, 1,800 negatives - +3 since June 18
17015: 43 positives, 690 negatives - +1 since June 18
17050: 92 positives, 1,045 negatives - +12 since June 18
17055: 81 positives, 1,420 negatives - +6 since June 18
17011: 157 positives, 1,989 negatives - +4 since June 18
17007: Less than 4 positives, 160 negatives
17065: 11 positives, 109 negatives - +3 since June 18
17324: Less than 4 positives, 138 negatives
17241: 32 positives, 599 negatives - +2 since June 18
17257: 171 positives, 523 negatives - +6 since June 18
17240: 11 positives, 56 negatives
17025: 34 positives, 499 negatives - +3 since June 18
17070: 39 positives, 556 negatives - +2 since June 18
17043: 9 positives, 229 negatives
17019: 25 positives, 535 negatives - +2 since June 18