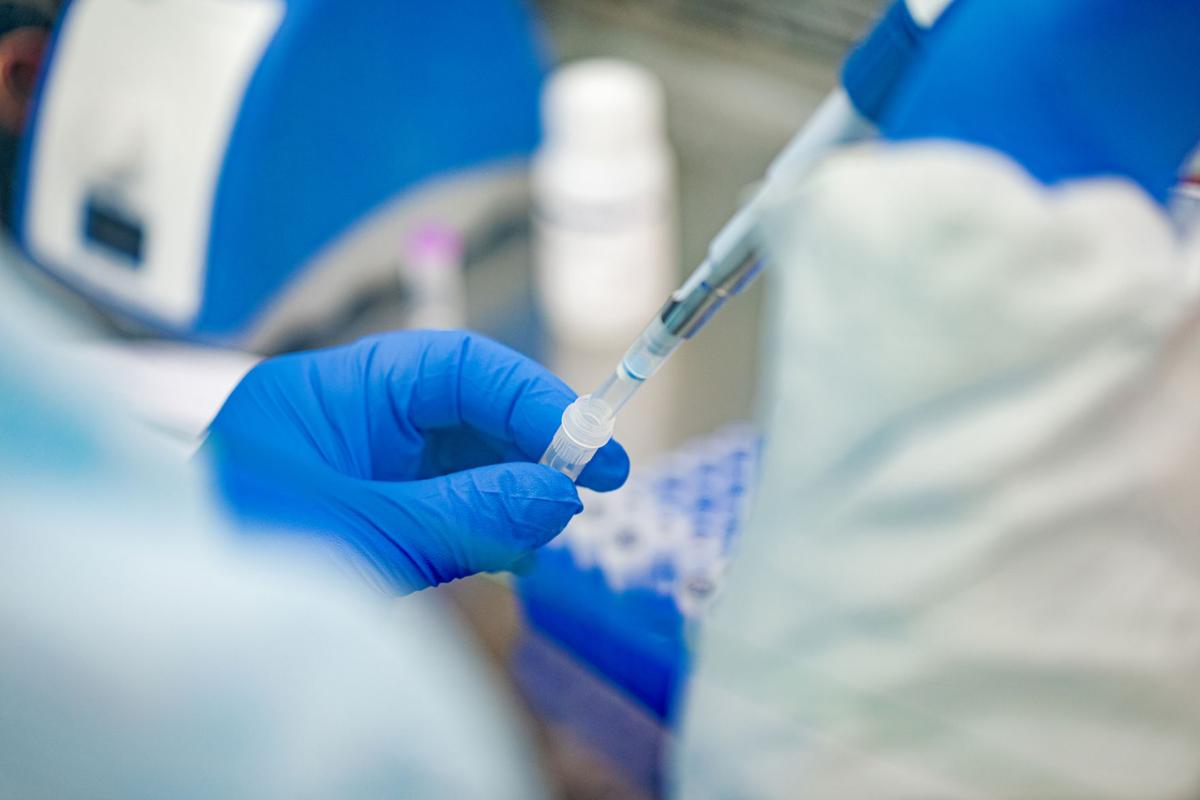 The state Department of Health reported Wednesday that Cumberland County had 89 new cases of COVID-19 and seven new deaths associated with the virus.
The number of hospitalizations dropped slightly in the county. One less patients is hospitalized with COVID-19 according to the DoH dashboard, bringing the total number to 59 in the county. 
The county's 14-day per-capita rate per 100,000 people now sits at 578.60 and its seven-day rate of cases sits at 109.14, both drops from the last few days of case reports.
Judging by just the number of negative tests (286) and confirmed positive tests (77) reported Wednesday, the county saw about 21% of its tests come back positive.
Cumberland County officials reported Tuesday night that an additional five COVID-19 deaths had occurred in the past four days among residents at Claremont Nursing and Rehabilitation Center, the county-owned home.
This brings the total death toll at Claremont from the coronavirus to 10 residents, with all of the deaths occurring during this month's spike in cases across the county, state, and nation. Claremont reported its first COVID-19 death on Nov. 16.
Similarly, Messiah Lifeways in Upper Allen Township lists Tuesday evening 25 deaths among residents at the Messiah Village Nursing Care facility — 11 of those deaths being added to the tally since Friday.
In the southcentral region, York County had 183 new cases and two new deaths, Franklin County had 160 new cases and two new deaths Wednesday, while Blair County had 102 new cases and three new deaths.
The DoH reported 6,759 new cases of COVID-19 for the state with 144 additional deaths.
The DoH said there are 3,897 individuals hospitalized statewide with COVID-19. Of that number, 826 patients are in the intensive care unit with COVID-19. Most of the patients hospitalized are ages 65 or older, and most of the deaths have occurred in patients 65 or older. More data is available here.
The trend in the 14-day moving average of number of hospitalized patients per day has increased by nearly 2,300 since the end of September.
County numbers in the southcentral region (updated Nov. 25):
Adams County (pop. 103,009): 26 new cases; 1,834 total cases (1,776 confirmed, 58 probable); 21,900 negatives; 45 deaths
Bedford County (pop. 47,888): 38 new cases; 1,305 total cases (1,003 confirmed, 302 probable); 6,436 negatives; 21 deaths (+4)
Blair County (pop. 121,829): 102 new cases; 3,623 total cases (3,173 confirmed, 450 probable); 26,635 negatives; 59 deaths (+3)
Cumberland County (pop. 253,370): 89 new cases; 4,585 total cases (4,158 confirmed, 427 probable); 48,274 negatives; 119 deaths (+7)
Dauphin County (pop. 278,299): 83 new cases; 7,176 total cases (6,944 confirmed, 232 probable); 65,537 negatives; 213 deaths
Franklin County (pop. 155,027): 160 new cases; 4,097 total cases (3,949 confirmed, 148 probable); 29,833 negatives; 101 deaths (+2)
Fulton County (pop. 14,530): 15 new cases; 246 total cases (197 confirmed, 49 probable); 1,996 negatives; 5 deaths
Huntingdon County (pop. 45,144): 23 new cases; 1,629 total cases (1,467 confirmed, 162 probable); 9,718 negatives; 50 deaths (+1)
Juniata County (pop. 24,763): 20 new cases; 652 total cases (626 confirmed, 26 probable); 3,330 negatives; 12 deaths
Lebanon County (pop. 141,793): 75 new cases; 4,935 total cases (4,654 confirmed, 281 probable); 30,221 negatives; 105 deaths (+1)
Mifflin County (pop. 46,138): 65 new cases; 1,472 total cases (1,400 confirmed, 72 probable); 9,268 negatives; 27 deaths (+3)
Perry County (pop. 46,272): 8 new cases; 616 total cases (566 confirmed, 50 probable); 6,406 negatives; 9 deaths
York County (pop. 449,058): 183 new cases; 10,161 total cases (9,701 confirmed, 460 probable); 90,143 negatives; 239 deaths (+2)
ZIP code-level counts (through Nov. 25):
17013: 640 positives, 6,686 negatives - +92 since Nov. 20
17015: 375 positives, 3,418 negatives - +51 since Nov. 20
17050: 615 positives, 6,556 negatives - +58 since Nov. 20
17055: 746 positives, 10,010 negatives - +77 since Nov. 20
17011: 596 positives, 7,880 negatives - +49 since Nov. 20
17007: 94 positives, 858 negatives - +20 since Nov. 20
17065: 66 positives, 581 negatives - +9 since Nov. 20
17324: 57 positives, 691 negatives - +4 since Nov. 20
17241: 175 positives, 1,876 negatives - +17 since Nov. 20
17257: 561 positives, 2,855 negatives - +49 since Nov. 20
17240: 34 positives, 246 negatives - +4 since Nov. 20
17025: 228 positives, 2,604 negatives - +27 since Nov. 20
17070: 244 positives, 2,651 negatives - +19 since Nov. 20
17043: 67 positives, 1,052 negatives - +7 since Nov. 20
17019: 227 positives, 2,850 negatives - +41 since Nov. 20
Long-term care facilities and personal care homes in Cumberland County (as reported to the Department of Health through Nov. 18):
Artis Senior Living of West Shore (Lemoyne): Fewer than 5 resident cases; 0 staff cases; fewer than 5 deaths
Bethany Village Retirement Center (Mechanicsburg): 0 resident cases; fewer than 5 staff cases; 0 deaths
Bridges at Bent Creek (Hampden Township): 0 resident cases; fewer than 5 staff cases; 0 deaths
Brookdale Grandon Farms (Hampden Township): 9 resident cases; 5 staff cases; 0 deaths
Carriage Courts Personal Care at Green Ridge Village (Newville): 0 resident cases; fewer than 5 staff cases; 0 deaths
Chapel Pointe (Carlisle): 36 resident cases; 28 staff cases; fewer than 5 deaths
Church of God Home (Carlisle): 0 resident cases; fewer than 5 staff cases; 0 deaths
Claremont Nursing & Rehabilitation Center (Carlisle): 42 resident cases; 24 staff cases; fewer than 5 deaths
Country Meadows of West Shore (Mechanicsburg): 5 resident cases; fewer than 5 staff cases; 0 deaths
Cumberland Crossings (Carlisle): 33 resident cases; 10 staff cases; 0 deaths
Forest Park (Carlisle: 0 resident cases; fewer than 5 staff cases; 0 deaths
Fox Subacute (Mechanicsburg): 0 resident cases; 5 staff cases; 14 deaths
Gardens at Camp Hill: 48 resident cases; 23 staff cases; 8 deaths
Gardens at West Shore (Camp Hill): 82 resident cases; 26 staff cases; 19 deaths (numbers are from last available data on June 10)
Gilliland Manor (Newville): 0 resident cases; fewer than 5 staff cases; 0 deaths
Manorcare Health Center (Camp Hill): 0 resident cases; fewer than 5 staff cases; 0 deaths
Manorcare Health Center (Carlisle): 25 resident cases; 8 staff cases; 5 deaths 
Messiah Lifeways (Upper Allen Township): 94 cases; 53 staff cases; 14 deaths
Sarah A. Todd Memorial Home (Carlisle): 74 resident cases; 50 staff cases; 11 deaths
Shippensburg Health Care Center: 114 resident cases; 40 staff cases; 34 deaths
Swaim Health Center (Newville): 14 resident cases; 15 staff cases; 0 deaths
Thornwald Home (Carlisle): 20 resident cases; 19 staff cases; fewer than 5 deaths
Vibra Senior Living: 0 resident cases; fewer than 5 staff cases; 0 deaths
COVID-19 Early Warning Monitoring System Dashboard (Nov. 13-Nov. 19):
(Counties with a percent positivity above 5% in a week go on the Department of Health's watch list)
Pennsylvania

Percent Positivity - 11.1% last 7 days (9.6% previous 7 days)
Incidence Rate per 100,000 people last 7 days - 282.1 (213.4 previous 7 days)

Adams County:

Percent Positivity - 6.4% last 7 days (7.0% previous 7 days)
Incidence Rate per 100,000 people last 7 days - 161.5 (171.2 previous 7 days)

Cumberland County:

Percent Positivity - 11.0% last 7 days (9.2% previous 7 days)
Incidence Rate per 100,000 people last 7 days - 246.2 (192.5 previous 7 days)

Dauphin County:

Percent Positivity - 10.7% last 7 days (9.3% previous 7 days)
Incidence Rate per 100,000 people last 7 days - 254.8 (201.7 previous 7 days)

Franklin County:

Percent Positivity - 17.0% last 7 days (15.1% previous 7 days)
Incidence Rate per 100,000 people last 7 days - 369.4 (281.6 previous 7 days)

Lebanon County:

Percent Positivity - 12.7% last 7 days (12.4% previous 7 days)
Incidence Rate per 100,000 people last 7 days - 299.3 (290.8 previous 7 days)

Perry County:

Percent Positivity - 12.0% last 7 days (9.9% previous 7 days)
Incidence Rate per 100,000 people last 7 days - 160.4 (130.0 previous 7 days)

York County:

Percent Positivity - 10.9% last 7 days (9.4% previous 7 days)
Incidence Rate per 100,000 people last 7 days - 234.5 (164.6 previous 7 days)