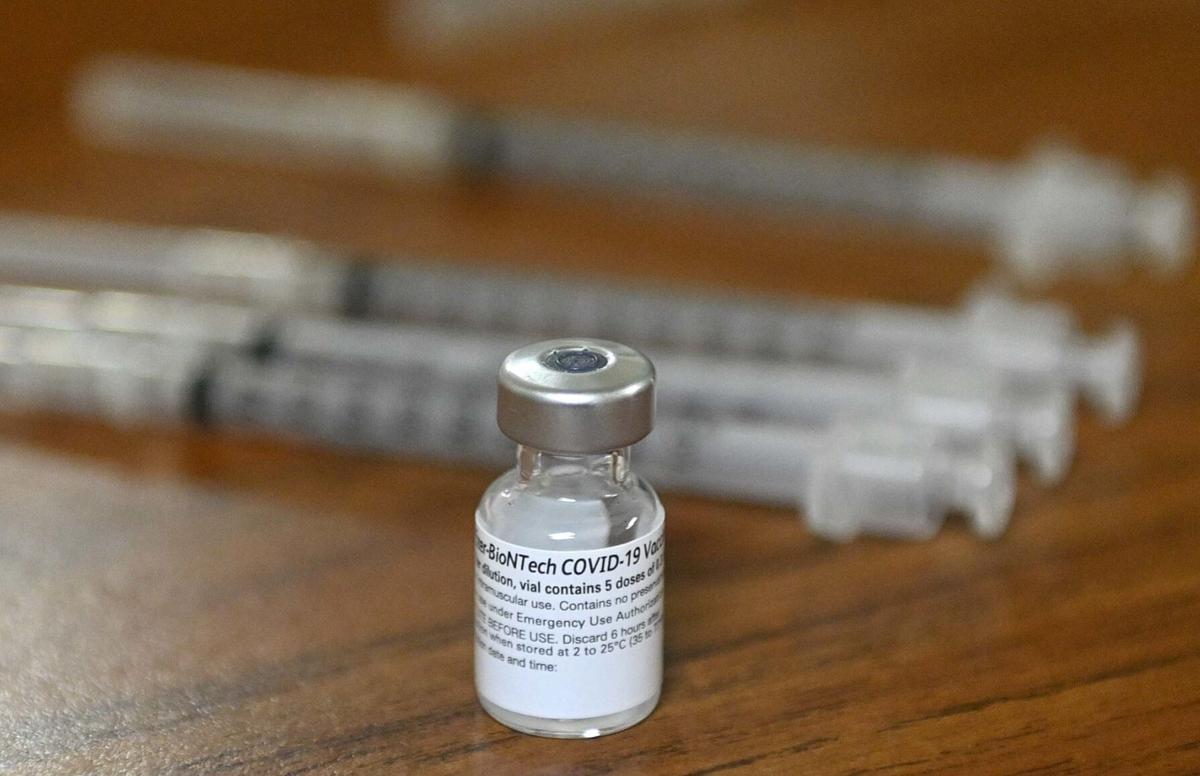 The state Department of Health reported Saturday that there were 82 new cases of COVID-19 and no new deaths for Cumberland County.
That's only the third time the county has topped 80 new cases in a day since March 1, though Saturday's report did include a higher-than-normal total test results number for the county with 512 results posted. The county typically features a range of 150 to 350 test results on a given day in the past month.
Saturday's report included 512 total test results, with 18 new probables. Comparing just the number of negative tests (430) and confirmed positive tests (64), the county saw about 12.9% of its tests come back positive.
The county's seven-day average of cases now sits at 56.57 and its 14-day per capita rate sits at 277.07.
On the Health Department's weekly update to its Early Warning Monitoring System Dashboard, Cumberland County showed increases in percent positivity and incidence rate per 100,000 people for the week of March 26-April 2. The county's percent positivity jumped to 6.4% for the week (up from 4.4%) and its incidence rate rose to 114.9 (up from 94.3, the second straight week with an increase).
The state as whole saw its percent positivity increase to 9.4% (up from 7.7%) and incidence rate increase to 169.9 (up from 143.9). 
There were 46 patients hospitalized with COVID-19 in the county in Saturday's report (up four from Friday), with nine in intensive care units, and five on ventilators.
As of Saturday's data, the Health Department says 39,707 partial vaccines have been administered in Cumberland County, with 35,110 full vaccines (both doses) administered.
In the southcentral region for Saturday, York County had 173 new cases, Dauphin County 105 cases and Blair County 69 cases.
The DOH said there were 5,343 new cases for the state Saturday with 40 new deaths.
County numbers in the southcentral region (for April 3):
Adams County (pop. 103,009): 46 new cases; 8,240 total cases (6,944 confirmed, 1,296 probable); 32,757 negatives; 161 deaths
Bedford County (pop. 47,888): 13 new cases; 3,987 total cases (2,869 confirmed, 1,118 probable); 9,296 negatives; 130 deaths
Blair County (pop. 121,829): 69 new cases; 11,265 total cases (9,107 confirmed, 2,158 probable); 36,387 negatives; 314 deaths (+1)
Cumberland County (pop. 253,370): 82 new cases; 18,130 total cases (14,847 confirmed, 3,283 probable); 73,984 negatives; 498 deaths
Dauphin County (pop. 278,299): 105 new cases; 22,601 total cases (20,001 confirmed, 2,600 probable); 94,706 negatives; 524 deaths (+2)
Franklin County (pop. 155,027): 42 new cases; 13,624 total cases (11,667 confirmed, 1,957 probable); 47,150 negatives; 341 deaths (+1)
Fulton County (pop. 14,530): 1 new cases; 1,203 total cases (677 confirmed, 526 probable); 3,609 negatives; 15 deaths
Huntingdon County (pop. 45,144): 12 new cases; 4,601 total cases (3,874 confirmed, 727 probable); 14,332 negatives; 126 deaths
Juniata County (pop. 24,763): 5 new cases; 1,936 total cases (1,753 confirmed, 183 probable); 4,865 negatives; 81 deaths
Lebanon County (pop. 141,793): 48 new cases; 13,962 total cases (12,211 confirmed, 1,751 probable); 46,514 negatives; 265 deaths
Mifflin County (pop. 46,138): 9 new cases; 4,826 total cases (4,586 confirmed, 240 probable); 13,408 negatives; 175 deaths
Perry County (pop. 46,272): 23 new cases; 3,266 total cases (2,605 confirmed, 661 probable); 9,872 negatives; 90 deaths (+1)
York County (pop. 449,058): 173 new cases; 39,993 total cases (33,185 confirmed, 6,808 probable); 140,330 negatives; 752 deaths (+1)
ZIP code-level counts (updated April 3):
17013: 2,171 positives, 11,259 negatives - +9 since April 2
17015: 1,368 positives, 5,603 negatives - +4 since April 2
17050: 2,178 positives, 11,015 negatives - +9 since April 2
17055: 2,486 positives, 13,883 negatives - +19 since April 2
17011: 2,396 positives, 11,544 negatives - +4 since April 2
17007: 345 positives, 1,351 negatives - +0 since April 2
17065: 227 positives, 978 negatives - +0 since April 2
17324: 215 positives, 1,054 negatives - +1 since April 2
17241: 563 positives, 2,702 negatives - +4 since April 2
17257: 1,580 positives, 5,411 negatives - +2 since April 2
17240: 143 positives, 505 negatives - +0 since April 2
17025: 972 positives, 4,402 negatives - +7 since April 2
17070: 946 positives, 4,287 negatives - +4 since April 2
17043: 323 positives, 1,619 negatives - +1 since April 2
17019: 1,054 positives, 4,459 negatives - +6 since April 2
17266: 19 positives, 98 negatives - +0 since April 2
COVID-19 Early Warning Monitoring System Dashboard (March 26-April 1):
(Counties with a percent positivity above 5% in a week go on the Department of Health's watch list)
Pennsylvania:

Percent Positivity - 9.4% last 7 days (7.7% previous 7 days)
Incidence Rate per 100,000 people last 7 days - 169.9 (143.9 previous 7 days)

Adams County:

Percent Positivity - 12.4% last 7 days (10.2% previous 7 days)
Incidence Rate per 100,000 people last 7 days - 190.3 (161.2 previous 7 days)

Cumberland County:

Percent Positivity - 6.4% last 7 days (4.4% previous 7 days)
Incidence Rate per 100,000 people last 7 days - 114.9 (94.3 previous 7 days)

Dauphin County:

Percent Positivity - 9.9% last 7 days (8.0% previous 7 days)
Incidence Rate per 100,000 people last 7 days - 138.3 (111.4 previous 7 days)

Franklin County:

Percent Positivity - 9.9% last 7 days (6.0% previous 7 days)
Incidence Rate per 100,000 people last 7 days - 145.8 (103.9 previous 7 days)

Lebanon County:

Percent Positivity - 10.5% last 7 days (11.0% previous 7 days)
Incidence Rate per 100,000 people last 7 days - 159.4 (158 previous 7 days)

Perry County:

Percent Positivity - 12.9% last 7 days (11.1% previous 7 days)
Incidence Rate per 100,000 people last 7 days - 138.3 (110.2 previous 7 days)

York County:

Percent Positivity - 11.9% last 7 days (10.7% previous 7 days)
Incidence Rate per 100,000 people last 7 days - 184.4 (175.3 previous 7 days)