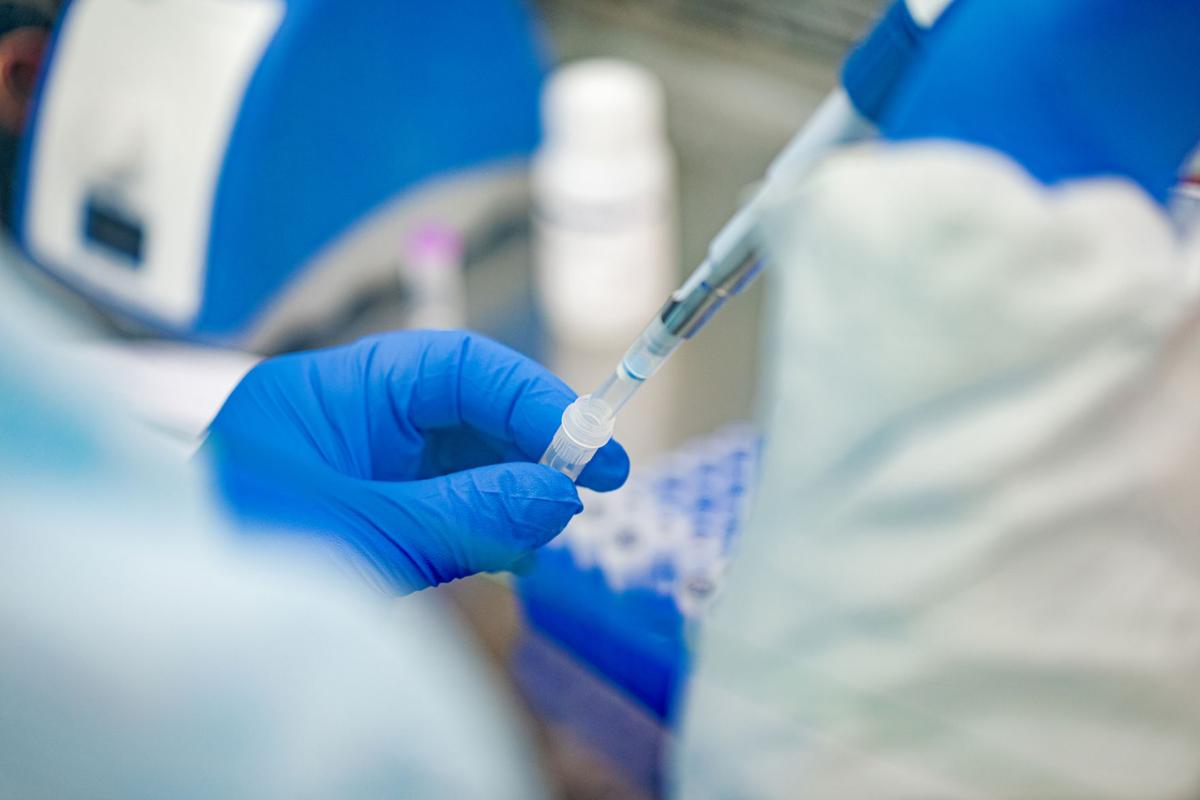 The state Department of Health reported 81 new cases of COVID-19 and one death for Cumberland County Wednesday. 
Wednesday's report included 244 total test results, with 11 probable cases. Comparing just the number of negative tests (163) and confirmed positive tests (70), the county saw 30% of its tests come back positive.
The number of patients hospitalized with COVID-19 decreased to 59 in Wednesday's report, down five from Tuesday's report, with 13 adults in intensive care and eight on ventilators. Six adult ICU beds remain available in the county and 27 of 89 ventilators in the county are in use.
The county's seven-day average of cases now sits at 76.43. Its 14-day per capita rate sits at 423.49, the highest rate since Feb. 11.
The southcentral region reported 852 cases Wednesday, with Franklin County reporting 209 cases, its highest single-day total of new cases since Jan. 6 and the height of the fall/winter surge. York County reported 175 cases and Dauphin County 116 cases.
School-aged cases
Since Aug. 16, 164 school-aged children in Cumberland County have been diagnosed with COVID-19, according to data released by the Department of Health Tuesday.
The weekly data now available on the department website shows that 92 of those cases were confirmed in children between the ages of 5 and 18 during the week of Aug. 26 through Sept. 1.
Case data available from the Centers for Disease Control shows that there were 17 cases of COVID-19 in children under 17 years of age in Cumberland County in August 2020. Another 40 cases were reported in September 2020.
Cases among school-aged children in the county, according to CDC data, reached a high of 383 cases in December 2020. In total, 1,796 of the total 2,009 cases of COVID-19 reported among children in the CDC data through Aug. 24 came during the 2020-21 school year.
Also since Aug. 16, 32 children aged four and younger have contracted the disease. Twenty of those cases came during the week of Aug. 26 through Sept. 1.
Vaccinations
The Centers for Disease Control and Prevention labels Cumberland County as having "high" transmission of the virus — the highest level, which is the transmission level for every county in the state except Montgomery and Chester counties. Community transmission is determined by the number of new cases per 100,000 people in the last seven days and the positivity rate over the last seven days, so the classification could vary from day to day based on those numbers.
In data updated Tuesday evening, the CDC says Cumberland County has seen 57.7% of its total population of 253,370 become fully vaccinated. For the county's vaccine eligible population of people ages 12 and older, 66.6% have been fully vaccinated. 
In CDC estimates, the delta variant accounted for 99.1% of genetically sequenced coronavirus cases of COVID-19 in the United States for the one-week period ending Sept. 4, marking an increase from the 98.9% estimated for the week ending Aug. 28.
For Region 3 in the U.S. (which includes Pennsylvania, Delaware, District of Columbia, Maryland, Virginia and West Virginia), the delta variant is estimated to account for 99.3% of genetically sequenced coronavirus cases of COVID-19 for the one-week period ending Sept. 4, representing an increase from an estimated 99% for the one-week period ending Aug. 28.
In Pennsylvania, the delta variant accounted for 97.9% of cases for a four-week period ending Aug. 14.
The delta variant is a mutated coronavirus that spreads more easily than other versions. It was first detected in India but now has been identified around the world.
County numbers in the southcentral region (for Sept. 8):
Adams County (pop. 103,009): 41 new cases; 10,875 total cases (8,933 confirmed, 1,942 probable); 41,454 negatives; 192 deaths; 46% of county population vaccinated
Bedford County (pop. 47,888): 27 new case; 5,134 total cases (3,526 confirmed, 1,608 probable); 11,227 negatives; 145 deaths; 32% of county population vaccinated
Blair County (pop. 121,829): 47 new cases; 14,341 total cases (11,204 confirmed, 3,137 probable); 43,450 negatives; 346 deaths; 43.5% of county population vaccinated
Cumberland County (pop. 253,370): 81 new cases; 22,958 total cases (18,340 confirmed, 4,618 probable); 91,874 negatives; 548 deaths (+1); 57.7% of county population vaccinated
Dauphin County (pop. 278,299): 116 new cases; 29,095 total cases (25,060 confirmed, 4,035 probable); 118,393 negatives; 578 deaths; 54% of county population vaccinated
Franklin County (pop. 155,027): 209 new cases; 17,481 total cases (14,758 confirmed, 2,723 probable); 60,983 negatives; 384 deaths (+1); 41% of county population vaccinated
Fulton County (pop. 14,530): 24 new cases; 1,605 total cases (867 confirmed, 738 probable); 4,551 negatives; 20 deaths; 27.8% of county population vaccinated
Huntingdon County (pop. 45,144): 29 new cases; 5,607 total cases (4,694 confirmed, 913 probable); 18,116 negatives; 139 deaths; 43.2% of county population vaccinated
Juniata County (pop. 24,763): 7 new cases; 2,365 total cases (2,128 confirmed, 237 probable); 6,005 negatives; 92 deaths (+1); 36.5% of county population vaccinated
Lebanon County (pop. 141,793): 71 new cases; 17,599 total cases (15,137 confirmed, 2,462 probable); 58,987 negatives; 305 deaths; 46.7% of county population vaccinated
Mifflin County (pop. 46,138): 9 new cases; 5,750 total cases (5,431 confirmed, 319 probable); 16,386 negatives; 183 deaths; 44.4% of county population vaccinated
Perry County (pop. 46,272): 16 new cases; 4,266 total cases (3,301 confirmed, 965 probable); 12,080 negatives; 102 deaths; 42.7% of county population vaccinated
York County (pop. 449,058): 175 new cases; 51,763 total cases (41,992 confirmed, 9,771 probable); 179,123 negatives; 855 deaths; 50.8% of county population vaccinated
ZIP code-level counts (updated Sept. 8):
17013: 2,765 positives, 13,934 negatives - +31 since Sept. 5
17015: 1,677 positives, 6,935 negatives - +13 since Sept. 5
17050: 2,693 positives, 14,321 negatives - +23 since Sept. 5
17055: 3,060 positives, 16,910 negatives - +20 since Sept. 5
17011: 2,846 positives, 13,904 negatives - +21 since Sept. 5
17007: 407 positives, 1,747 negatives - +3 since Sept. 5
17065: 274 positives, 1,237 negatives - +4 since Sept. 5
17324: 299 positives, 1,321 negatives - +3 since Sept. 5
17241: 723 positives, 3,187 negatives - +3 since Sept. 5
17257: 1,940 positives, 7,154 negatives - +20 since Sept. 5
17240: 177 positives, 640 negatives - +4 since Sept. 5
17025: 1,240 positives, 5,577 negatives - +23 since Sept. 5
17070: 1,172 positives, 5,357 negatives - +6 since Aug. 30
17043: 414 positives, 2,029 negatives - +3 since Sept. 5
17019: 1,356 positives, 5,488 negatives - +9 since Sept. 5
17266: 21 positives, 121 negatives - +1 since Sept. 5
(Counties with a percent positivity above 5% in a week go on the Department of Health's watch list)
Pennsylvania:

Percent Positivity - 8.2% last 7 days (7.8% previous 7 days)
Incidence Rate per 100,000 people last 7 days - 134.9 (124.4 previous 7 days)

Adams County:

Percent Positivity - 9.7% last 7 days (9.0% previous 7 days)
Incidence Rate per 100,000 people last 7 days - 195.1 (159.2 previous 7 days)

Cumberland County:

Percent Positivity - 10.7% last 7 days (10.7% previous 7 days)
Incidence Rate per 100,000 people last 7 days - 140.9 (133 previous 7 days)

Dauphin County:

Percent Positivity - 11.4% last 7 days (10.8% previous 7 days)
Incidence Rate per 100,000 people last 7 days - 153.1 (142.3 previous 7 days)

Franklin County:

Percent Positivity - 14.2% last 7 days (11.7% previous 7 days)
Incidence Rate per 100,000 people last 7 days - 261.2 (196.1 previous 7 days)

Lebanon County:

Percent Positivity - 12% last 7 days (10.3% previous 7 days)
Incidence Rate per 100,000 people last 7 days - 163.6 (130.5 previous 7 days)

Perry County:

Percent Positivity - 14.2% last 7 days (16% previous 7 days)
Incidence Rate per 100,000 people last 7 days - 123.2 (142.6 previous 7 days)

York County:

Percent Positivity - 10.2% last 7 days (9.6% previous 7 days)
Incidence Rate per 100,000 people last 7 days - 174.4 (154.3 previous 7 days)