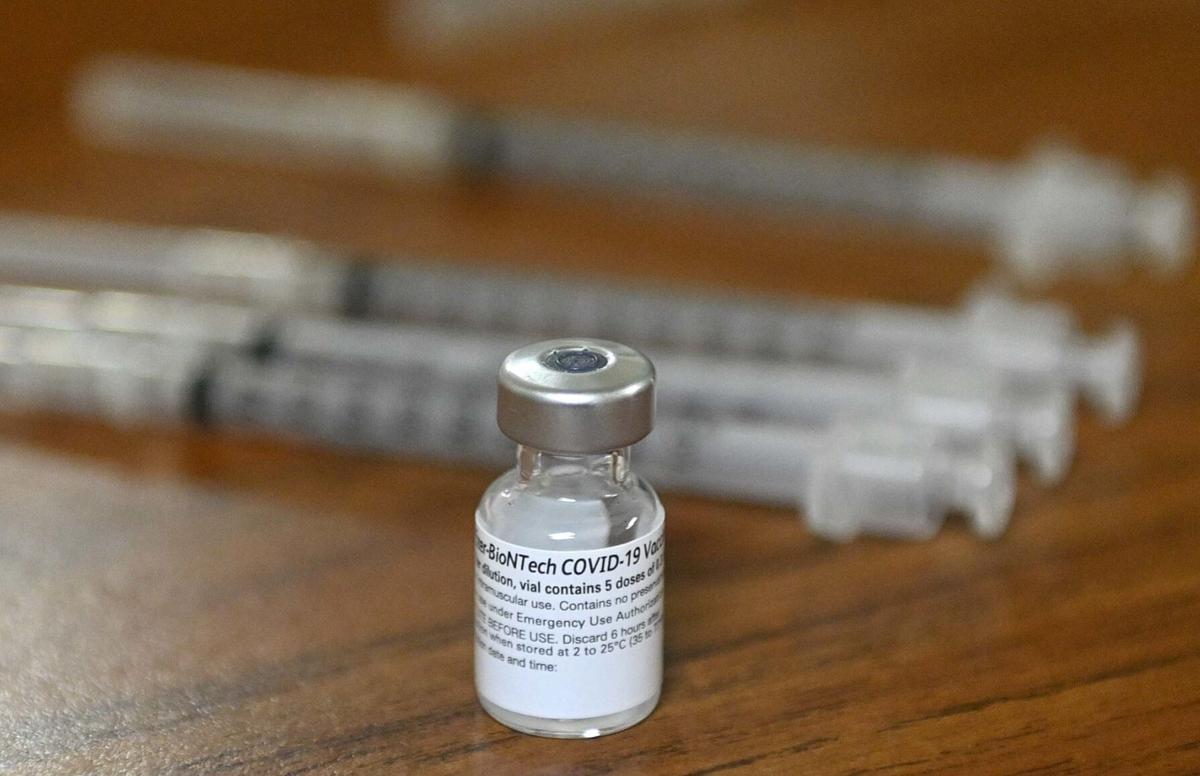 The state Department of Health reported eight new cases of COVID-19 for Cumberland County Wednesday.
Wednesday's report included 91 total test results, with four new probables. Comparing just the number of negative tests (83) and confirmed positive tests (four), the county saw about 4.6% of its tests come back positive.
The county's seven-day average of cases now sits at 15.00. The county's 14-day per capita rate sits at 71.04.
There were 15 patients hospitalized with COVID-19 in the county in Wednesday's report (the same as Tuesday), with one in intensive care units and three on ventilators.
In data updated Tuesday evening, the Centers for Disease Control and Prevention says 115,634 people have been fully vaccinated in Cumberland County, or 45.6% of the county's total population of 253,370. CDC data is current as of 6 a.m. on the day it is posted.
In the southcentral region for Wednesday, York County had 91 new cases (83 of those being probable cases) and Adams County 8 new cases.
The Health Department confirmed Wednesday there were 496 additional positive cases of COVID-19 in the state, bringing the statewide total to 1,206,935.
County numbers in the southcentral region (for June 9):
Adams County (pop. 103,009): 8 new cases; 9,618 total cases (7,949 confirmed, 1,669 probable); 36,729 negatives; 186 deaths
Bedford County (pop. 47,888): 3 new cases; 4,674 total cases (3,259 confirmed, 1,415 probable); 10,325 negatives; 140 deaths (+1)
Blair County (pop. 121,829): 5 new cases; 13,486 total cases (10,593 confirmed, 2,893 probable); 40,173 negatives; 340 deaths
Cumberland County (pop. 253,370): 8 new cases; 20,527 total cases (16,502 confirmed, 4,025 probable); 81,881 negatives; 524 deaths
Dauphin County (pop. 278,299): 4 new cases; 26,032 total cases (22,685 confirmed, 3,347 probable); 107,118 negatives; 555 deaths (+1)
Franklin County (pop. 155,027): 7 new cases; 15,386 total cases (13,030 confirmed, 2,356 probable); 53,797 negatives; 371 deaths
Fulton County (pop. 14,530): 0 new cases; 1,362 total cases (759 confirmed, 603 probable); 4,040 negatives; 15 deaths
Huntingdon County (pop. 45,144): 2 new cases; 5,126 total cases (4,290 confirmed, 836 probable); 16,319 negatives; 134 deaths
Juniata County (pop. 24,763): 0 new cases; 2,136 total cases (1,931 confirmed, 205 probable); 5,377 negatives; 87 deaths
Lebanon County (pop. 141,793): 3 new cases; 16,153 total cases (13,979 confirmed, 2,174 probable); 52,682 negatives; 292 deaths
Mifflin County (pop. 46,138): 3 new cases; 5,413 total cases (5,111 confirmed, 302 probable); 14,815 negatives; 179 deaths (+1)
Perry County (pop. 46,272): 1 new case; 3,844 total cases (2,990 confirmed, 854 probable); 10,918 negatives; 100 deaths
York County (pop. 449,058): 91 new cases; 46,717 total cases (38,105 confirmed, 8,612 probable); 159,128 negatives; 819 deaths (+1)
ZIP code-level counts (updated June 9):
17013: 2,418 positives, 12,212 negatives - +7 since May 28
17015: 1,518 positives, 6,135 negatives - +9 since May 28
17050: 2,421 positives, 12,337 negatives - +9 since May 28
17055: 2,787 positives, 15,388 negatives - +9 since May 28
17011: 2,610 positives, 12,756 negatives - +17 since May 28
17007: 363 positives, 1,550 negatives - +0 since May 28
17065: 252 positives, 1,103 negatives - +0 since May 28
17324: 247 positives, 1,151 negatives - +3 since May 28
17241: 647 positives, 2,939 negatives - +3 since May 28
17257: 1,744 positives, 6,011 negatives - +13 since May 28
17240: 155 positives, 552 negatives - +0 since May 28
17025: 1,087 positives, 4,891 negatives - +4 since May 28
17070: 1,083 positives, 4,784 negatives - +10 since May 28
17043: 369 positives, 1,808 negatives - +1 since May 28
17019: 1,214 positives, 4,905 negatives - +7 since May 28
17266: 19 positives, 105 negatives - +0 since May 28
COVID-19 Early Warning Monitoring System Dashboard (May 28-June 3):
(Counties with a percent positivity above 5% in a week go on the Department of Health's watch list)
Pennsylvania:

Percent Positivity - 2.9% last 7 days (3.7% previous 7 days)
Incidence Rate per 100,000 people last 7 days - 22.6 (39.1 previous 7 days)

Adams County:

Percent Positivity - 3.7% last 7 days (4.1% previous 7 days)
Incidence Rate per 100,000 people last 7 days - 27.2 (36.9 previous 7 days)

Cumberland County:

Percent Positivity - 2.6% last 7 days (3.7% previous 7 days)
Incidence Rate per 100,000 people last 7 days - 15.8 (28.8 previous 7 days)

Dauphin County:

Percent Positivity - 3.0% last 7 days (4.3% previous 7 days)
Incidence Rate per 100,000 people last 7 days - 21.9 (33.8 previous 7 days)

Franklin County:

Percent Positivity - 3.1% last 7 days (3.9% previous 7 days)
Incidence Rate per 100,000 people last 7 days - 30.3 (45.2 previous 7 days)

Lebanon County:

Percent Positivity - 3.1% last 7 days (4.8% previous 7 days)
Incidence Rate per 100,000 people last 7 days - 23.3 (53.6 previous 7 days)

Perry County:

Percent Positivity - 7.1% last 7 days (5.8% previous 7 days)
Incidence Rate per 100,000 people last 7 days - 28.1 (30.3 previous 7 days)

York County:

Percent Positivity - 4.2% last 7 days (5.3% previous 7 days)
Incidence Rate per 100,000 people last 7 days - 35.6 (50.8 previous 7 days)