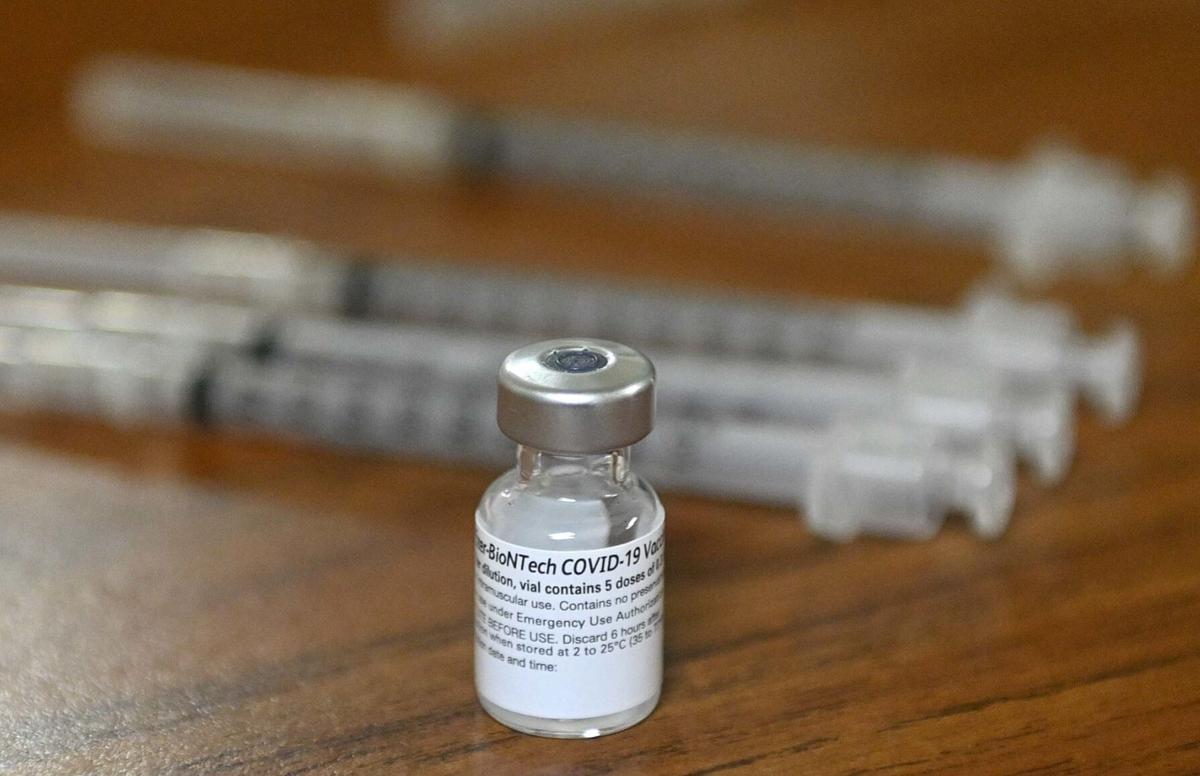 The state Department of Health reported Wednesday that there were 60 new cases of COVID-19 and two additional death for Cumberland County.
Wednesday's report included 235 total test results, with 11 new probables. Comparing just the number of negative tests (175) and confirmed positive tests (49), the county saw about 21.8% of its tests come back positive.
The county's seven-day average of cases now sits at 53.86 and its 14-day per capita rate sits at 311.80.
There were 52 patients hospitalized with COVID-19 in the county in Wednesday's report (the same as Tuesday), with four in intensive care units, and eight on ventilators.
As of Wednesday's data, the Health Department says 48,567 partial vaccines have been administered in Cumberland County, with 60,987 full vaccines (both doses) administered. That means 29.01% of the county's eligible population (210,236 people) has been fully vaccinated.
In the southcentral region for Wednesday, York County had 121 new cases, Dauphin County 79 new cases and Lebanon County 58 new cases.
The DOH confirmed Wednesday there were 3,686 additional positive cases of COVID-19 in the state along with 57 new deaths.
County numbers in the southcentral region (for April 28):
Adams County (pop. 103,009): 45 new cases; 9,050 total cases (7,557 confirmed, 1,493 probable); 34,413 negatives; 171 deaths (+1)
Bedford County (pop. 47,888): 5 new cases; 4,311 total cases (3,061 confirmed, 1,250 probable); 9,760 negatives; 132 deaths (+1)
Blair County (pop. 121,829): 43 new cases; 12,427 total cases (9,882 confirmed, 2,545 probable); 38,032 negatives; 321 deaths (+1)
Cumberland County (pop. 253,370): 60 new cases; 19,523 total cases (15,833 confirmed, 3,690 probable); 77,679 negatives; 511 deaths (+2)
Dauphin County (pop. 278,299): 79 new cases; 24,555 total cases (21,548 confirmed, 3,007 probable); 99,540 negatives; 536 deaths 
Franklin County (pop. 155,027): 38 new cases; 14,609 total cases (12,458 confirmed, 2,151 probable); 49,509 negatives; 357 deaths 
Fulton County (pop. 14,530): 2 new cases; 1,278 total cases (716 confirmed, 562 probable); 3,795 negatives; 15 deaths
Huntingdon County (pop. 45,144): 10 new cases; 4,851 total cases (4,078 confirmed, 773 probable); 15,451 negatives; 128 deaths
Juniata County (pop. 24,763): 6 new cases; 2,053 total cases (1,855 confirmed, 198 probable); 5,061 negatives; 82 deaths
Lebanon County (pop. 141,793): 58 new cases; 15,266 total cases (13,255 confirmed, 2,011 probable); 48,958 negatives; 279 deaths (+4)
Mifflin County (pop. 46,138): 20 new cases; 5,110 total cases (4,836 confirmed, 274 probable); 13,980 negatives; 176 deaths
Perry County (pop. 46,272): 15 new cases; 3,610 total cases (2,828 confirmed, 782 probable); 10,325 negatives; 99 deaths
York County (pop. 449,058): 121 new cases; 43,821 total cases (36,083 confirmed, 7,738 probable); 148,451 negatives; 778 deaths
ZIP code-level counts (updated April 28):
17013: 2,307 positives, 11,667 negatives - +20 since April 23
17015: 1,454 positives, 5,808 negatives - +17 since April 23
17050: 2,334 positives, 11,549 negatives - +27 since April 23
17055: 2,669 positives, 14,922 negatives - +29 since April 23
17011: 2,530 positives, 12,081 negatives - +20 since April 23
17007: 359 positives, 1,433 negatives - +4 since April 23
17065: 239 positives, 1,030 negatives - +4 since April 23
17324: 231 positives, 1,093 negatives - +5 since April 23
17241: 608 positives, 2,800 negatives - +14 since April 23
17257: 1,681 positives, 5,710 negatives - +21 since April 23
17240: 148 positives, 525 negatives - +0 since April 23
17025: 1,027 positives, 4,601 negatives - +8 since April 23
17070: 1,022 positives, 4,472 negatives - +12 since April 23
17043: 353 positives, 1,699 negatives - +3 since April 23
17019: 1,143 positives, 4,656 negatives - +19 since April 23
17266: 19 positives, 99 negatives - +0 since April 23
COVID-19 Early Warning Monitoring System Dashboard (April 16-April 22):
(Counties with a percent positivity above 5% in a week go on the Department of Health's watch list)
Pennsylvania:

Percent Positivity - 8.6% last 7 days (9.6% previous 7 days)
Incidence Rate per 100,000 people last 7 days - 165.3 (197.9 previous 7 days)

Adams County:

Percent Positivity - 9.5% last 7 days (11.5% previous 7 days)
Incidence Rate per 100,000 people last 7 days - 153.4 (208.7 previous 7 days)

Cumberland County:

Percent Positivity - 6.3% last 7 days (6.5% previous 7 days)
Incidence Rate per 100,000 people last 7 days - 116.4 (122.4 previous 7 days)

Dauphin County:

Percent Positivity - 9.2% last 7 days (10.1% previous 7 days)
Incidence Rate per 100,000 people last 7 days - 146.6 (181.5 previous 7 days)

Franklin County:

Percent Positivity - 7.2% last 7 days (9.5% previous 7 days)
Incidence Rate per 100,000 people last 7 days - 119.3 (174.8 previous 7 days)

Lebanon County:

Percent Positivity - 12.6% last 7 days (12.1% previous 7 days)
Incidence Rate per 100,000 people last 7 days - 228.5 (236.3 previous 7 days)

Perry County:

Percent Positivity - 10.1% last 7 days (13.1% previous 7 days)
Incidence Rate per 100,000 people last 7 days - 112.4 (142.6 previous 7 days)

York County:

Percent Positivity - 10.3% last 7 days (10.8% previous 7 days)
Incidence Rate per 100,000 people last 7 days - 177.3 (199.3 previous 7 days)