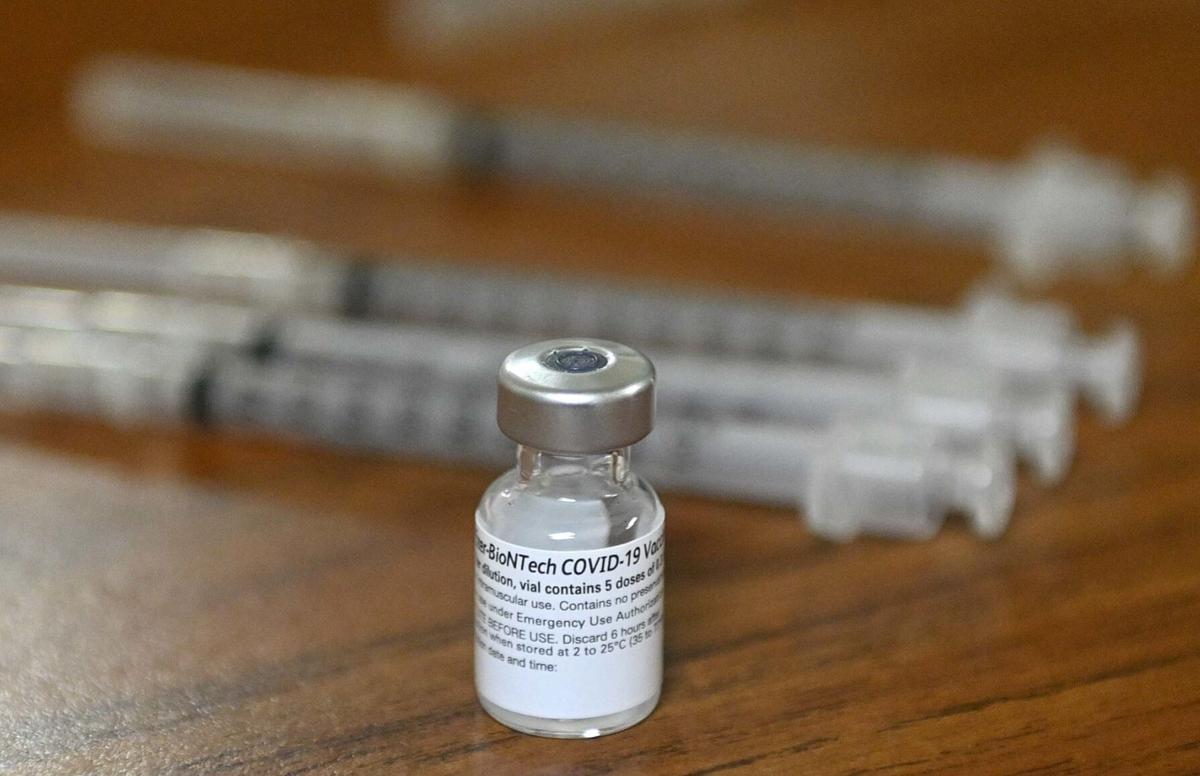 The state Department of Health reported Tuesday that there were 50 new cases of COVID-19 and one additional death for Cumberland County.
Tuesday's report included 211 total test results, with six new probables. Comparing just the number of negative tests (161) and confirmed positive tests (44), the county saw about 21% of its tests come back positive.
The county's seven-day average of cases now sits at 48.14 and its 14-day per capita rate sits at 281.41.
There were 43 patients hospitalized with COVID-19 in the county in Tuesday's report (down three from Monday), with seven in intensive care units, and five on ventilators.
As of Tuesday's data, the Health Department says 49,098 partial vaccines have been administered in Cumberland County, with 68,946 full vaccines (both doses) administered. That means 32.79% of the county's eligible population (210,236 people) has been fully vaccinated.
In the southcentral region for Tuesday, York County had 123 new cases, Dauphin County 88 new cases, Franklin County 65 new cases, and Lebanon County 52 new cases.
County numbers in the southcentral region (for May 4):
Adams County (pop. 103,009): 25 new cases; 9,210 total cases (7,660 confirmed, 1,550 probable); 34,837 negatives; 173 deaths (+2)
Bedford County (pop. 47,888): 6 new cases; 4,379 total cases (3,099 confirmed, 1,280 probable); 9,897 negatives; 135 deaths (+1)
Blair County (pop. 121,829): 48 new cases; 12,720 total cases (10,087 confirmed, 2,633 probable); 38,457 negatives; 324 deaths
Cumberland County (pop. 253,370): 50 new cases; 19,800 total cases (16,041 confirmed, 3,759 probable); 78,568 negatives; 513 deaths (+1)
Dauphin County (pop. 278,299): 88 new cases; 24,989 total cases (21,892 confirmed, 3,097 probable); 100,774 negatives; 540 deaths 
Franklin County (pop. 155,027): 65 new cases; 14,790 total cases (12,603 confirmed, 2,187 probable); 50,131 negatives; 360 deaths
Fulton County (pop. 14,530): 6 new cases; 1,294 total cases (728 confirmed, 566 probable); 3,856 negatives; 15 deaths
Huntingdon County (pop. 45,144): 7 new cases; 4,929 total cases (4,138 confirmed, 791 probable); 15,652 negatives; 129 deaths (+1)
Juniata County (pop. 24,763): 2 new cases; 2,074 total cases (1,873 confirmed, 201 probable); 5,106 negatives; 83 deaths (+1)
Lebanon County (pop. 141,793): 52 new cases; 15,528 total cases (13,470 confirmed, 2,058 probable); 49,622 negatives; 282 deaths (+1)
Mifflin County (pop. 46,138): 14 new cases; 5,204 total cases (4,919 confirmed, 285 probable); 14,100 negatives; 176 deaths
Perry County (pop. 46,272): 10 new cases; 3,673 total cases (2,876 confirmed, 797 probable); 10,487 negatives; 100 deaths (+1)
York County (pop. 449,058): 123 new cases; 44,608 total cases (36,650 confirmed, 7,958 probable); 150,407 negatives; 783 deaths
ZIP code-level counts (updated May 4):
17013: 2,329 positives, 11,767 negatives - +18 since April 30
17015: 1,467 positives, 5,896 negatives - +6 since April 30
17050: 2,367 positives, 11,685 negatives - +22 since April 30
17055: 2,711 positives, 15,050 negatives - +29 since April 30
17011: 2,557 positives, 12,193 negatives - +16 since April 30
17007: 360 positives, 1,466 negatives - +1 since April 30
17065: 243 positives, 1,049 negatives - +3 since April 30
17324: 234 positives, 1,108 negatives - +1 since April 30
17241: 619 positives, 2,831 negatives - +9 since April 30
17257: 1,696 positives, 5,827 negatives - +11 since April 30
17240: 149 positives, 529 negatives - +1 since April 30
17025: 1,047 positives, 4,663 negatives - +16 since April 30
17070: 1,039 positives, 4,541 negatives - +11 since April 30
17043: 358 positives, 1,726 negatives - +4 since April 30
17019: 1,161 positives, 4,702 negatives - +10 since April 30
17266: 19 positives, 101 negatives - +0 since April 30
COVID-19 Early Warning Monitoring System Dashboard (April 23-April 29):
(Counties with a percent positivity above 5% in a week go on the Department of Health's watch list)
Pennsylvania:

Percent Positivity - 7.6% last 7 days (8.6% previous 7 days)
Incidence Rate per 100,000 people last 7 days - 138.8 (170.5 previous 7 days)

Adams County:

Percent Positivity - 9.2% last 7 days (9.5% previous 7 days)
Incidence Rate per 100,000 people last 7 days - 142.7 (158.2 previous 7 days)

Cumberland County:

Percent Positivity - 5.3% last 7 days (6.3% previous 7 days)
Incidence Rate per 100,000 people last 7 days - 91.6 (118.8 previous 7 days)

Dauphin County:

Percent Positivity - 9.1% last 7 days (9.2% previous 7 days)
Incidence Rate per 100,000 people last 7 days - 148.0 (147.7 previous 7 days)

Franklin County:

Percent Positivity - 6.6% last 7 days (7.2% previous 7 days)
Incidence Rate per 100,000 people last 7 days - 105.1 (122.6 previous 7 days)

Lebanon County:

Percent Positivity - 11.0% last 7 days (12.5% previous 7 days)
Incidence Rate per 100,000 people last 7 days - 205.9 (229.2 previous 7 days)

Perry County:

Percent Positivity - 10.6% last 7 days (10.0% previous 7 days)
Incidence Rate per 100,000 people last 7 days - 129.7 (112.4 previous 7 days)

York County:

Percent Positivity - 8.9% last 7 days (10.3% previous 7 days)
Incidence Rate per 100,000 people last 7 days - 149.4 (183.5 previous 7 days)