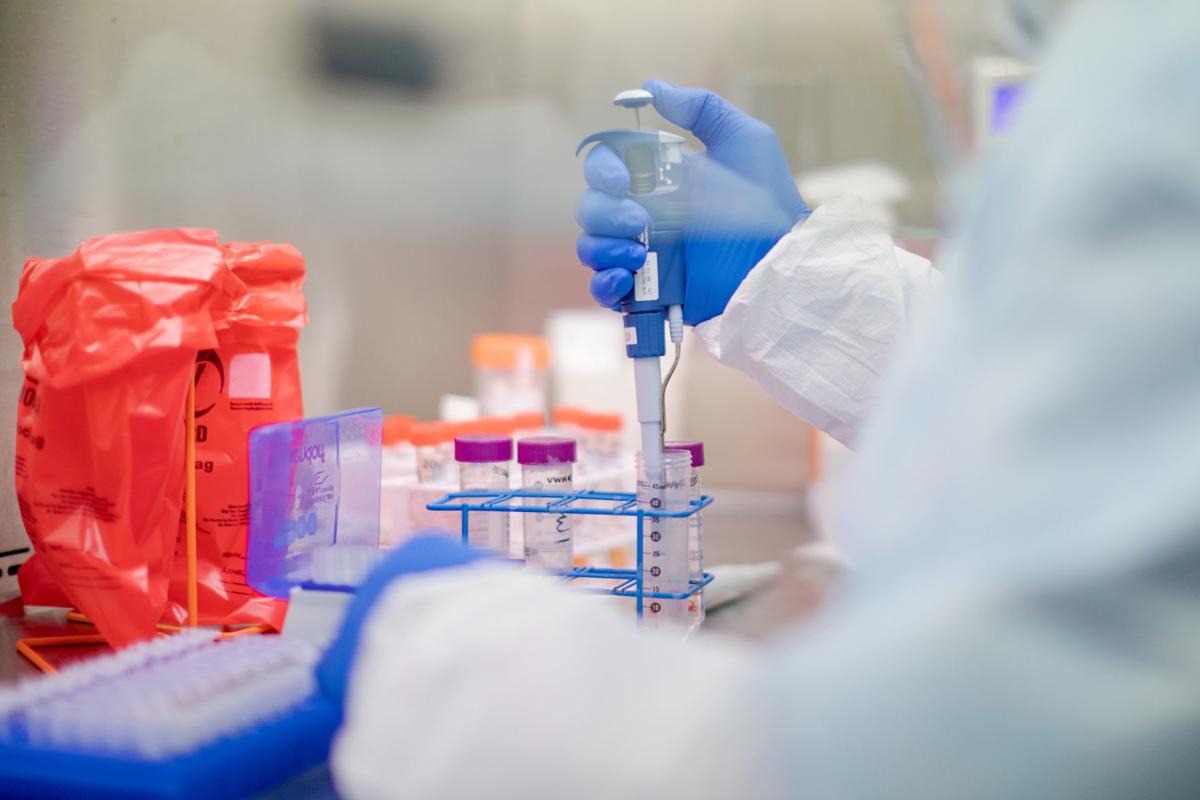 The state Department of Health reported 5 new cases of COVID-19 and no additional deaths for Cumberland County Wednesday.
The county's seven-day average of cases now sits at 10.71, the lowest rate since Sept. 25. The county's 14-day per capita rate sits at 77.36, the lowest rate since Sept. 29.
There were 30 patients hospitalized with COVID-19 in the county in Wednesday's report (down one from Tuesday), with two in intensive care units and six on ventilators.
In data updated Tuesday, the Centers for Disease Control and Prevention says 111,166 people have been fully vaccinated in Cumberland County, or 43.9% of the county's total population (population 253,370). CDC data is current as of 6 a.m. on the day it is posted.
In the southcentral region for Wednesday, York County had 37 new cases, Dauphin County 18 new cases, and Franklin County 13 new cases.
County numbers in the southcentral region (for June 2):
Adams County (pop. 103,009): 10 new cases; 9,581 total cases (7,919 confirmed, 1,662 probable); 36,400 negatives; 183 deaths
Bedford County (pop. 47,888): 7 new cases; 4,651 total cases (3,250 confirmed, 1,401 probable); 10,270 negatives; 138 deaths
Blair County (pop. 121,829): 6 new cases; 13,446 total cases (10,574 confirmed, 2,872 probable); 39,891 negatives; 339 deaths
Cumberland County (pop. 253,370): 5 new cases; 20,422 total cases (16,469 confirmed, 3,953 probable); 81,273 negatives; 524 deaths
Dauphin County (pop. 278,299): 18 new cases; 25,969 total cases (22,649 confirmed, 3,320 probable); 106,185 negatives; 549 deaths 
Franklin County (pop. 155,027): 13 new cases; 15,325 total cases (12,989 confirmed, 2,336 probable); 52,755 negatives; 370 deaths
Fulton County (pop. 14,530): 4 new cases; 1,359 total cases (757 confirmed, 602 probable); 4,003 negatives; 15 deaths
Huntingdon County (pop. 45,144): 2 new cases; 5,113 total cases (4,276 confirmed, 837 probable); 16,212 negatives; 132 deaths
Juniata County (pop. 24,763): 3 new case; 2,134 total cases (1,929 confirmed, 205 probable); 5,318 negatives; 87 deaths
Lebanon County (pop. 141,793): 8 new cases; 16,126 total cases (13,955 confirmed, 2,171 probable); 52,174 negatives; 291 deaths (+2)
Mifflin County (pop. 46,138): 1 new case; 5,397 total cases (5,095 confirmed, 302 probable); 14,671 negatives; 178 deaths
Perry County (pop. 46,272): 0 new cases; 3,828 total cases (2,977 confirmed, 851 probable); 10,834 negatives; 100 deaths
York County (pop. 449,058): 37 new cases; 46,429 total cases (37,990 confirmed, 8,439 probable); 157,679 negatives; 813 deaths (+1)
ZIP code-level counts (updated June 2):
17013: 2,415 positives, 12,129 negatives - +4 since May 28
17015: 1,513 positives, 6,084 negatives - +4 since May 28
17050: 2,416 positives, 12,187 negatives - +4 since May 28
17055: 2,782 positives, 15,315 negatives - +4 since May 28
17011: 2,599 positives, 12,646 negatives - +6 since May 28
17007: 363 positives, 1,538 negatives - +0 since May 28
17065: 252 positives, 1,096 negatives - +0 since May 28
17324: 244 positives, 1,147 negatives - +0 since May 28
17241: 646 positives, 2,918 negatives - +2 since May 28
17257: 1,737 positives, 5,942 negatives - +6 since May 28
17240: 155 positives, 552 negatives - +0 since May 28
17025: 1,085 positives, 4,857 negatives - +2 since May 28
17070: 1,079 positives, 4,736 negatives - +6 since May 28
17043: 369 positives, 1,793 negatives - +1 since May 28
17019: 1,211 positives, 4,875 negatives - +4 since May 28
17266: 19 positives, 105 negatives - +0 since May 28
COVID-19 Early Warning Monitoring System Dashboard (May 21-May 27):
(Counties with a percent positivity above 5% in a week go on the Department of Health's watch list)
Pennsylvania:

Percent Positivity - 3.8% last 7 days (4.5% previous 7 days)
Incidence Rate per 100,000 people last 7 days - 37.6 (56.6 previous 7 days)

Adams County:

Percent Positivity - 4.2% last 7 days (5.3% previous 7 days)
Incidence Rate per 100,000 people last 7 days - 35.9 (72.8 previous 7 days)

Cumberland County:

Percent Positivity - 3.8% last 7 days (3.9% previous 7 days)
Incidence Rate per 100,000 people last 7 days - 28.4 (44.6 previous 7 days)

Dauphin County:

Percent Positivity - 4.3% last 7 days (5.6% previous 7 days)
Incidence Rate per 100,000 people last 7 days - 32.7 (66.8 previous 7 days)

Franklin County:

Percent Positivity - 4.0% last 7 days (4.2% previous 7 days)
Incidence Rate per 100,000 people last 7 days - 43.9 (63.9 previous 7 days)

Lebanon County:

Percent Positivity - 4.8% last 7 days (6.5% previous 7 days)
Incidence Rate per 100,000 people last 7 days - 52.2 (81.1 previous 7 days)

Perry County:

Percent Positivity - 5.6% last 7 days (6.8% previous 7 days)
Incidence Rate per 100,000 people last 7 days - 28.1 (45.4 previous 7 days)

York County:

Percent Positivity - 5.4% last 7 days (6.1% previous 7 days)
Incidence Rate per 100,000 people last 7 days - 49.2 (81.3 previous 7 days)