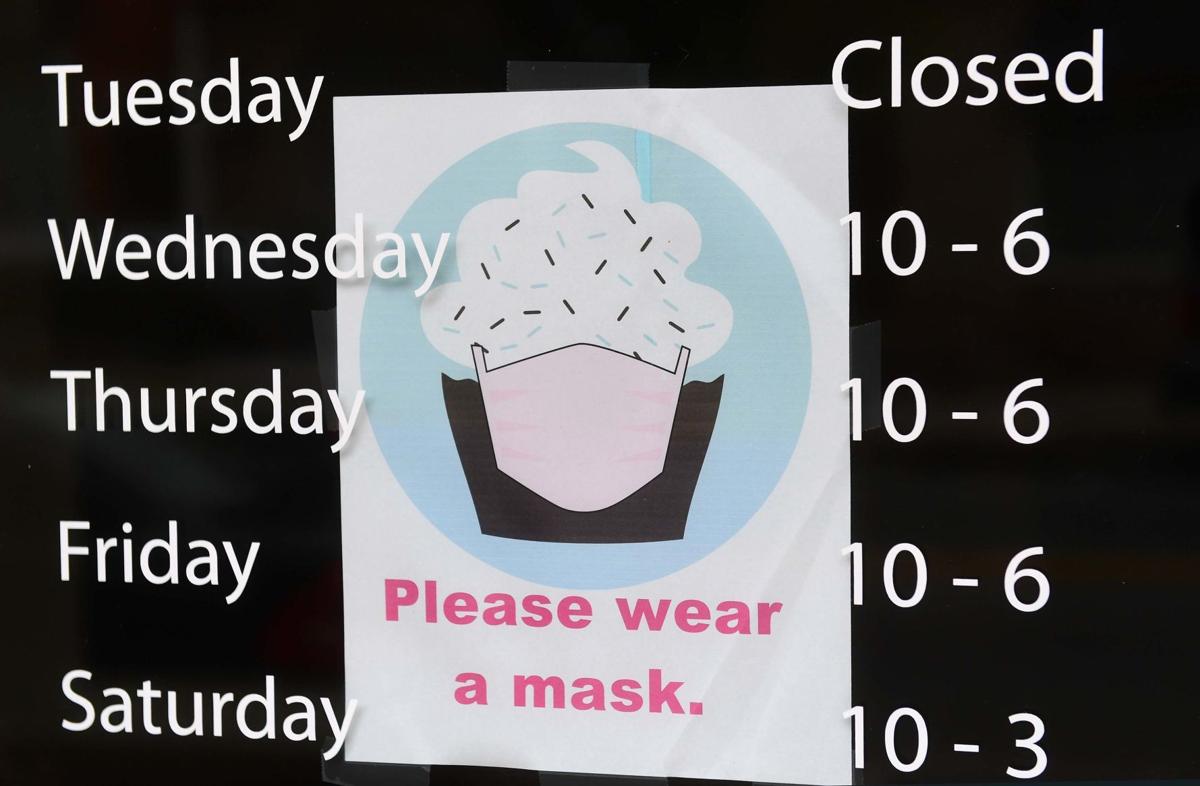 The Pennsylvania Department of Health reported an additional 4 cases of COVID-19 for Cumberland County in Monday's report, marking the third straight day of single-digit case counts after a run of five straight double digit days.
Monday, a typically slow reporting day coming off a weekend, featured low case count totals for the state and southcentral region.
The southcentral region reported 55 new positives in Monday's report, the lowest day for the region since July 19. York County reported 23 new cases (fourth highest total in the state Monday) and Dauphin County reported 13. They were the only two counties in the region with double-digit counts for new cases.
Statewide, the Health Department reported 384 new positives and no new deaths Monday. This is the second day since mid-March in which no additional deaths were reported by the state. That day, Aug. 3, was also a Monday.
It's also the lowest number of newly reported cases in the state since July 13, which was also a Monday. But, the case counts leading up to that Monday and the case counts following that Monday continued at a high pace.
The Department of Health noted that numbers released today do not include new cases from Philadelphia due to reporting delays. Philadelphia's current seven-day average for new cases is about 120.
In the past 14 days, 143 new cases have been reported in Cumberland County, giving the county a per capita rate of 56.44 per 100,000 people for the 14-day period. 
Cumberland County's 7-day rolling average of new cases now sits at 10.43. 
The Health Department reported 142 new people in Cumberland County with confirmed negative testing results Monday. Although that does not represent all tests performed, according to the department, it would represent a positivity rate of about 2% for county results.
County numbers in the southcentral region (through Aug. 17):
Adams County (pop. 103,009): 0 new cases; 548 total cases (531 confirmed, 17 probable); 9,446 negatives; 22 deaths
Bedford County (pop. 47,888): 1 new case; 154 total cases (137 confirmed, 17 probable); 3,224 negatives; 4 deaths
Blair County (pop. 121,829): 3 new cases; 354 total cases (336 confirmed, 18 probable); 12,310 negatives; 8 deaths
Cumberland County (pop. 253,370): 4 new cases; 1,373 total cases (1,297 confirmed, 76 probable); 20,950 negatives; 71 deaths
Dauphin County (pop. 278,299): 13 new cases; 2,995 total cases (2,924 confirmed, 71 probable); 30,931 negatives; 160 deaths
Franklin County (pop. 155,027): 1 new case; 1,417 total cases (1,357 confirmed, 60 probable); 14,616 negatives; 46 deaths
Fulton County (pop. 14,530): 0 new cases; 28 total cases (26 confirmed, 2 probable); 833 negatives; 2 deaths
Huntingdon County (pop. 45,144): 3 new cases; 336 total cases (326 confirmed, 10 probable); 3,393 negatives; 5 deaths
Juniata County (pop. 24,763): 0 new cases; 139 total cases (132 confirmed, 7 probable); 1,598 negatives; 6 deaths
Lebanon County (pop. 141,793): 1 new cases; 1,651 total cases (1,580 confirmed, 71 probable); 14,286 negatives; 55 deaths
Mifflin County (pop. 46,138): 1 new case; 126 total cases (121 confirmed, 5 probable); 4,784 negatives; 1 death
Perry County (pop. 46,272): 5 new cases; 145 total cases (133 confirmed, 12 probable); 2,950 negatives; 5 deaths
York County (pop. 449,058): 23 new cases; 2,907 total cases (2,851 confirmed, 56 probable); 41,361 negatives; 105 deaths.
ZIP code-level counts (through Aug. 17):
17013: 187 positives, 3,340 negatives - +1 since Aug. 16
17015: 86 positives, 1,709 negatives - +0 since Aug. 16
17050: 174 positives, 2,563 negatives - +0 since Aug. 16
17055: 193 positives, 3,130 negatives - +1 since Aug. 16
17011: 239 positives, 4,116 negatives - +1 since Aug. 16
17007: 16 positives, 378 negatives - +0 since Aug. 16
17065: 13 positives, 245 negatives - +0 since Aug. 16
17324: 27 positives, 336 negatives - +0 since Aug. 16
17241: 58 positives, 1,094 negatives - +0 since Aug. 16
17257: 247 positives, 1,100 negatives - +0 since Aug. 16
17240: 18 positives, 113 negatives - +0 since Aug. 16
17025: 62 positives, 1,146 negatives - +0 since Aug. 16
17070: 72 positives, 1,164 negatives - +0 since Aug. 16
17043: 21 positives, 488 negatives - +0 since Aug. 16
17019: 45 positives, 1,262 negatives - +0 since Aug. 16
Long-term care facilities and personal care homes in Cumberland County (as reported to the Department of Health through Aug. 11; latest report had errors in staff cases - most numbers are from Aug. 4):
Artis Senior Living of West Shore (Lemoyne): fewer than 5 resident cases; 0 staff cases; fewer than 5 deaths
Bethany Village Retirement Center (Mechanicsburg): 0 resident cases; fewer than 5 staff cases; 0 deaths
Bridges at Bent Creek (Hampden Township): 0 resident cases; fewer than 5 staff cases; 0 deaths
Brookdale Grandon Farms (Hampden Township): 9 resident cases; 5 staff cases; 0 deaths
Carriage Courts Personal Care at Green Ridge Village (Newville): 0 resident cases; fewer than 5 staff cases; 0 deaths
Chapel Pointe (Carlisle): 0 resident cases; fewer than 5 staff cases; 0 deaths
Claremont Nursing & Rehabilitation Center (Carlisle): fewer than 5 resident cases; 11 staff cases; 0 deaths
Country Meadows of West Shore (Mechanicsburg): fewer than 5 resident cases; fewer than 5 staff cases; 0 deaths
Gardens at Camp Hill: 47 resident cases; 21 staff cases; 8 deaths
Gardens at West Shore (Camp Hill): 82 resident cases; 26 staff cases; 19 deaths (no Aug. 11 data was available; numbers are from June 10)
Gilliland Manor (Newville): 0 resident cases; fewer than 5 staff cases; 0 deaths
Manorcare Health Services (Camp Hill): 0 resident cases; 24 staff cases; 0 deaths
Manorcare Health Center (Carlisle): 25 resident cases; 0 staff cases; 5 deaths 
Messiah Lifeways (Upper Allen Township): 0 cases; fewer than 5 staff cases; 0 deaths
Sarah A. Todd Memorial Home (Carlisle): 66 resident cases; 32 staff cases; 11 deaths
Shippensburg Health Care Center: 92 resident cases; 28 staff cases; 31 deaths
Swaim Health Center (Newville): 0 resident cases; fewer than 5 staff cases; 0 deaths
Thornwald Home (Carlisle): fewer than 5 resident cases; fewer than 5 staff cases; 0 deaths
Vibra Rehabilitation Center: 0 resident cases; fewer than 5 staff cases; 0 deaths (no Aug. 11 data was available; numbers are from June 30)
Vibra Senior Living: 0 resident cases; fewer than 5 staff cases; 0 deaths
PCR diagnostic tests percent positivity (Aug. 7-Aug. 13):
Pennsylvania: 4.0% last 7 days; 4.1% previous 7 days
Adams County: 4.3% last 7 days; 4.2% previous 7 days
Cumberland County: 3.7% last 7 days; 3% previous 7 days
Dauphin County: 6.5% last 7 days; 4.7% previous 7 days
Franklin County: 5.4% last 7 days; 4.6% previous 7 days
Lebanon County: 3.8% last 7 days; 4.3% previous 7 days
Perry County: 3.4% last 7 days; 1.8% previous 7 days
York County: 5.6% last 7 days; 5.8% previous 7 days