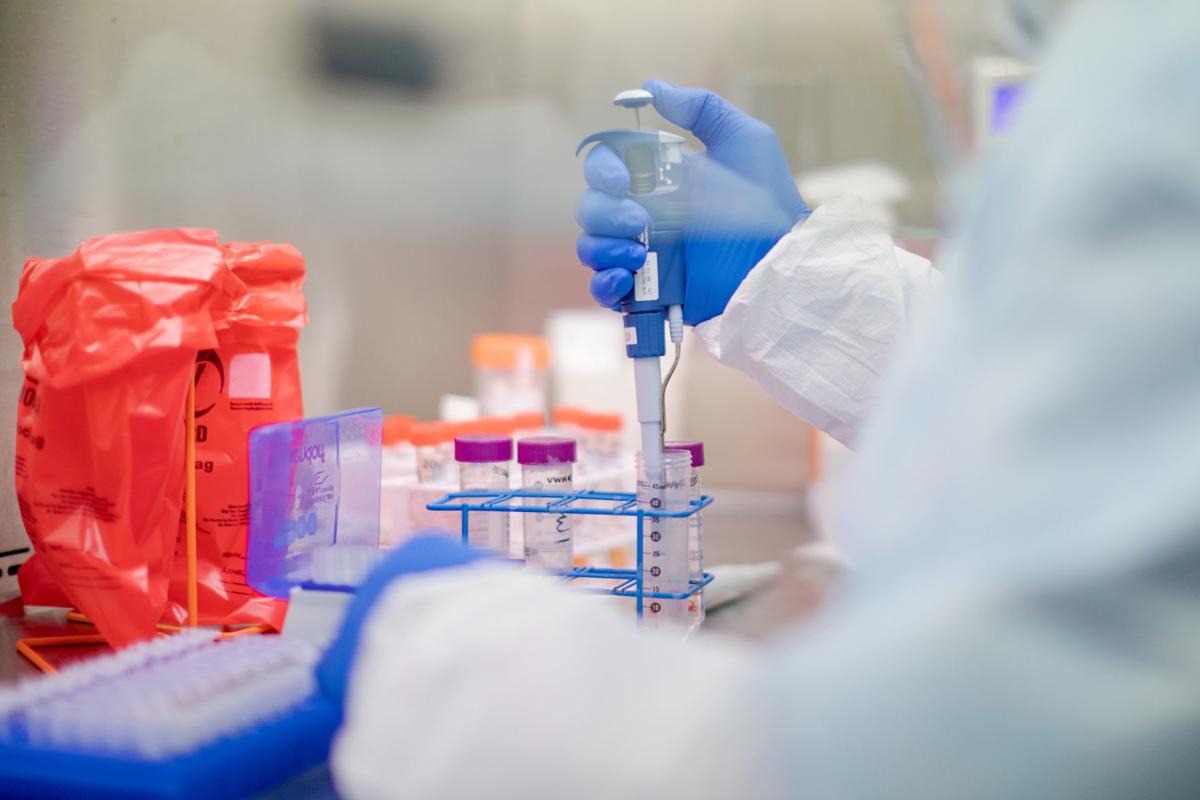 The state Department of Health reported 30 new cases of COVID-19 for Cumberland County over the last two days.
Though the number of cases in the county are steadily increasing, the number of overall tests reported is not increasing as quickly, which means the percent positivity of positive cases is also rising in the county.
Judging by just the number of confirmed cases reported over the weekend - 24 out of the 30 cases were confirmed, while the others were probably - and comparing that to just the number of negative tests reported (200), the county saw about 10.7% of its cases come back positive. That is slightly less than the 11.2% positivity in Friday's report from the DOH.
The county's weekend tally was the second highest increase of cases in the region, with York County seeing only a few more with 37 new cases, as well as one new death. Fulton County was the only other county to see an increase in the number of deaths associated with COVID-19 over the weekend.
In the region, Dauphin County had 23 new cases, Lebanon County had 17 new cases, Adams County had 10 new cases, and Franklin County had six new cases. All other counties in the region had three or fewer new cases.
The number of patients hospitalized with COVID-19 also ticked upward from Friday's report. According to the DOH, there were 10 patients hospitalized in the county - up one from Friday. There is still only one patient in the ICU and zero patients on a ventilator.
In data updated Saturday evening, the Centers for Disease Control and Prevention says 53.1% of Cumberland County's total population of 253,370 has been fully vaccinated. For the county's vaccine eligible population of people ages 12 and older, 61.2% of that population has been fully vaccinated. CDC data is current as of 6 a.m. on the day it is posted.
County numbers in the southcentral region (for July 25):
Adams County (pop. 103,009): 10 new cases; 9,779 total cases (8,081 confirmed, 1,698 probable); 38,629 negatives; 190 deaths; 42.4% of county population vaccinated
Bedford County (pop. 47,888): 2 new cases; 4,747 total cases (3,307 confirmed, 1,440 probable); 10,637 negatives; 142 deaths; 30.6% of county population vaccinated
Blair County (pop. 121,829): 2 new cases; 13,541 total cases (10,637 confirmed, 2,904 probable); 41,325 negatives; 344 deaths; 40.7% of county population vaccinated
Cumberland County (pop. 253,370): 30 new cases; 20,778 total cases (16,697 confirmed, 4,081 probable); 85,953 negatives; 528 deaths; 53.1% of county population vaccinated
Dauphin County (pop. 278,299): 23 new cases; 26,282 total cases (22,870 confirmed, 3,412 probable); 111,905 negatives; 562 deaths; 49.9% of county population vaccinated
Franklin County (pop. 155,027): 6 new case; 15,540 total cases (13,155 confirmed, 2,385 probable); 56,851 negatives; 377 deaths; 37.8% of county population vaccinated
Fulton County (pop. 14,530): 0 new cases; 1,389 total cases (776 confirmed, 613 probable); 4,248 negatives; 17 deaths (+1); 26.3% of county population vaccinated
Huntingdon County (pop. 45,144): 3 new cases; 5,188 total cases (4,346 confirmed, 842 probable); 17,183 negatives; 136 deaths; 39.7% of county population vaccinated
Juniata County (pop. 24,763): 2 new cases; 2,151 total cases (1,946 confirmed, 205 probable); 5,688 negatives; 88 deaths; 33.8% of county population vaccinated
Lebanon County (pop. 141,793): 17 new cases; 16,264 total cases (14,076 confirmed, 2,188 probable); 55,775 negatives; 295 deaths; 43.5% of county population vaccinated
Mifflin County (pop. 46,138): 2 new cases; 5,450 total cases (5,146 confirmed, 304 probable); 15,574 negatives; 183 deaths; 40.5% of county population vaccinated
Perry County (pop. 46,272): 0 new cases; 3,864 total cases (3,007 confirmed, 857 probable); 11,366 negatives; 101 deaths; 39.5% of county population vaccinated
York County (pop. 449,058): 37 new cases; 47,324 total cases (38,511 confirmed, 8,813 probable); 167,127 negatives; 837 deaths (+1); 46.9% of county population vaccinated
ZIP code-level counts (updated July 25):
17013: 2,475 positives, 13,071 negatives - +11 since July 18
17015: 1,529 positives, 6,448 negatives - +6 since July 18
17050: 2,441 positives, 13,122 negatives - +2 since July 18
17055: 2,817 positives, 15,946 negatives - +12 since July 18
17011: 2,631 positives, 13,046 negatives - +12 since July 18
17007: 369 positives, 1,629 negatives - +1 since July 23
17065: 255 positives, 1,152 negatives - +2 since July 18
17324: 249 positives, 1,230 negatives - +0 since July 18
17241: 660 positives, 3,047 negatives - +4 since July 18
17257: 1,763 positives, 6,490 negatives - +4 since July 18
17240: 156 positives, 600 negatives - +0 since July 18
17025: 1,098 positives, 5,143 negatives - +1 since July 18
17070: 1,091 positives, 5,011 negatives - +1 since July 23
17043: 375 positives, 1,898 negatives - +3 since July 18
17019: 1,230 positives, 5,098 negatives - +2 since July 18
17266: 20 positives, 117 negatives - +1 since July 23
COVID-19 Early Warning Monitoring System Dashboard (July 16 - July 22):
(Counties with a percent positivity above 5% in a week go on the Department of Health's watch list)
Pennsylvania:

Percent Positivity - 2.8% last 7 days (1.7% previous 7 days)
Incidence Rate per 100,000 people last 7 days - 18.7 (12.0 previous 7 days)

Adams County:

Percent Positivity - 4% last 7 days (1.4% previous 7 days)
Incidence Rate per 100,000 people last 7 days - 38.8 (11.6 previous 7 days)

Cumberland County:

Percent Positivity - 3.6% last 7 days (2.5% previous 7 days)
Incidence Rate per 100,000 people last 7 days - 17.8 (13.0 previous 7 days)

Dauphin County:

Percent Positivity - 3.2% last 7 days (1.9% previous 7 days)
Incidence Rate per 100,000 people last 7 days - 18.0 (11.9 previous 7 days)

Franklin County:

Percent Positivity - 1.4% last 7 days (1.5% previous 7 days)
Incidence Rate per 100,000 people last 7 days - 10.3 (10.3 previous 7 days)

Lebanon County:

Percent Positivity - 1.6% last 7 days (0.9% previous 7 days)
Incidence Rate per 100,000 people last 7 days - 12.7 (7.1 previous 7 days)

Perry County:

Percent Positivity - 2.5% last 7 days (2.5% previous 7 days)
Incidence Rate per 100,000 people last 7 days - 8.6 (8.6 previous 7 days)

York County:

Percent Positivity - 2.7% last 7 days (2.3% previous 7 days)
Incidence Rate per 100,000 people last 7 days - 18.3 (15.1 previous 7 days)