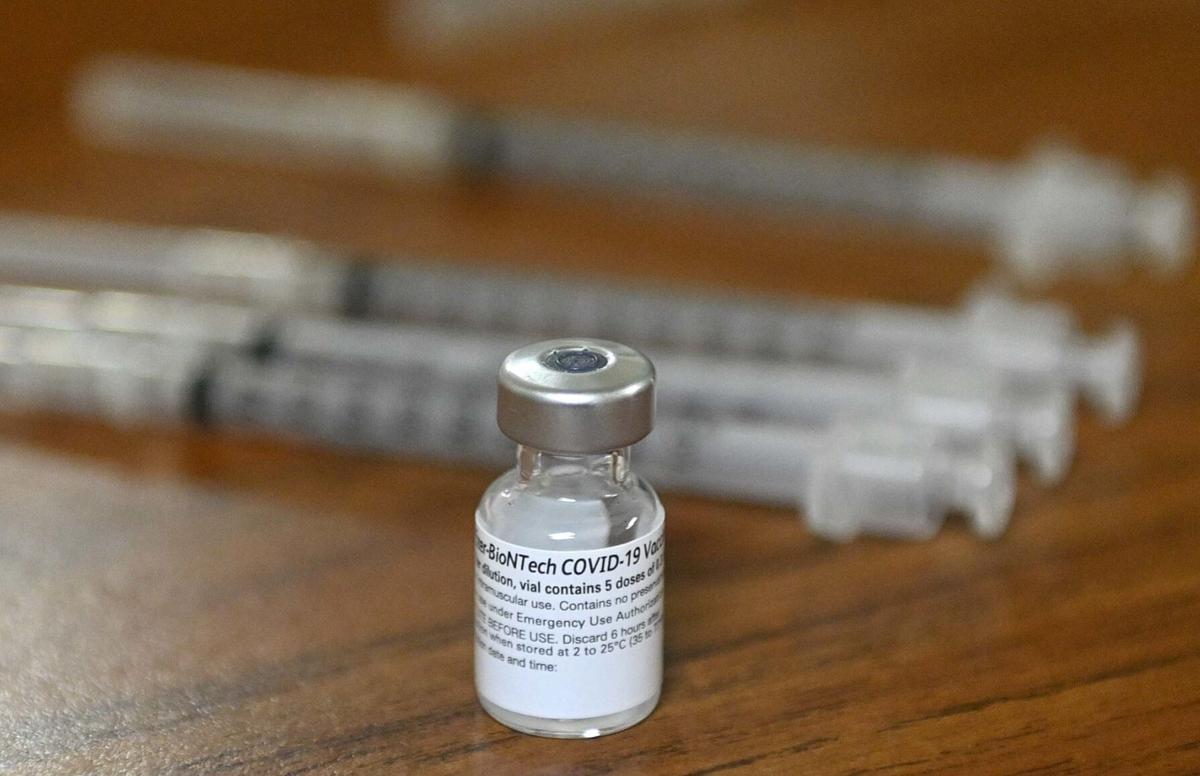 The state Department of Health reported Tuesday that there were 30 new cases of COVID-19 and one new death for Cumberland County.
Tuesday's report included 135 total test results, with three new probables. Comparing just the number of negative tests (105) and confirmed positive tests (27), the county saw about 21% of its tests come back positive.
The county's seven-day average of cases now sits at 48.29 and its 14-day per capita rate sits at 286.54.
There were 50 patients hospitalized with COVID-19 in the county in Tuesday's report (up three from Monday), with seven in intensive care units, and three on ventilators.
As of Tuesday's data, the Health Department says 39,225 partial vaccines have been administered in Cumberland County, with 36,837 full vaccines (both doses) administered.
In the southcentral region for Tuesday, York County reported 124 new cases, Franklin County 75 cases and Blair County 62 cases.
County numbers in the southcentral region (for April 6):
Adams County (pop. 103,009): 27 new cases; 8,302 total cases (6,993 confirmed, 1,309 probable); 32,912 negatives; 161 deaths
Bedford County (pop. 47,888): 9 new cases; 4,008 total cases (2,882 confirmed, 1,126 probable); 9,322 negatives; 130 deaths
Blair County (pop. 121,829): 62 new cases; 11,356 total cases (9,170 confirmed, 2,186 probable); 36,566 negatives; 315 deaths (+1)
Cumberland County (pop. 253,370): 30 new cases; 18,248 total cases (14,928 confirmed, 3,320 probable); 74,317 negatives; 499 deaths (+1)
Dauphin County (pop. 278,299): 51 new cases; 22,795 total cases (20,167 confirmed, 2,628 probable); 95,217 negatives; 526 deaths (+2)
Franklin County (pop. 155,027): 75 new cases; 13,744 total cases (11,757 confirmed, 1,987 probable); 47,427 negatives; 343 deaths (+2)
Fulton County (pop. 14,530): 7 new cases; 1,211 total cases (682 confirmed, 529 probable); 3,629 negatives; 15 deaths
Huntingdon County (pop. 45,144): 8 new cases; 4,614 total cases (3,883 confirmed, 731 probable); 14,264 negatives; 127 deaths
Juniata County (pop. 24,763): 9 new cases; 1,949 total cases (1,757 confirmed, 192 probable); 4,873 negatives; 82 deaths (+1)
Lebanon County (pop. 141,793): 35 new cases; 14,055 total cases (12,276 confirmed, 1,779 probable); 46,688 negatives; 265 deaths
Mifflin County (pop. 46,138): 1 new case; 4,833 total cases (4,592 confirmed, 241 probable); 13,447 negatives; 175 deaths
Perry County (pop. 46,272): 9 new cases; 3,299 total cases (2,628 confirmed, 671 probable); 9,905 negatives; 90 deaths
York County (pop. 449,058): 124 new cases; 40,322 total cases (33,450 confirmed, 6,872 probable); 141,041 negatives; 752 deaths
ZIP code-level counts (updated April 5):
17013: 2,179 positives, 11,278 negatives - +17 since April 2
17015: 1,368 positives, 5,630 negatives - +4 since April 2
17050: 2,193 positives, 11,034 negatives - +24 since April 2
17055: 2,510 positives, 13,941 negatives - +43 since April 2
17011: 2,412 positives, 11,676 negatives - +20 since April 2
17007: 344 positives, 1,351 negatives - +0 since April 2
17065: 227 positives, 990 negatives - +0 since April 2
17324: 216 positives, 1,055 negatives - +2 since April 2
17241: 565 positives, 2,715 negatives - +6 since April 2
17257: 1,587 positives, 5,435 negatives - +9 since April 2
17240: 144 positives, 508 negatives - +1 since April 2
17025: 978 positives, 4,419 negatives - +13 since April 2
17070: 956 positives, 4,298 negatives - +14 since April 2
17043: 324 positives, 1,629 negatives - +2 since April 2
17019: 1,061 positives, 4,483 negatives - +13 since April 2
17266: 19 positives, 98 negatives - +0 since April 2
COVID-19 Early Warning Monitoring System Dashboard (March 26-April 1):
(Counties with a percent positivity above 5% in a week go on the Department of Health's watch list)
Pennsylvania:

Percent Positivity - 9.4% last 7 days (7.7% previous 7 days)
Incidence Rate per 100,000 people last 7 days - 169.9 (143.9 previous 7 days)

Adams County:

Percent Positivity - 12.4% last 7 days (10.2% previous 7 days)
Incidence Rate per 100,000 people last 7 days - 190.3 (161.2 previous 7 days)

Cumberland County:

Percent Positivity - 6.4% last 7 days (4.4% previous 7 days)
Incidence Rate per 100,000 people last 7 days - 114.9 (94.3 previous 7 days)

Dauphin County:

Percent Positivity - 9.9% last 7 days (8.0% previous 7 days)
Incidence Rate per 100,000 people last 7 days - 138.3 (111.4 previous 7 days)

Franklin County:

Percent Positivity - 9.9% last 7 days (6.0% previous 7 days)
Incidence Rate per 100,000 people last 7 days - 145.8 (103.9 previous 7 days)

Lebanon County:

Percent Positivity - 10.5% last 7 days (11.0% previous 7 days)
Incidence Rate per 100,000 people last 7 days - 159.4 (158 previous 7 days)

Perry County:

Percent Positivity - 12.9% last 7 days (11.1% previous 7 days)
Incidence Rate per 100,000 people last 7 days - 138.3 (110.2 previous 7 days)

York County:

Percent Positivity - 11.9% last 7 days (10.7% previous 7 days)
Incidence Rate per 100,000 people last 7 days - 184.4 (175.3 previous 7 days)