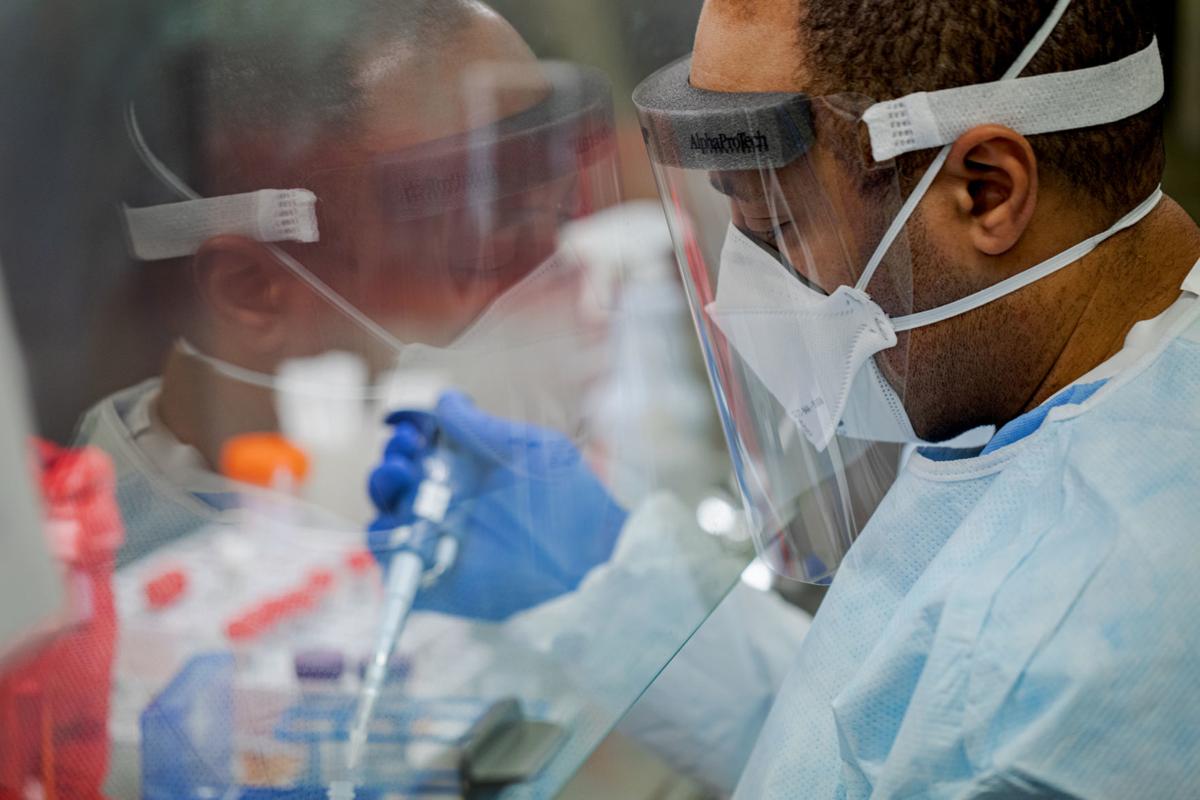 There were fewer new deaths reported over the weekend, but Sunday saw the highest single-day increase of COVID-19 in a number of counties, including Cumberland County.
Over the last two days, Cumberland County has seen 251 new cases of COVID-19, with 201 of those cases reported on Sunday, according to the state Department of Health. There were about 100 more tests than usual that day, based on the number of negative tests reported, but the jump in positives marks Sunday's total as the highest single-day increase in the county.
York County's number also exploded Sunday, with it seeing 559 new cases. York saw another 93 new cases Monday, falling back to the numbers it had been seeing last week, though Monday often has fewer reported cases since its data is based on reports that were filed on Sunday.
Four other counties were also above 100 on Sunday alone, with Dauphin County seeing 171 new cases, Franklin County with 162 new cases, Lebanon County with 193 new cases and Blair County with 153 new cases. All of those counties saw new cases below 100 in Monday's report.
Adams County also saw an unusual high Sunday with 97 new cases before falling back to 11 new cases Monday.
The regional increase of COVID-19 cases was reflective statewide on Sunday, with the Department of Health reporting that 7,075 new cases were reported on Sunday alone. Another 4,762 new cases were reported Monday for an overall 11,837 increase in the last two days.
The number of deaths associated with COVID-19 had been rising late last week, though numbers were lower at the start of this week. Despite that, most counties in the region reported at least one new death over the last two days.
In the reports from Sunday and Monday data, Lebanon County had three new deaths, while there were two new deaths in Cumberland County, Dauphin County, Franklin County, Huntingdon County and Mifflin County. One new death was reported each in Bedford County, Blair County and York County.
Across the state, there were 41 new deaths Sunday and another 28 reported on Monday.
In terms of hospitalizations, there wasn't much change in the number of patients hospitalized in Cumberland County, staying steady at 58 patients. However, of the four patients in the ICU there were three patients on ventilators, according to Monday's update.
Across the state, though, the number of hospitalizations is rising. The department said Monday that the trend in the 14-day moving average of number of hospitalized patients per day has increased by nearly 2,100 since the end of September. Currently, there are 3,379 patients hospitalized with COVID-19 in the state, with 775 of those in intensive care.
County numbers in the southcentral region (updated Nov. 23):
Adams County (pop. 103,009): 97 new cases Sunday and 11 new cases Monday; 1,774 total cases (1,725 confirmed, 49 probable); 21,681 negatives; 45 deaths
Bedford County (pop. 47,888): 47 new cases Sunday and 34 new cases Monday; 1,228 total cases (881 confirmed, 266 probable); 6,302 negatives; 15 deaths (+1)
Blair County (pop. 121,829): 153 new cases Sunday and 87 new cases Monday; 3,440 total cases (2,803 confirmed, 397 probable); 25,814 negatives; 53 deaths (+1)
Cumberland County (pop. 253,370): 201 new cases Sunday and 50 new cases Monday; 4,384 total cases (3,767 confirmed, 366 probable); 47,000 negatives; 110 deaths (+2)
Dauphin County (pop. 278,299): 171 new cases Sunday and 77 new cases Monday; 7,004 total cases (6,560 confirmed, 196 probable); 64,164 negatives; 213 deaths (+2)
Franklin County (pop. 155,027): 162 new cases Sunday and 26 new cases Monday; 3,855 total cases (3,541 confirmed, 126 probable); 28,687 negatives; 95 deaths (+2)
Fulton County (pop. 14,530): 5 new cases Sunday and 2 new cases Monday; 214 total cases (166 confirmed, 41 probable); 1,869 negatives; 5 deaths
Huntingdon County (pop. 45,144): 34 new cases Sunday and 25 new cases Monday; 1,575 total cases (1,380 confirmed, 139 probable); 9,529 negatives; 47 deaths (+2)
Juniata County (pop. 24,763): 26 new cases Sunday and 26 new cases Monday; 621 total cases (546 confirmed, 23 probable); 3,280 negatives; 12 deaths
Lebanon County (pop. 141,793): 193 new cases Sunday and 51 new cases Monday; 4,763 total cases (4,261 confirmed, 258 probable); 29,423 negatives; 103 deaths (+3)
Mifflin County (pop. 46,138): 35 new cases Sunday and 47 new cases Monday; 1,361 total cases (1,219 confirmed, 60 probable); 9,079 negatives; 22 deaths (+2)
Perry County (pop. 46,272): 10 new cases Sunday and 15 new cases Monday; 591 total cases (519 confirmed, 47 probable); 6,251 negatives; 9 deaths
York County (pop. 449,058): 559 new cases Sunday and 93 new cases Monday; 9,755 total cases (8,700 confirmed, 403 probable); 86,995 negatives; 235 deaths (+1)
ZIP code-level counts (through Nov. 23):
17013: 610 positives, 6,604 negatives - +62 since Nov. 20
17015: 362 positives, 3,382 negatives - +38 since Nov. 20
17050: 591 positives, 6,474 negatives - +34 since Nov. 20
17055: 729 positives, 9,919 negatives - +60 since Nov. 20
17011: 578 positives, 7,836 negatives - +31 since Nov. 20
17007: 90 positives, 847 negatives - +16 since Nov. 20
17065: 62 positives, 585 negatives - +5 since Nov. 20
17324: 56 positives, 681 negatives - +3 since Nov. 20
17241: 168 positives, 1,872 negatives - +10 since Nov. 20
17257: 541 positives, 2,783 negatives - +29 since Nov. 20
17240: 33 positives, 238 negatives - +3 since Nov. 20
17025: 221 positives, 2,571 negatives - +20 since Nov. 20
17070: 238 positives, 2,560 negatives - +13 since Nov. 20
17043: 63 positives, 1,020 negatives - +3 since Nov. 20
17019: 216 positives, 2,812 negatives - +30 since Nov. 20
Long-term care facilities and personal care homes in Cumberland County (as reported to the Department of Health through Nov. 18):
Artis Senior Living of West Shore (Lemoyne): Fewer than 5 resident cases; 0 staff cases; fewer than 5 deaths
Bethany Village Retirement Center (Mechanicsburg): 0 resident cases; fewer than 5 staff cases; 0 deaths
Bridges at Bent Creek (Hampden Township): 0 resident cases; fewer than 5 staff cases; 0 deaths
Brookdale Grandon Farms (Hampden Township): 9 resident cases; 5 staff cases; 0 deaths
Carriage Courts Personal Care at Green Ridge Village (Newville): 0 resident cases; fewer than 5 staff cases; 0 deaths
Chapel Pointe (Carlisle): 36 resident cases; 28 staff cases; fewer than 5 deaths
Church of God Home (Carlisle): 0 resident cases; fewer than 5 staff cases; 0 deaths
Claremont Nursing & Rehabilitation Center (Carlisle): 42 resident cases; 24 staff cases; fewer than 5 deaths
Country Meadows of West Shore (Mechanicsburg): 5 resident cases; fewer than 5 staff cases; 0 deaths
Cumberland Crossings (Carlisle): 33 resident cases; 10 staff cases; 0 deaths
Forest Park (Carlisle: 0 resident cases; fewer than 5 staff cases; 0 deaths
Fox Subacute (Mechanicsburg): 0 resident cases; 5 staff cases; 14 deaths
Gardens at Camp Hill: 48 resident cases; 23 staff cases; 8 deaths
Gardens at West Shore (Camp Hill): 82 resident cases; 26 staff cases; 19 deaths (numbers are from last available data on June 10)
Gilliland Manor (Newville): 0 resident cases; fewer than 5 staff cases; 0 deaths
Manorcare Health Center (Camp Hill): 0 resident cases; fewer than 5 staff cases; 0 deaths
Manorcare Health Center (Carlisle): 25 resident cases; 8 staff cases; 5 deaths 
Messiah Lifeways (Upper Allen Township): 94 cases; 53 staff cases; 14 deaths
Sarah A. Todd Memorial Home (Carlisle): 74 resident cases; 50 staff cases; 11 deaths
Shippensburg Health Care Center: 114 resident cases; 40 staff cases; 34 deaths
Swaim Health Center (Newville): 14 resident cases; 15 staff cases; 0 deaths
Thornwald Home (Carlisle): 20 resident cases; 19 staff cases; fewer than 5 deaths
Vibra Senior Living: 0 resident cases; fewer than 5 staff cases; 0 deaths
COVID-19 Early Warning Monitoring System Dashboard (Nov. 13-Nov. 19):
(Counties with a percent positivity above 5% in a week go on the Department of Health's watch list)
Pennsylvania

Percent Positivity - 11.1% last 7 days (9.6% previous 7 days)
Incidence Rate per 100,000 people last 7 days - 282.1 (213.4 previous 7 days)

Adams County:

Percent Positivity - 6.4% last 7 days (7.0% previous 7 days)
Incidence Rate per 100,000 people last 7 days - 161.5 (171.2 previous 7 days)

Cumberland County:

Percent Positivity - 11.0% last 7 days (9.2% previous 7 days)
Incidence Rate per 100,000 people last 7 days - 246.2 (192.5 previous 7 days)

Dauphin County:

Percent Positivity - 10.7% last 7 days (9.3% previous 7 days)
Incidence Rate per 100,000 people last 7 days - 254.8 (201.7 previous 7 days)

Franklin County:

Percent Positivity - 17.0% last 7 days (15.1% previous 7 days)
Incidence Rate per 100,000 people last 7 days - 369.4 (281.6 previous 7 days)

Lebanon County:

Percent Positivity - 12.7% last 7 days (12.4% previous 7 days)
Incidence Rate per 100,000 people last 7 days - 299.3 (290.8 previous 7 days)

Perry County:

Percent Positivity - 12.0% last 7 days (9.9% previous 7 days)
Incidence Rate per 100,000 people last 7 days - 160.4 (130.0 previous 7 days)

York County:

Percent Positivity - 10.9% last 7 days (9.4% previous 7 days)
Incidence Rate per 100,000 people last 7 days - 234.5 (164.6 previous 7 days)