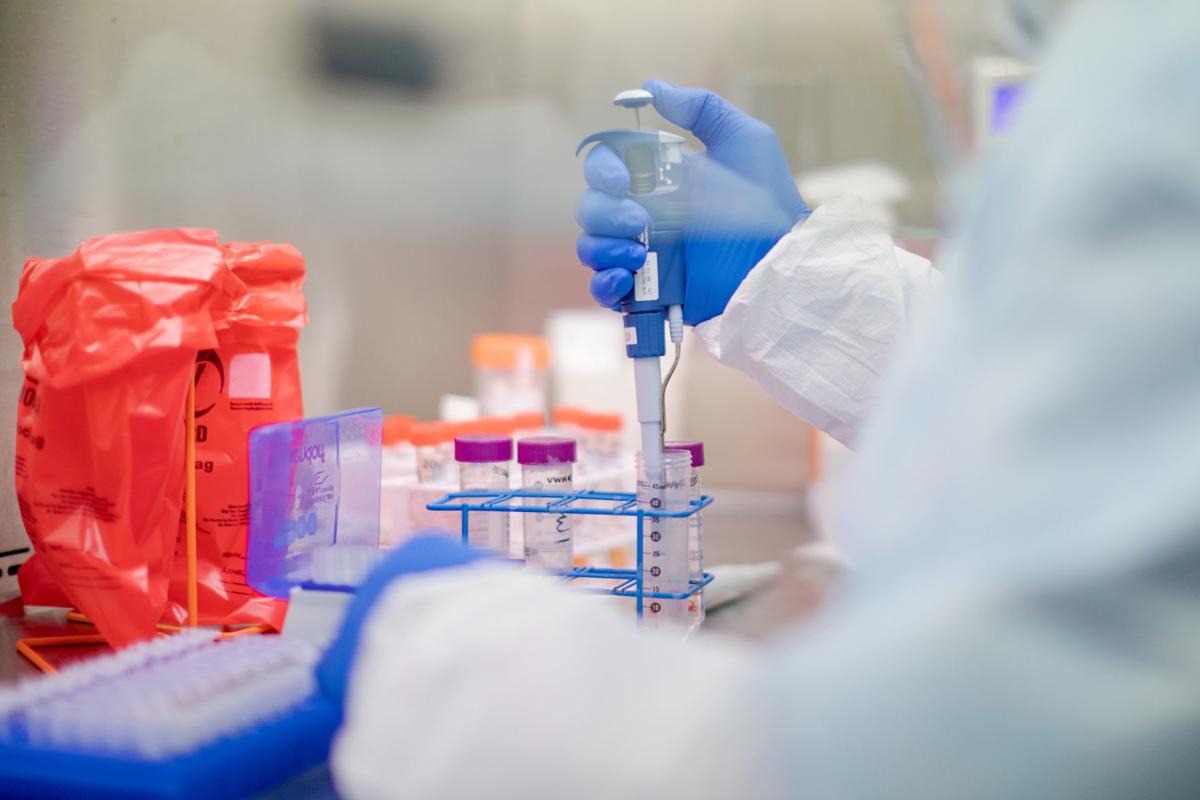 The state Department of Health reported Wednesday that Cumberland County saw 195 new cases of COVID-19 and nine additional deaths.
Comparing just the number of negative tests (285) and confirmed positive tests (168), the county saw about 37% of its tests come back positive Wednesday.
The number of hospitalizations in Cumberland County decreased by one from Tuesday. There were 157 patients hospitalized with COVID-19 in Tuesday's report. Of those, 30 are in the ICU, an increase of three, and 19 are on ventilators.
In the southcentral region, York County had 421 new cases Wednesday, Dauphin County 202 cases, Lebanon County 105 cases, Blair County 103, and Franklin County 102 cases.
The Health Department reported 10,049 additional cases of COVID-19 for the state Wednesday, with 278 additional deaths. That's the most reported deaths in a single day since May 7 for the state.
There department reports 6,295 people hospitalized with COVID-19, double the peak in the spring. Of that number, 1,264 patients are in the intensive care unit with COVID-19. Most of the patients hospitalized are 65 or older, and most of the deaths have occurred in patients 65 or older.
County numbers in the southcentral region (updated Dec. 16):
Adams County (pop. 103,009): 64 new cases; 3,196 total cases (2,953 confirmed, 243 probable); 24,379 negatives; 57 deaths (+1)
Bedford County (pop. 47,888): 53 new cases; 2,509 total cases (1,955 confirmed, 554 probable); 7,411 negatives; 72 deaths (+4)
Blair County (pop. 121,829): 103 new cases; 6,551 total cases (5,669 confirmed, 882 probable); 29,069 negatives; 122 deaths (+6)
Cumberland County (pop. 253,370): 195 new cases; 8,188 total cases (7,430 confirmed, 758 probable); 54,335 negatives; 233 deaths (+9)
Dauphin County (pop. 278,299): 202 new cases; 11,312 total cases (10,870 confirmed, 442 probable); 71,911 negatives; 258 deaths (+6)
Franklin County (pop. 155,027): 102 new cases; 7,063 total cases (6,432 confirmed, 631 probable); 34,129 negatives; 169 deaths (+6)
Fulton County (pop. 14,530): 6 new cases; 547 total cases (343 confirmed, 204 probable); 2,484 negatives; 7 deaths
Huntingdon County (pop. 45,144): 27 new cases; 2,338 total cases (1,987 confirmed, 351 probable); 10,339 negatives; 72 deaths (+1)
Juniata County (pop. 24,763): 14 new cases; 1,072 total cases (1,014 confirmed, 58 probable); 3,628 negatives; 32 deaths (+2)
Lebanon County (pop. 141,793): 105 new cases; 7,252 total cases (6,712 confirmed, 540 probable); 33,930 negatives; 137 deaths (+5)
Mifflin County (pop. 46,138): 52 new cases; 2,872 total cases (2,736 confirmed, 136 probable); 10,335 negatives; 86 deaths (+2)
Perry County (pop. 46,272): 36 new cases; 1,219 total cases (1,095 confirmed, 124 probable); 7,296 negatives; 17 deaths
York County (pop. 449,058): 421 new cases; 18,232 total cases (16,455 confirmed, 1,777 probable); 102,605 negatives; 313 deaths (+7)
ZIP code-level counts (updated Dec. 16):
17013: 1,153 positives, 7,446 negatives - +142 since Dec. 11
17015: 693 positives, 4,051 negatives - +90 since Dec. 11
17050: 1,078 positives, 7,634 negatives - +133 since Dec. 11
17055: 1,301 positives, 11,053 negatives - +134 since Dec. 11
17011: 1,040 positives, 8,836 negatives - +132 since Dec. 11
17007: 183 positives, 990 negatives - +19 since Dec. 11
17065: 127 positives, 683 negatives - +21 since Dec. 11
17324: 99 positives, 774 negatives - +15 since Dec. 11
17241: 304 positives, 2,100 negatives - +52 since Dec. 11
17257: 915 positives, 3,600 negatives - +101 since Dec. 11
17240: 76 positives, 315 negatives - +14 since Dec. 11
17025: 450 positives, 3,011 negatives - +59 since Dec. 11
17070: 435 positives, 3,072 negatives - +48 since Dec. 11
17043: 135 positives, 1,199 negatives - +43 since Dec. 11
17019: 462 positives, 3,284 negatives - +79 since Dec. 11
17266: 12 positives, 74 negatives - +1 since Dec. 11
Long-term care facilities and personal care homes in Cumberland County (as reported to the Department of Health through Dec. 8):
Artis Senior Living of West Shore (Lemoyne): fewer than 5 resident cases; 7 staff cases; fewer than 5 deaths
Bethany Village Retirement Center (Mechanicsburg): 6 resident cases; 6 staff cases; 0 deaths
Bridges at Bent Creek (Hampden Township): 0 resident cases; fewer than 5 staff cases; 0 deaths
Brookdale Grandon Farms (Hampden Township): 9 resident cases; 5 staff cases; 0 deaths
Carriage Courts Personal Care at Green Ridge Village (Newville): fewer than 5 resident cases; fewer than 5 staff cases; 0 deaths
Chapel Pointe (Carlisle): 51 resident cases; 45 staff cases; 15 deaths
Church of God Home (Carlisle): 5 resident cases; 0 staff cases; 0 deaths
Claremont Nursing & Rehabilitation Center (Carlisle): 92 resident cases; 36 staff cases; 16 deaths
Country Meadows of West Shore (Mechanicsburg): 11 resident cases; 13 staff cases; 0 deaths
Cumberland Crossings (Carlisle): 40 resident cases; 26 staff cases; 13 deaths
Elmcroft of Shippensburg: 0 residents; fewer than 5 staff cases; 0 deaths
Forest Park (Carlisle): 9 resident cases; 10 staff cases; 0 deaths
Fox Subacute (Mechanicsburg): 0 resident cases; 10 staff cases; 0 deaths
Gardens at Camp Hill: 50 resident cases; 26 staff cases; 8 deaths
Gardens at West Shore (Camp Hill): 82 resident cases; 26 staff cases; 19 deaths (numbers are from last available data on June 10)
Gilliland Manor (Newville): fewer than 5 resident cases; fewer than 5 staff cases; 0 deaths
Manorcare Health Center (Camp Hill): fewer than 5 resident cases; fewer than 5 staff cases; 6 deaths
Manorcare Health Center (Carlisle): 25 resident cases; 20 staff cases; 5 deaths 
Messiah Lifeways (Upper Allen Township): 115 cases; 65 staff cases; 41 deaths
New Visions Inc.: 0 staff cases; fewer than 5 resident cases; 0 deaths
Sarah A. Todd Memorial Home (Carlisle): 101 resident cases; 69 staff cases; 14 deaths
Shippensburg Health Care Center: 116 resident cases; 47 staff cases; 34 deaths (numbers are from last available data on Dec. 1)
Swaim Health Center (Newville): 19 resident cases; 19 staff cases; 0 deaths
Thornwald Home (Carlisle): 21 resident cases; 27 staff cases; fewer than 5 deaths
Vibra Senior Living: 0 resident cases; fewer than 5 staff cases; 0 deaths
Woods at Cedar Run: fewer than 5 resident cases; fewer than 5 staff cases; 0 deaths
COVID-19 Early Warning Monitoring System Dashboard (Dec. 4-Dec. 11):
(Counties with a percent positivity above 5% in a week go on the Department of Health's watch list)
Pennsylvania

Percent Positivity - 16.2% last 7 days (14.5% previous 7 days)
Incidence Rate per 100,000 people last 7 days - 471.7 (394.9 previous 7 days)

Adams County:

Percent Positivity - 18.9% last 7 days (14.8% previous 7 days)
Incidence Rate per 100,000 people last 7 days - 375.4 (351.1 previous 7 days)

Cumberland County:

Percent Positivity - 17.3% last 7 days (16.3% previous 7 days)
Incidence Rate per 100,000 people last 7 days - 425.6 (424.4 previous 7 days)

Dauphin County:

Percent Positivity - 18.6% last 7 days (17.4% previous 7 days)
Incidence Rate per 100,000 people last 7 days - 491.2 (420.8 previous 7 days)

Franklin County:

Percent Positivity - 21.6% last 7 days (21.2% previous 7 days)
Incidence Rate per 100,000 people last 7 days - 604.5 (475.3 previous 7 days)

Lebanon County:

Percent Positivity - 14.8% last 7 days (16.6% previous 7 days)
Incidence Rate per 100,000 people last 7 days - 430.2 (526.5 previous 7 days)

Perry County:

Percent Positivity - 19.7% last 7 days (21.2% previous 7 days)
Incidence Rate per 100,000 people last 7 days - 379.3 (312.7 previous 7 days)

York County:

Percent Positivity - 18.0% last 7 days (15.4% previous 7 days)
Incidence Rate per 100,000 people last 7 days - 513.5 (454.2 previous 7 days)