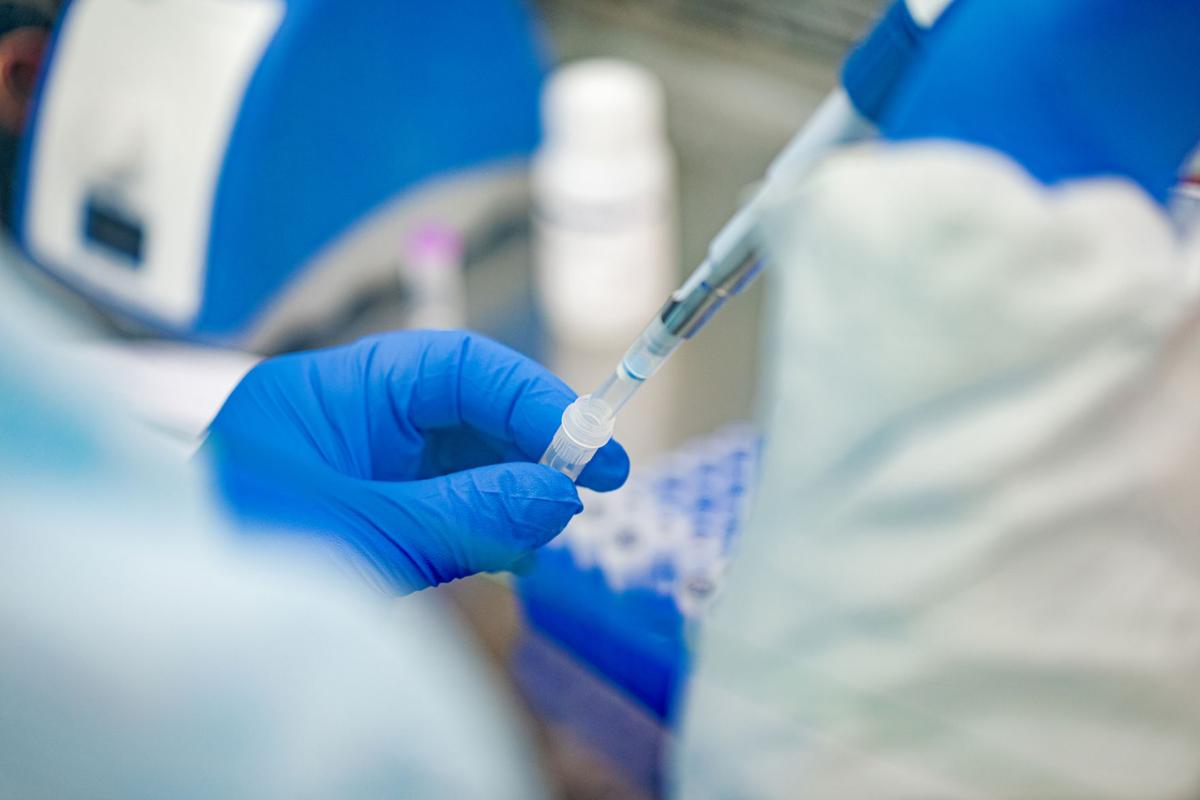 The state Department of Health on Thursday reported that there were 166 new cases of COVID-19 and eight deaths in Cumberland County.
Thursday's report included 280 total test results. Comparing just the number of negative tests (114) and confirmed positive tests (136) Thursday, the county saw about 54% of its tests come back positive.
The county's seven-day average of cases sits at 150.14 and its 14-day per capita rate sits at 748.71.
As of Thursday's data, the Health Department says 4,703 partial vaccines have been administered in Cumberland County, with 463 full vaccines (both doses) administered.
There were 142 patients hospitalized with COVID-19 in the county in Thursday's report (up one from Wednesday), with 25 in intensive care units, and 25 on ventilators.
In the southcentral region for Thursday, York County had 388 new cases and 10 deaths, Adams County had 134 new cases, Dauphin County 114 new cases, Franklin County 104 new cases, and Lebanon County 102 new cases.
The Health Department on Thursday reported 7,175 new cases of COVID-19 for the state in addition to 313 new deaths. 
County numbers in the southcentral region (updated Jan. 14):
Adams County (pop. 103,009): 134 new cases; 5,642 total cases (4,995 confirmed, 647 probable); 26,789 negatives; 120 deaths (+4)
Bedford County (pop. 47,888): 62 new cases; 3,351 total cases (2,524 confirmed, 827 probable); 8,046 negatives; 106 deaths (+3)
Blair County (pop. 121,829): 67 new cases; 9,093 total cases (7,544 confirmed, 1,549 probable); 31,454 negatives; 201 deaths (+5)
Cumberland County (pop. 253,370): 166 new cases; 12,353 total cases (11,039 confirmed, 1,314 probable); 59,980 negatives; 365 deaths (+8)
Dauphin County (pop. 278,299): 114 new cases; 16,079 total cases (15,234 confirmed, 845 probable); 78,942 negatives; 379 deaths (+6)
Franklin County (pop. 155,027): 104 new cases; 10,367 total cases (9,125 confirmed, 1,242 probable); 38,430 negatives; 271 deaths (+6)
Fulton County (pop. 14,530): 8 new cases; 893 total cases (505 confirmed, 388 probable); 2,915 negatives; 12 deaths
Huntingdon County (pop. 45,144): 16 new cases; 3,534 total cases (2,984 confirmed, 550 probable); 11,266 negatives; 93 deaths
Juniata County (pop. 24,763): 17 new cases; 1,557 total cases (1,392 confirmed, 165 probable); 3,997 negatives; 69 deaths (+1)
Lebanon County (pop. 141,793): 102 new cases; 10,457 total cases (9,335 confirmed, 1,122 probable); 37,379 negatives; 189 deaths (+3)
Mifflin County (pop. 46,138): 39 new cases; 3,890 total cases (3,707 confirmed, 183 probable); 11,166 negatives; 133 deaths (+2)
Perry County (pop. 46,272): 37 new cases; 2,150 total cases (1,905 confirmed, 245 probable); 8,071 negatives; 55 deaths (+2)
York County (pop. 449,058): 388 new cases; 27,663 total cases (24,278 confirmed, 3,385 probable); 114,300 negatives; 529 deaths (+10)
ZIP code-level counts (updated Jan. 14):
17013: 1,648 positives, 8,279 negatives - +94 since Jan. 8
17015: 1,023 positives, 4,601 negatives - +88 since Jan. 8
17050: 1,651 positives, 8,685 negatives - +122 since Jan. 8
17055: 1,848 positives, 11,729 negatives - +98 since Jan. 8
17011: 1,611 positives, 9,512 negatives - +84 since Jan. 8
17007: 260 positives, 1,097 negatives - +15 since Jan. 8
17065: 183 positives, 779 negatives - +17 since Jan. 8
17324: 158 positives, 857 negatives - +14 since Jan. 8
17241: 437 positives, 2,264 negatives - +24 since Jan. 8
17257: 1,323 positives, 4,309 negatives - +87 since Jan. 8
17240: 121 positives, 386 negatives - +7 since Jan. 8
17025: 712 positives, 3,485 negatives - +56 since Jan. 8
17070: 670 positives, 3,519 negatives - +54 since Jan. 8
17043: 233 positives, 1,311 negatives - +21 since Jan. 8
17019: 772 positives, 3,665 negatives - +62 since Jan. 8
17266: 16 positives, 82 negatives - +0 since Jan. 8
Long-term care facilities and personal care homes in Cumberland County (as reported to the Department of Health through Dec. 29):
Artis Senior Living of West Shore (Lemoyne): 13 resident cases; 11 staff cases; fewer than 5 deaths
Bethany Village Retirement Center (Mechanicsburg): 6 resident cases; 7 staff cases; 0 deaths
Bridges at Bent Creek (Hampden Township): 0 resident cases; fewer than 5 staff cases; 0 deaths
Brookdale Grandon Farms (Hampden Township): 9 resident cases; 5 staff cases; 0 deaths
Carriage Courts Personal Care at Green Ridge Village (Newville): fewer than 5 resident cases; fewer than 5 staff cases; 0 deaths
Chapel Pointe (Carlisle): 67 resident cases; 58 staff cases; 23 deaths
Church of God Home (Carlisle): 66 resident cases; 34 staff cases; 12 deaths
Claremont Nursing & Rehabilitation Center (Carlisle): 102 resident cases; 61 staff cases; 33 deaths
Country Meadows of West Shore (Mechanicsburg): 39 resident cases; 38 staff cases; 0 deaths
Cumberland Crossings (Carlisle): 40 resident cases; 31 staff cases; 15 deaths (data from lat report on Dec. 17)
Elmcroft of Shippensburg: 11 resident cases; 7 staff cases; fewer than 5 deaths
Forest Park (Carlisle): 53 resident cases; 37 staff cases; 5 deaths
Fox Subacute (Mechanicsburg): 0 resident cases; 0 staff cases; 0 deaths
Gardens at Camp Hill: 50 resident cases; 26 staff cases; 8 deaths (numbers are from last available data on Dec. 8)
Gardens at West Shore (Camp Hill): 82 resident cases; 26 staff cases; 19 deaths (numbers are from last available data on June 10)
Gilliland Manor (Newville): fewer than 5 resident cases; fewer than 5 staff cases; 0 deaths
Manorcare Health Center (Camp Hill): fewer than 5 resident cases; fewer than 9 staff cases; 6 deaths
Manorcare Health Center (Carlisle): 30 resident cases; 24 staff cases; 5 deaths 
Messiah Lifeways (Upper Allen Township): 115 cases; 72 staff cases; 49 deaths
New Visions Inc.: fewer than 5 staff cases; fewer than 5 resident cases; 0 deaths
Sarah A. Todd Memorial Home (Carlisle): 101 resident cases; 74 staff cases; 17 deaths
Shippensburg Health Care Center: 116 resident cases; 51 staff cases; 34 deaths (resident numbers haven't been updated since Dec. 1)
Swaim Health Center (Newville): 14 resident cases; 20 staff cases; fewer than 5 deaths
Thornwald Home (Carlisle): 33 resident cases; 44 staff cases; fewer than 5 deaths
Vibra Senior Living: fewer than 5 resident cases; fewer than 5 staff cases; 0 deaths
Woods at Cedar Run: fewer than 5 resident cases; fewer than 5 staff cases; 0 deaths
COVID-19 Early Warning Monitoring System Dashboard (Jan. 1-Jan. 7):
(Counties with a percent positivity above 5% in a week go on the Department of Health's watch list)
Pennsylvania:

Percent Positivity - 14.4% last 7 days (15.0% previous 7 days)
Incidence Rate per 100,000 people last 7 days - 330.6 (322.5 previous 7 days)

Adams County:

Percent Positivity - 20.8% last 7 days (26.4% previous 7 days)
Incidence Rate per 100,000 people last 7 days - 478.5 (517.5 previous 7 days)

Cumberland County:

Percent Positivity - 14.6% last 7 days (15.8% previous 7 days)
Incidence Rate per 100,000 people last 7 days - 296.8 (311.4 previous 7 days)

Dauphin County:

Percent Positivity - 15.5% last 7 days (17.3% previous 7 days)
Incidence Rate per 100,000 people last 7 days - 320.2 (344.6 previous 7 days)

Franklin County:

Percent Positivity - 20.2% last 7 days (23.7% previous 7 days)
Incidence Rate per 100,000 people last 7 days - 490.2 (377.4 previous 7 days)

Lebanon County:

Percent Positivity - 18.3% last 7 days (18.0% previous 7 days)
Incidence Rate per 100,000 people last 7 days - 430.9 (473.9 previous 7 days)

Perry County:

Percent Positivity - 22.6% last 7 days (27.8% previous 7 days)
Incidence Rate per 100,000 people last 7 days - 313.4 (380.4 previous 7 days)

York County:

Percent Positivity - 18.1% last 7 days (18.2% previous 7 days)
Incidence Rate per 100,000 people last 7 days - 370.1 (393.5 previous 7 days)