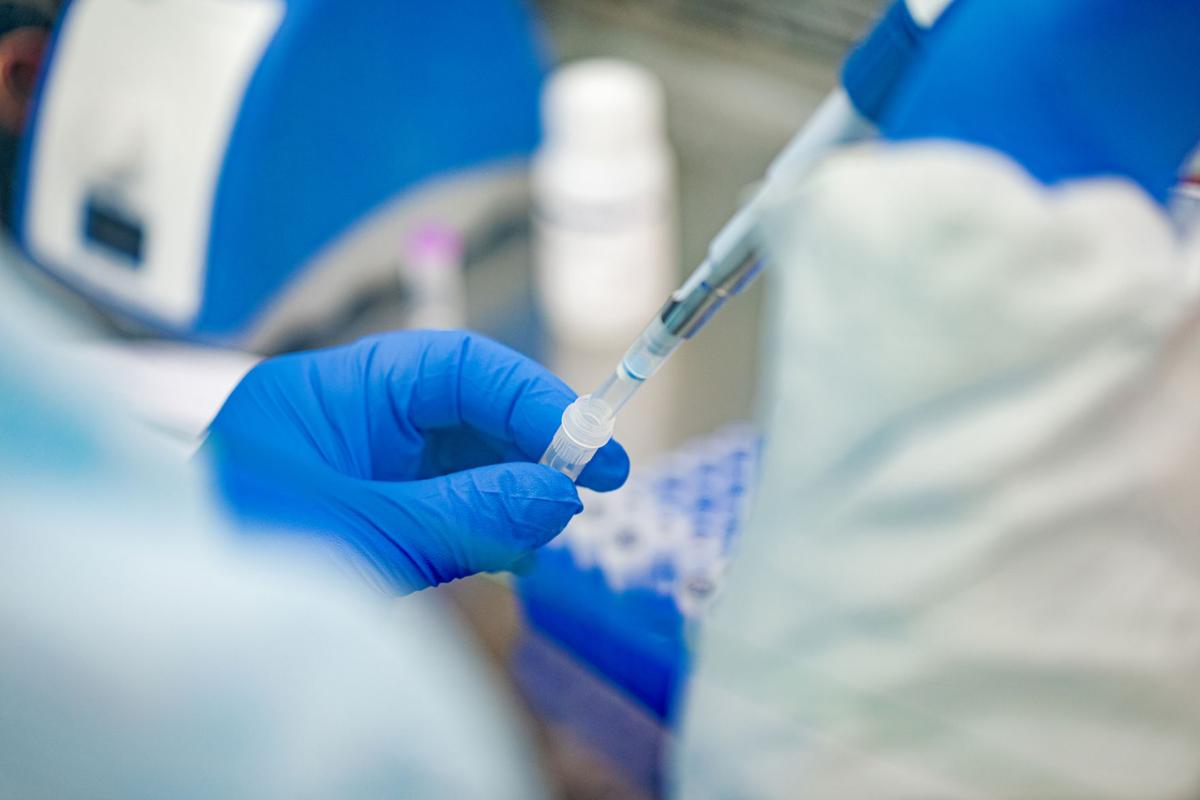 With the prevalence of the delta variant increasing across the U.S., and in Pennsylvania, every week, Cumberland County continued a modest rise in case counts with Wednesday's report from the state Department of Health.
The DOH reported 15 new cases of COVID-19 for Cumberland County Wednesday. That's the highest single-day total for the county since 40 new cases on June 17, which was later attributed to a nursing home data update. The county reported 20 new cases on June 8. It's also the fifth time in the last eight days the county has recorded eight or more cases in a single day.
The DOH reported 525 cases statewide Wednesday. Paired with the 569 cases reported Tuesday, it marks the first time the state has seen back-to-back days of more than 500 cases since May 28-29.
Wednesday's report included 86 total test results, with five probable cases for Cumberland County. Comparing just the number of negative tests (71) and confirmed positive tests (10), the county saw 12.3% of its tests come back positive.
The number of patients hospitalized with COVID-19 rose to 11 in Wednesday's report, an increase of two from Tuesday's report, with one in an intensive care unit and no one on a ventilator.
In the southcentral region, York County reported 24 new COVID cases, Adams County 14 new cases, and Dauphin 11 new COVID cases in Wednesday's data release.
In data updated Tuesday evening, the Centers for Disease Control and Prevention says 52.4% of Cumberland County's total population of 253,370 has been fully vaccinated. For the county's vaccine eligible population of people ages 12 and older, 60.4% of that population has been fully vaccinated. CDC data is current as of 6 a.m. on the day it is posted.
Health officials say the delta variant of the coronavirus continues to surge and will account for an estimated 83.2% of U.S. COVID-19 cases by July 17. That's a dramatic increase from the week ending July 3, when the variant accounted for about 61.3% of genetically sequenced coronavirus cases.
For Region 3 in the U.S. (which includes Pennsylvania, Delaware, District of Columbia, Maryland, Virginia and West Virginia), the delta variant will account for an estimated 45.3% of COVID-19 cases in that region by July 17.
The delta variant is a mutated coronavirus that spreads more easily than other versions. It was first detected in India but now has been identified around the world.
County numbers in the southcentral region (for July 21):
Adams County (pop. 103,009): 14 new cases; 9,754 total cases (8,060 confirmed, 1,694 probable); 38,377 negatives; 189 deaths; 42% of county population vaccinated
Bedford County (pop. 47,888): -2 new cases; 4,742 total cases (3,303 confirmed, 1,439 probable); 10,603 negatives; 142 deaths; 30.4% of county population vaccinated
Blair County (pop. 121,829): 4 new cases; 13,538 total cases (10,633 confirmed, 2,905 probable); 41,212 negatives; 344 deaths; 40.4% of county population vaccinated
Cumberland County (pop. 253,370): 15 new cases; 20,721 total cases (16,654 confirmed, 4,067 probable); 85,585 negatives; 527 deaths; 52.4% of county population vaccinated
Dauphin County (pop. 278,299): 11 new cases; 26,240 total cases (22,833 confirmed, 3,407 probable); 111,508 negatives; 562 deaths (+1); 49.1% of county population vaccinated
Franklin County (pop. 155,027): 3 new cases; 15,531 total cases (13,148 confirmed, 2,383 probable); 56,599 negatives; 376 deaths; 37.3% of county population vaccinated
Fulton County (pop. 14,530): 0 new cases; 1,387 total cases (776 confirmed, 611 probable); 4,239 negatives; 16 deaths; 26.1% of county population vaccinated
Huntingdon County (pop. 45,144): 1 new case; 5,181 total cases (4,340 confirmed, 841 probable); 17,100 negatives; 136 deaths; 39.2% of county population vaccinated
Juniata County (pop. 24,763): 0 new cases; 2,147 total cases (1,942 confirmed, 205 probable); 5,657 negatives; 88 deaths; 33.5% of county population vaccinated
Lebanon County (pop. 141,793): 4 new cases; 16,242 total cases (14,058 confirmed, 2,184 probable); 55,512 negatives; 295 deaths; 43% of county population vaccinated
Mifflin County (pop. 46,138): 0 new cases; 5,448 total cases (5,144 confirmed, 304 probable); 15,511 negatives; 183 deaths; 40.1% of county population vaccinated
Perry County (pop. 46,272): 1 new cases; 3,863 total cases (3,005 confirmed, 858 probable); 11,323 negatives; 101 deaths; 39% of county population vaccinated
York County (pop. 449,058): 24 new cases; 47,250 total cases (38,452 confirmed, 8,798 probable); 166,338 negatives; 836 deaths (+1); 46.5% of county population vaccinated
ZIP code-level counts (updated July 21):
17013: 2,467 positives, 13,011 negatives - +3 since July 18
17015: 1,526 positives, 6,421 negatives - +3 since July 18
17050: 2,436 positives, 13,055 negatives - +2 since July 18
17055: 2,809 positives, 15,926 negatives - +4 since July 18
17011: 2,621 positives, 12,994 negatives - +2 since July 18
17007: 368 positives, 1,622 negatives - +0 since July 18
17065: 254 positives, 1,146 negatives - +1 since July 18
17324: 249 positives, 1,223 negatives - +0 since July 18
17241: 658 positives, 3,035 negatives - +2 since July 18
17257: 1,761 positives, 6,442 negatives - +2 since July 18
17240: 156 positives, 598 negatives - +0 since July 18
17025: 1,098 positives, 5,120 negatives - +1 since July 18
17070: 1,090 positives, 4,979 negatives - +0 since July 18
17043: 373 positives, 1,884 negatives - +1 since July 18
17019: 1,228 positives, 5,072 negatives - +0 since July 18
17266: 19 positives, 117 negatives - +0 since July 18
COVID-19 Early Warning Monitoring System Dashboard (July 9 - July 15):
(Counties with a percent positivity above 5% in a week go on the Department of Health's watch list)
Pennsylvania:

Percent Positivity - 1.7% last 7 days (1.2% previous 7 days)
Incidence Rate per 100,000 people last 7 days - 11.6 (7.1 previous 7 days)

Adams County:

Percent Positivity - 1.4% last 7 days (2.3% previous 7 days)
Incidence Rate per 100,000 people last 7 days - 11.6 (13.6 previous 7 days)

Cumberland County:

Percent Positivity - 2.5% last 7 days (1.3% previous 7 days)
Incidence Rate per 100,000 people last 7 days - 13 (3.9 previous 7 days)

Dauphin County:

Percent Positivity - 2.0% last 7 days (1.3% previous 7 days)
Incidence Rate per 100,000 people last 7 days - 12.2 (6.1 previous 7 days)

Franklin County:

Percent Positivity - 1.5% last 7 days (.8% previous 7 days)
Incidence Rate per 100,000 people last 7 days - 10.3 (7.1 previous 7 days)

Lebanon County:

Percent Positivity - 0.9% last 7 days (0.9% previous 7 days)
Incidence Rate per 100,000 people last 7 days - 7.1 (4.9 previous 7 days)

Perry County:

Percent Positivity - 2.5% last 7 days (2.1% previous 7 days)
Incidence Rate per 100,000 people last 7 days - 8.6 (4.3 previous 7 days)

York County:

Percent Positivity - 2.4% last 7 days (1.3% previous 7 days)
Incidence Rate per 100,000 people last 7 days - 15.4 (8.0 previous 7 days)