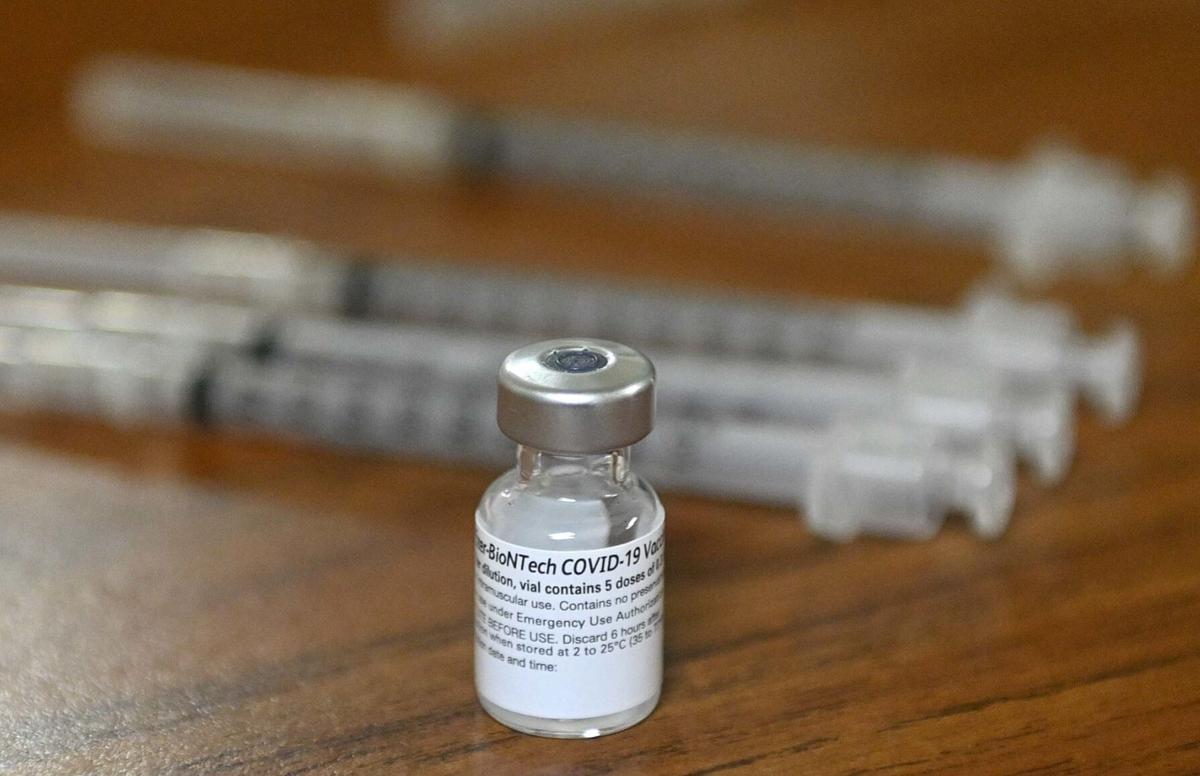 The state Department of Health reported 14 new cases of COVID-19 and one new death for Cumberland County Wednesday.
Wednesday's report included 147 total test results, with 5 new probables. Comparing just the number of negative tests (133) and confirmed positive tests (9), the county saw about 6.3% of its tests come back positive.
The county's seven-day average of cases now sits at 17.29. The county's 14-day per capita rate sits at 110.51.
There were 30 patients hospitalized with COVID-19 in the county in Wednesday's report (up five from Tuesday), with three in intensive care units and five on ventilators.
In data updated Tuesday evening, the Centers for Disease Control and Prevention says 103,760 people have been fully vaccinated in Cumberland County, or 41% of the county's total population of 253,370. CDC data is current as of 6 a.m. on the day it is posted.
In the southcentral region for Wednesday, York County had 50 new cases and Lebanon and Blair counties each had 24 new cases.
The Health Department confirmed 1,127 additional positive cases of COVID-19 Wednesday, bringing the statewide total to 1,198,595.
County numbers in the southcentral region (for May 26):
Adams County (pop. 103,009): 13 new cases; 9,537 total cases (7,893 confirmed, 1,644 probable); 36,183 negatives; 183 deaths
Bedford County (pop. 47,888): 5 new cases; 4,595 total cases (3,225 confirmed, 1,370 probable); 10,217 negatives; 138 deaths
Blair County (pop. 121,829): 24 new cases; 13,347 total cases (10,517 confirmed, 2,830 probable); 39,629 negatives; 337 deaths (+1)
Cumberland County (pop. 253,370): 14 new cases; 20,347 total cases (16,424 confirmed, 3,923 probable); 80,826 negatives; 523 deaths (+1)
Dauphin County (pop. 278,299): 13 new cases; 25,854 total cases (22,586 confirmed, 3,268 probable); 105,386 negatives; 548 deaths
Franklin County (pop. 155,027): 10 new cases; 15,259 total cases (12,943 confirmed, 2,316 probable); 52,319 negatives; 370 deaths
Fulton County (pop. 14,530): 5 new cases; 1,348 total cases (754 confirmed, 594 probable); 3,965 negatives; 15 deaths
Huntingdon County (pop. 45,144): 0 new cases; 5,095 total cases (4,260 confirmed, 835 probable); 16,127 negatives; 132 deaths
Juniata County (pop. 24,763): 5 new cases; 2,126 total cases (1,922 confirmed, 204 probable); 5,290 negatives; 86 deaths
Lebanon County (pop. 141,793): 24 new cases; 16,049 total cases (13,901 confirmed, 2,148 probable); 51,724 negatives; 288 deaths (+1)
Mifflin County (pop. 46,138): 6 new cases; 5,372 total cases (5,077 confirmed, 295 probable); 14,563 negatives; 178 deaths
Perry County (pop. 46,272): 2 new cases; 3,808 total cases (2,968 confirmed, 840 probable); 10,759 negatives; 100 deaths
York County (pop. 449,058): 50 new cases; 46,182 total cases (37,819 confirmed, 8,363 probable); 156,361 negatives; 808 deaths (+1)
ZIP code-level counts (updated May 26):
17013: 2,409 positives, 12,053 negatives - +12 since May 21
17015: 1,507 positives, 6,041 negatives - +3 since May 21
17050: 2,408 positives, 12,089 negatives - +6 since May 21
17055: 2,777 positives, 15,232 negatives - +4 since May 21
17011: 2,592 positives, 12,634 negatives - +7 since May 21
17007: 363 positives, 1,523 negatives - +1 since May 21
17065: 252 positives, 1,087 negatives - +0 since May 21
17324: 243 positives, 1,141 negatives - +3 since May 21
17241: 644 positives, 2,902 negatives - +4 since May 21
17257: 1,730 positives, 5,875 negatives - +5 since May 21
17240: 155 positives, 545 negatives - +0 since May 21
17025: 1,083 positives, 4,825 negatives - +5 since May 21
17070: 1,072 positives, 4,694 negatives - +2 since May 21
17043: 368 positives, 1,777 negatives - +2 since May 21
17019: 1,207 positives, 4,840 negatives - +11 since May 21
17266: 19 positives, 104 negatives - +0 since May 21
COVID-19 Early Warning Monitoring System Dashboard (May 14-May 20):
(Counties with a percent positivity above 5% in a week go on the Department of Health's watch list)
Pennsylvania:

Percent Positivity - 4.5% last 7 days (5.3% previous 7 days)
Incidence Rate per 100,000 people last 7 days - 54.3 (77.7 previous 7 days)

Adams County:

Percent Positivity - 5.3% last 7 days (5.5% previous 7 days)
Incidence Rate per 100,000 people last 7 days - 72.8 (70.9 previous 7 days)

Cumberland County:

Percent Positivity - 3.9% last 7 days (3.7% previous 7 days)
Incidence Rate per 100,000 people last 7 days - 43.0 (52.1 previous 7 days)

Dauphin County:

Percent Positivity - 5.6% last 7 days (7.8% previous 7 days)
Incidence Rate per 100,000 people last 7 days - 65.4 (103.1 previous 7 days)

Franklin County:

Percent Positivity - 4.2% last 7 days (5.1% previous 7 days)
Incidence Rate per 100,000 people last 7 days - 61.9 (78.7 previous 7 days)

Lebanon County:

Percent Positivity - 6.5% last 7 days (7.1% previous 7 days)
Incidence Rate per 100,000 people last 7 days - 75.5 (106.5 previous 7 days)

Perry County:

Percent Positivity - 6.5% last 7 days (7.6% previous 7 days)
Incidence Rate per 100,000 people last 7 days - 45.4 (88.6 previous 7 days)

York County:

Percent Positivity - 6.0% last 7 days (6.1% previous 7 days)
Incidence Rate per 100,000 people last 7 days - 78.6 (76.6 previous 7 days)