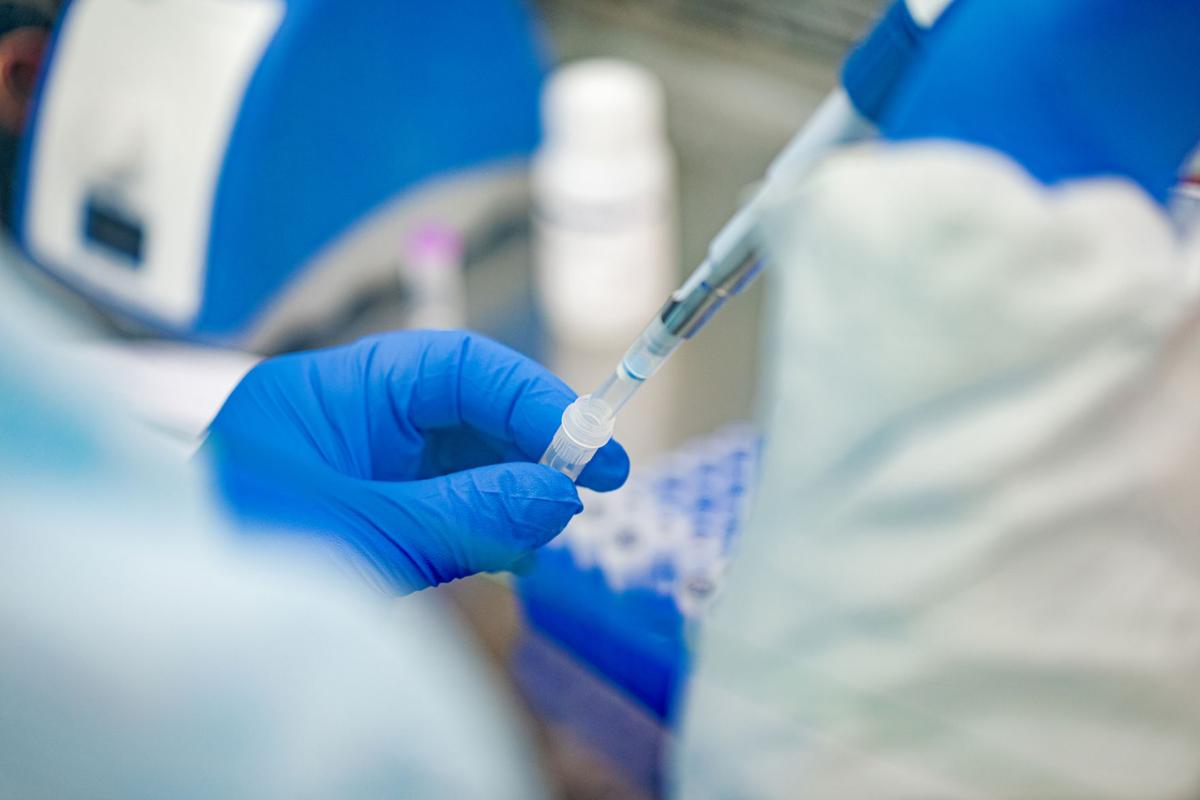 Cumberland County is back above 100 new COVID-19 cases in the latest update from the state Department of Health.
The department on Tuesday reported that Cumberland County had 112 new cases and two new deaths associated with COVID-19. Comparing based on just the number of new cases, Cumberland County saw the second highest increase in the region, second only to York County, which saw 223 new cases and two new deaths.
Though neither number was higher than the number of cases seen Sunday, Tuesday marks another spike for York County and another day of 100+ cases for Cumberland County.
The number of hospitalizations also climbed slightly in Cumberland County. Two more patients are being hospitalized with COVID-19, bringing the total number to 60 in the county. One more patient was admitted to the ICU, though there was a drop in the number of patients using a ventilator, falling to two patients.
No other county in the southcentral region saw an increase of more than 100 new cases, but a number of them were close.
Dauphin County had 89 new cases, Lebanon County had 97 new cases, Franklin County had 82 new cases and Blair County had 81 new cases.
A number of rural counties also continued to report higher than average increases. Mifflin County is still reporting increases in the 40s, while both Fulton and Perry counties saw their totals increase by 17 cases.
The number of reported deaths has also increased since the last two days. Franklin County had four new deaths, Blair County saw three new deaths, and there were two new deaths each in Cumberland County, Bedford County, Huntingdon County, Mifflin County and York County. Lebanon County saw one new death.
Overall across the state, there were 81 new deaths. The state also saw 6,669 new cases, missing the record set on Sunday.
County numbers in the southcentral region (updated Nov. 24):
Adams County (pop. 103,009): 34 new cases; 1,808 total cases (1,753 confirmed, 55 probable); 21,800 negatives; 45 deaths
Bedford County (pop. 47,888): 39 new cases; 1,267 total cases (971 confirmed, 296 probable); 6,399 negatives; 17 deaths (+2)
Blair County (pop. 121,829): 81 new cases; 3,521 total cases (3,094 confirmed, 427 probable); 26,377 negatives; 56 deaths (+3)
Cumberland County (pop. 253,370): 112 new cases; 4,496 total cases (4,083 confirmed, 413 probable); 47,988 negatives; 112 deaths (+2)
Dauphin County (pop. 278,299): 89 new cases; 7,093 total cases (6,870 confirmed, 223 probable); 65,258 negatives; 213 deaths
Franklin County (pop. 155,027): 82 new cases; 3,937 total cases (3,791 confirmed, 146 probable); 29,343 negatives; 99 deaths (+4)
Fulton County (pop. 14,530): 17 new cases; 231 total cases (182 confirmed, 49 probable); 1,927 negatives; 5 deaths
Huntingdon County (pop. 45,144): 31 new cases; 1,606 total cases (1,448 confirmed, 158 probable); 9,679 negatives; 49 deaths (+2)
Juniata County (pop. 24,763): 11 new cases; 632 total cases (606 confirmed, 26 probable); 3,323 negatives; 12 deaths
Lebanon County (pop. 141,793): 97 new cases; 4,860 total cases (4,581 confirmed, 279 probable); 30,026 negatives; 104 deaths (+1)
Mifflin County (pop. 46,138): 46 new cases; 1,407 total cases (1,334 confirmed, 73 probable); 9,183 negatives; 24 deaths (+2)
Perry County (pop. 46,272): 17 new cases; 608 total cases (558 confirmed, 50 probable); 6,379 negatives; 9 deaths
York County (pop. 449,058): 223 new cases; 9,978 total cases (9,549 confirmed, 429 probable); 89,522 negatives; 237 deaths (+2)
ZIP code-level counts (through Nov. 24):
17013: 628 positives, 6,666 negatives - +80 since Nov. 20
17015: 369 positives, 3,405 negatives - +45 since Nov. 20
17050: 599 positives, 6,519 negatives - +42 since Nov. 20
17055: 734 positives, 9,961 negatives - +65 since Nov. 20
17011: 589 positives, 7,878 negatives - +42 since Nov. 20
17007: 93 positives, 855 negatives - +19 since Nov. 20
17065: 63 positives, 589 negatives - +6 since Nov. 20
17324: 57 positives, 687 negatives - +4 since Nov. 20
17241: 173 positives, 1,874 negatives - +15 since Nov. 20
17257: 548 positives, 2,807 negatives - +36 since Nov. 20
17240: 33 positives, 241 negatives - +3 since Nov. 20
17025: 225 positives, 2,585 negatives - +24 since Nov. 20
17070: 241 positives, 2,633 negatives - +16 since Nov. 20
17043: 66 positives, 1,047 negatives - +6 since Nov. 20
17019: 222 positives, 2,832 negatives - +36 since Nov. 20
Long-term care facilities and personal care homes in Cumberland County (as reported to the Department of Health through Nov. 18):
Artis Senior Living of West Shore (Lemoyne): Fewer than 5 resident cases; 0 staff cases; fewer than 5 deaths
Bethany Village Retirement Center (Mechanicsburg): 0 resident cases; fewer than 5 staff cases; 0 deaths
Bridges at Bent Creek (Hampden Township): 0 resident cases; fewer than 5 staff cases; 0 deaths
Brookdale Grandon Farms (Hampden Township): 9 resident cases; 5 staff cases; 0 deaths
Carriage Courts Personal Care at Green Ridge Village (Newville): 0 resident cases; fewer than 5 staff cases; 0 deaths
Chapel Pointe (Carlisle): 36 resident cases; 28 staff cases; fewer than 5 deaths
Church of God Home (Carlisle): 0 resident cases; fewer than 5 staff cases; 0 deaths
Claremont Nursing & Rehabilitation Center (Carlisle): 42 resident cases; 24 staff cases; fewer than 5 deaths
Country Meadows of West Shore (Mechanicsburg): 5 resident cases; fewer than 5 staff cases; 0 deaths
Cumberland Crossings (Carlisle): 33 resident cases; 10 staff cases; 0 deaths
Forest Park (Carlisle: 0 resident cases; fewer than 5 staff cases; 0 deaths
Fox Subacute (Mechanicsburg): 0 resident cases; 5 staff cases; 14 deaths
Gardens at Camp Hill: 48 resident cases; 23 staff cases; 8 deaths
Gardens at West Shore (Camp Hill): 82 resident cases; 26 staff cases; 19 deaths (numbers are from last available data on June 10)
Gilliland Manor (Newville): 0 resident cases; fewer than 5 staff cases; 0 deaths
Manorcare Health Center (Camp Hill): 0 resident cases; fewer than 5 staff cases; 0 deaths
Manorcare Health Center (Carlisle): 25 resident cases; 8 staff cases; 5 deaths 
Messiah Lifeways (Upper Allen Township): 94 cases; 53 staff cases; 14 deaths
Sarah A. Todd Memorial Home (Carlisle): 74 resident cases; 50 staff cases; 11 deaths
Shippensburg Health Care Center: 114 resident cases; 40 staff cases; 34 deaths
Swaim Health Center (Newville): 14 resident cases; 15 staff cases; 0 deaths
Thornwald Home (Carlisle): 20 resident cases; 19 staff cases; fewer than 5 deaths
Vibra Senior Living: 0 resident cases; fewer than 5 staff cases; 0 deaths
COVID-19 Early Warning Monitoring System Dashboard (Nov. 13-Nov. 19):
(Counties with a percent positivity above 5% in a week go on the Department of Health's watch list)
Pennsylvania

Percent Positivity - 11.1% last 7 days (9.6% previous 7 days)
Incidence Rate per 100,000 people last 7 days - 282.1 (213.4 previous 7 days)

Adams County:

Percent Positivity - 6.4% last 7 days (7.0% previous 7 days)
Incidence Rate per 100,000 people last 7 days - 161.5 (171.2 previous 7 days)

Cumberland County:

Percent Positivity - 11.0% last 7 days (9.2% previous 7 days)
Incidence Rate per 100,000 people last 7 days - 246.2 (192.5 previous 7 days)

Dauphin County:

Percent Positivity - 10.7% last 7 days (9.3% previous 7 days)
Incidence Rate per 100,000 people last 7 days - 254.8 (201.7 previous 7 days)

Franklin County:

Percent Positivity - 17.0% last 7 days (15.1% previous 7 days)
Incidence Rate per 100,000 people last 7 days - 369.4 (281.6 previous 7 days)

Lebanon County:

Percent Positivity - 12.7% last 7 days (12.4% previous 7 days)
Incidence Rate per 100,000 people last 7 days - 299.3 (290.8 previous 7 days)

Perry County:

Percent Positivity - 12.0% last 7 days (9.9% previous 7 days)
Incidence Rate per 100,000 people last 7 days - 160.4 (130.0 previous 7 days)

York County:

Percent Positivity - 10.9% last 7 days (9.4% previous 7 days)
Incidence Rate per 100,000 people last 7 days - 234.5 (164.6 previous 7 days)