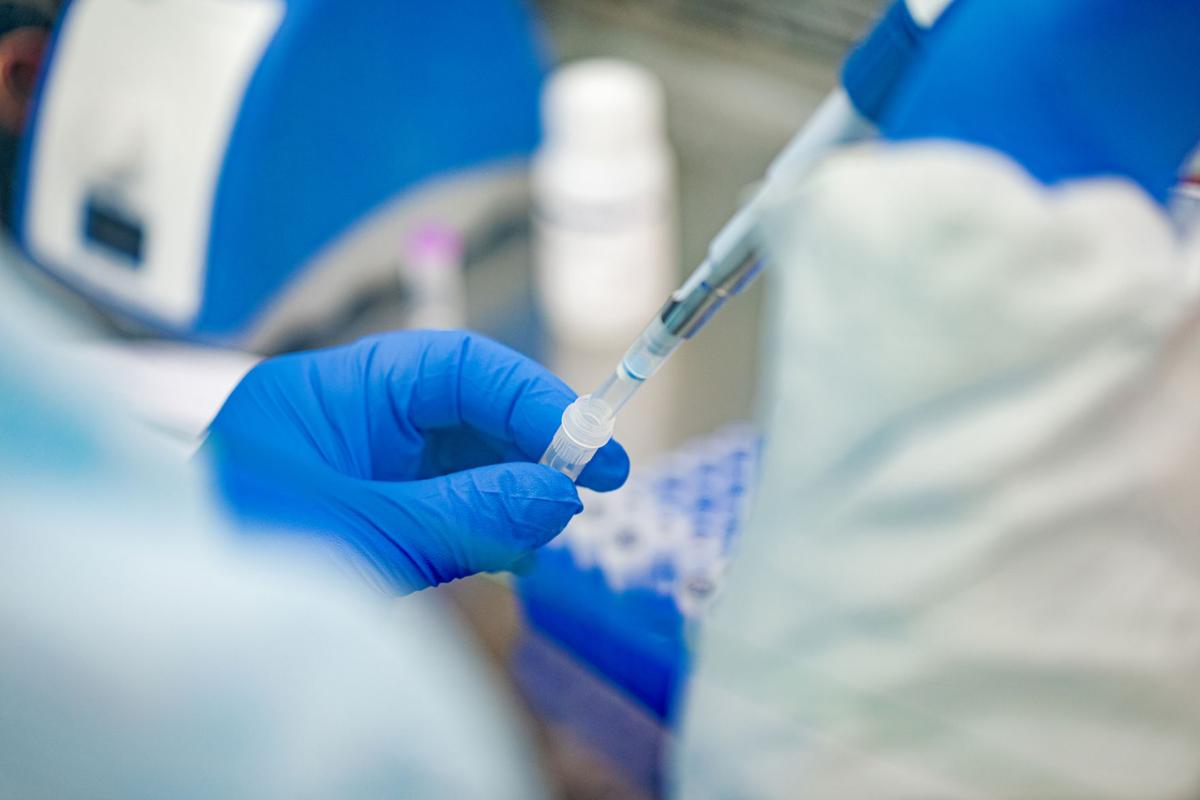 Cumberland County saw another average increase of new cases in Tuesday's report from the state Department of Health, though the number of new cases are higher than average in Franklin and Lebanon counties.
Cumberland County had 11 new cases in the latest report, which collects data reported on Monday. The county has been averaging about 10 to 12 cases each day this week and mostly through last week.
Numbers on Tuesday, however, were up slightly for Franklin and Lebanon counties, which each saw 19 new cases of COVID-19. Lebanon hasn't seen too many days of new cases in the double digits, and Franklin County oscillates between higher spikes and lower numbers.
York County again had the highest number of new cases in the region, with 42 new cases reported Tuesday - which is about the level of new cases the county has seen the last two days from data collected over the weekend.
Dauphin County remained relatively low for its average with only 17 new cases, while Adams County reported seven new cases. Most other counties in the region reported four or fewer new cases.
No new deaths were reported in the region.
Statewide, there were 1,151 new cases - a higher than usual number partly because Philadelphia had a 197-case two-day total that was added to the Tuesday report.
The department also noted that Centre County reported an increase of 212 cases.
County numbers in the southcentral region (updated Sept. 15):
Adams County (pop. 103,009): 7 new cases; 749 total cases (726 confirmed, 23 probable); 14,353 negatives; 24 deaths
Bedford County (pop. 47,888): 1 new case; 213 total cases (184 confirmed, 29 probable); 4,072 negatives; 6 deaths
Blair County (pop. 121,829): 4 new cases; 536 total cases (514 confirmed, 22 probable); 15,348 negatives; 13 deaths
Cumberland County (pop. 253,370): 11 new cases; 1,696 total cases (1,605 confirmed, 91 probable); 26,441 negatives; 73 deaths
Dauphin County (pop. 278,299): 17 new cases; 3,597 total cases (3,505 confirmed, 92 probable); 39,822 negatives; 169 deaths
Franklin County (pop. 155,027): 19 new cases; 1,677 total cases (1,608 confirmed, 69 probable); 18,622 negatives; 49 deaths
Fulton County (pop. 14,530): 1 new case; 41 total cases (39 confirmed, 2 probable); 1,114 negatives; 2 deaths
Huntingdon County (pop. 45,144): 1 new case; 393 total cases (381 confirmed, 12 probable); 5,203 negatives; 6 deaths
Juniata County (pop. 24,763): 2 new cases; 169 total cases (161 confirmed, 8 probable); 2,050 negatives; 6 deaths
Lebanon County (pop. 141,793): 19 new cases; 1,857 total cases (1,786 confirmed, 71 probable); 17,702 negatives; 57 deaths
Mifflin County (pop. 46,138): 3 new cases; 198 total cases (191 confirmed, 7 probable); 5,972 negatives; 1 death
Perry County (pop. 46,272): 2 new cases; 190 total cases (171 confirmed, 19 probable); 3,643 negatives; 6 deaths
York County (pop. 449,058): 42 new cases; 4,258 total cases (4,150 confirmed, 108 probable); 53,626 negatives; 132 deaths
ZIP code-level counts (through Sept. 15):
17013: 229 positives, 4,132 negatives - +13 since Sept. 11
17015: 104 positives, 2,122 negatives - +3 since Sept. 11
17050: 229 positives, 3,328 negatives - +10 since Sept. 11
17055: 249 positives, 4,223 negatives - +2 since Sept. 11
17011: 290 positives, 4,868 negatives - +4 since Sept. 11
17007: 19 positives, 485 negatives - +0 since Sept. 11
17065: 20 positives, 317 negatives - +0 since Sept. 11
17324: 30 positives, 416 negatives - +1 since Sept. 11
17241: 67 positives, 1,288 negatives - +0 since Sept. 11
17257: 268 positives, 1,357 negatives - +6 since Sept. 11
17240: 20 positives, 140 negatives - +1 since Sept. 11
17025: 92 positives, 1,407 negatives - +2 since Sept. 11
17070: 96 positives, 1,443 negatives - +2 since Sept. 11
17043: 30 positives, 609 negatives - +3 since Sept. 11
17019: 63 positives, 1,574 negatives - +1 since Sept. 11
Long-term care facilities and personal care homes in Cumberland County (as reported to the Department of Health through Sept. 15 - personal care home data may be incomplete due DOH transition to new system):
Artis Senior Living of West Shore (Lemoyne): fewer than 5 resident cases; 0 staff cases; fewer than 5 deaths
Bethany Village Retirement Center (Mechanicsburg): 0 resident cases; fewer than 5 staff cases; 0 deaths
Bridges at Bent Creek (Hampden Township): 0 resident cases; fewer than 5 staff cases; 0 deaths
Brookdale Grandon Farms (Hampden Township): 9 resident cases; 5 staff cases; 0 deaths
Carriage Courts Personal Care at Green Ridge Village (Newville): 0 resident cases; fewer than 5 staff cases; 0 deaths
Chapel Pointe (Carlisle): 0 resident cases; fewer than 5 staff cases; 0 deaths
Claremont Nursing & Rehabilitation Center (Carlisle): fewer than 5 resident cases; 12 staff cases; 0 deaths
Country Meadows of West Shore (Mechanicsburg): 5 resident cases; fewer than 5 staff cases; 0 deaths
Cumberland Crossings (Carlisle): 0 resident cases; 0 staff cases; 0 deaths
Forest Park (Carlisle: 0 resident cases; fewer than 5 staff cases; 0 deaths
Fox Subacute (Mechanicsburg): 0 resident cases; 0 staff cases; 0 deaths
Gardens at Camp Hill: 48 resident cases; 21 staff cases; 8 deaths
Gardens at West Shore (Camp Hill): 82 resident cases; 26 staff cases; 19 deaths (numbers are from last available data on June 10)
Gilliland Manor (Newville): 0 resident cases; fewer than 5 staff cases; 0 deaths
Manorcare Health Services (Camp Hill): 0 resident cases; 0 staff cases; 0 deaths
Manorcare Health Center (Carlisle): 25 resident cases; 7 staff cases; 5 deaths 
Messiah Lifeways (Upper Allen Township): 0 cases; fewer than 5 staff cases; 0 deaths
Sarah A. Todd Memorial Home (Carlisle): 72 resident cases; 37 staff cases; 11 deaths
Shippensburg Health Care Center: 92 resident cases; 28 staff cases; 31 deaths
Swaim Health Center (Newville): 13 resident cases; 10 staff cases; 0 deaths
Thornwald Home (Carlisle): fewer than 5 resident cases; fewer than 5 staff cases; 0 deaths
Vibra Senior Living: 0 resident cases; fewer than 5 staff cases; 0 deaths
COVID-19 Early Warning Monitoring System Dashboard (Sept. 4-10):
(Counties with a percent positivity above 5% in a week go on the Department of Health's watch list)
Pennsylvania

Percent Positivity - 4.2% last 7 days (3.9% previous 7 days)
Incidence Rate per 100,000 people last 7 days - 39.1 (43.0 previous 7 days)

Adams County:

Percent Positivity - 2.7% last 7 days (3.1% previous 7 days)
Incidence Rate per 100,000 people last 7 days - 22.4 (96.3 previous 7 days)

Cumberland County:

Percent Positivity - 4.2% last 7 days (3.9% previous 7 days)
Incidence Rate per 100,000 people last 7 days - 29.0 (31.8 previous 7 days)

Dauphin County:

Percent Positivity - 5.2% last 7 days (5.0% previous 7 days)
Incidence Rate per 100,000 people last 7 days - 45.5 (58.8 previous 7 days)

Franklin County:

Percent Positivity - 6.2% last 7 days (4.1% previous 7 days)
Incidence Rate per 100,000 people last 7 days - 45.9 (36.8 previous 7 days)

Lebanon County:

Percent Positivity - 4.3% last 7 days (3.4% previous 7 days)
Incidence Rate per 100,000 people last 7 days - 41.0 (32.6 previous 7 days)

Perry County:

Percent Positivity - 2.5% last 7 days (2.2% previous 7 days)
Incidence Rate per 100,000 people last 7 days - 13.0 (8.7 previous 7 days)

York County:

Percent Positivity - 7.4% last 7 days (7.8% previous 7 days)
Incidence Rate per 100,000 people last 7 days - 69.4 (85.7 previous 7 days)