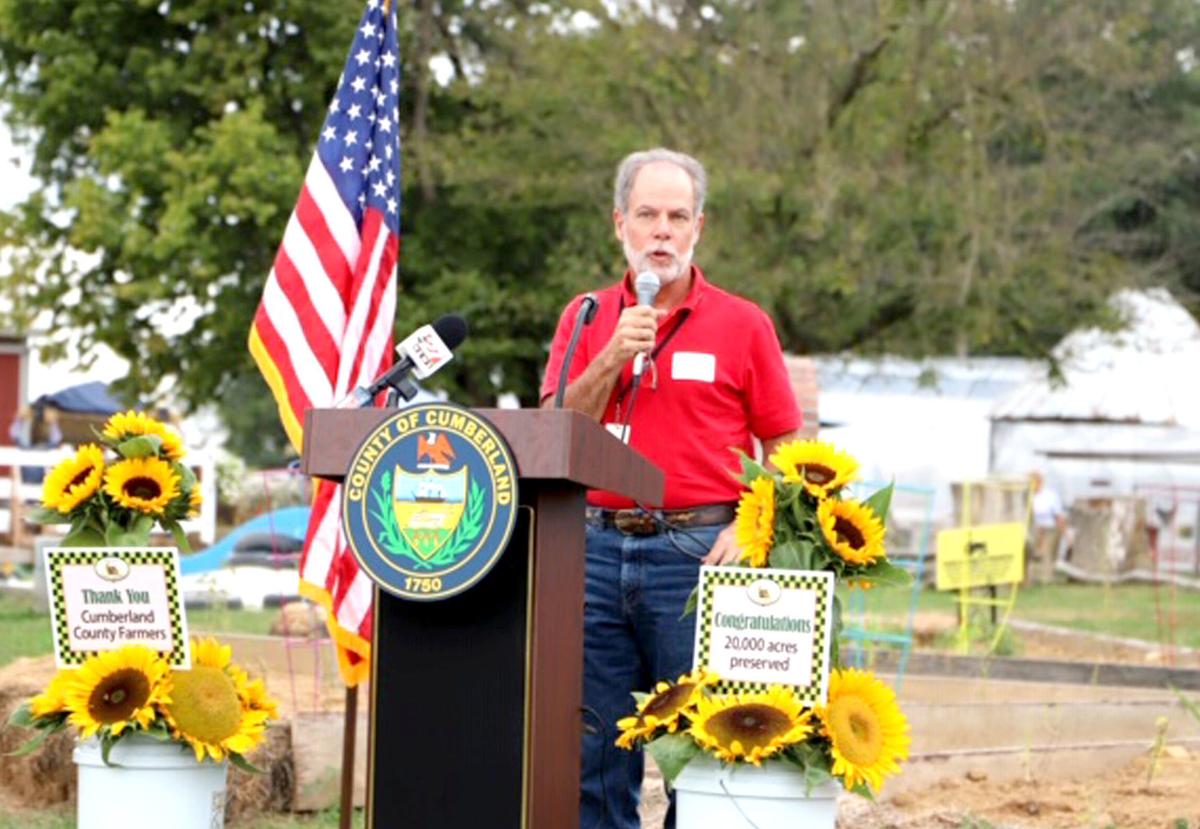 The Cumberland County Commissioners, Agriculture Land Preservation Board and the Pennsylvania Secretary of Agriculture gathered Thursday to celebrate the preservation of 20,027 acres of farmland in Cumberland County.
Cumberland County ranks seventh in the state for preserving farmland. The preservation of Cumberland County's best working farmland benefits the agricultural community by securing the land base required to sustain agriculture operations and produce food, the county said in a news release.
A commitment of 1 percent of the general fund would come to about $875,000 annually, given that the county's general fund outlay was around $87.5 million this year.
"Since 1989, the county has preserved 182 farms," Cumberland County Board of Commissioners Chairman Vince DiFilippo said during a ceremony at Paulus Farm Market in Mechanicsburg. "We are proud to have crossed this milestone, and we look forward to preserving more of our rich farmland in the county. Farmland preservation provides our residents with economic, scenic and environmental benefits."
Cumberland County has 1,260 farms covering 169,654 acres, according to the news release. These farms produce more than $219 million in agricultural products, $75 million of which is milk.
"This is an important opportunity to recognize our long partnership with Cumberland County. We are fortunate that, three decades ago, the county's leaders saw the importance of growth and prosperity — and knew that agriculture must remain a key component of the landscape physically and economically far into the future," state Department of Agriculture Secretary Russell Redding said.
I would like to respond to a recent guest editorial from my county commissioner colleague and friend, Jim Hertzler, regarding the future fundi…
"We are so proud to be part of the farmland preservation program," said Jim Paulus, owner of Paulus Farm Market. "Since participating in the county's program our family has preserved 219 acres of farmland."
Jim and his wife, Amy, have preserved 45 acres of their farm. Jim's parents, Creedin and JoAnne Paulus, preserved 174 acres on two parcels that produce much of the products for the farm market.
In 2019, Cumberland County selected 1,255 additional acres of farmland that is scheduled for preservation in 2020. Farms enrolled in the farmland preservation program are managed by private landowners using sound soil and water conservation practices that protect soil from erosion and also protect local surface waters from contamination.
Get local news delivered to your inbox!
Subscribe to our Daily Headlines newsletter.