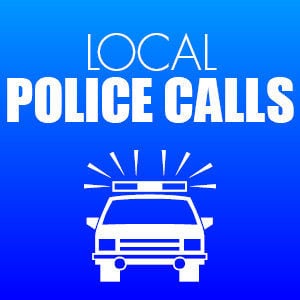 Carlisle Police (717-243-5252)
Byron D. Hudson Jr., 33, of Carlisle, was charged with aggravated assault, retail theft and resisting arrest after an incident on April 28. Police were called to Giant on South Spring Garden Street for a retail theft at 8:54 a.m. Through video surveillance, Hudson was identified as the suspect and found a short time later in the first block of West Louther Street. Police said he was told he was under arrest but walked away from officers. Police followed him for a block, telling him multiple times that he was under arrest. Then, police said they attempted to use pepper spray to arrest Hudson, who swung a thick glass wine bottle at the closest officer's head. Police said Hudson then ran through a local business onto North Hanover Street. Police followed him to the Square where he stopped running, but continued to walk away from officers. He was taken into custody in front of the courthouse with assistance from the Cumberland County Sheriff's Office.
David A. Snyder, 38, of Carlisle, was charged with felony retail theft, resisting arrest and defiant trespass after police said he fled from officers responding to a report of retail theft at 3:07 p.m. April 24 at Walmart and resisted arrest.
Someone lost an all-black, zipper clutch wallet out of a shopping bag just to the north of the Minute Stop on North Pitt Street. Police said a woman appeared to have made an attempt to return the wallet at the Minute Stop but was unable to do so. There is nothing in the wallet to help located the owner. Police ask that the person who found the wallet bring it by the police station so that it can be returned.
Middlesex Township Police (717-249-7191)
Rodney A. Hill, 56, of Carlisle, was charged with simple assault after an incident on April 28 at the Days Inn in which police said he put his hands around someone's neck in an attempt to hurt them.
West Shore Regional Police (717-737-8734)
Eddie R. Sutton Jr., 35, of Wormleysburg, was charged with endangering the welfare of children and simple assault after an incident at 1:45 p.m. April 28 in the 300 block of North Second Street in which police said a teenager was assaulted causing minor injuries.
State Police at Newport (717-567-3110)
Someone stole a 2008 Carry On utility trailer from a location along Newport Road in Miller Township sometime between 7 p.m. April 18 and 9 a.m. April 19. Police seek information.
Mary J. Shirey, 78, of Marysville, was taken to Penn State Holy Spirit Hospital with suspected minor injuries after a crash at 12:18 p.m. April 26. Police said Shirey was driving a 2005 Honda CRV north on South State Road (Route 11) in Marysville, when she turned in front of a 2007 Honda Accord driven by Helen L. Fuge, 74, of Marysville. Shirey's vehicle then started to spin around, crossing over the northbound travel lane and coming to rest in a ditch. Debris from the crash landed on the hood of a 2019 Ram 1500 that was stopped in a parking lot waiting to make a left turn onto Route 11. The driver of the truck, Zachary T. Buck, 26, of Marysville was not injured. Neither Fuge nor a passenger in her vehicle were injured. Both Shirey and Fuge's vehicles were towed from the scene.
Information is from police reports and may be incomplete depending on the status of an investigation. Phone numbers are nonemergency.