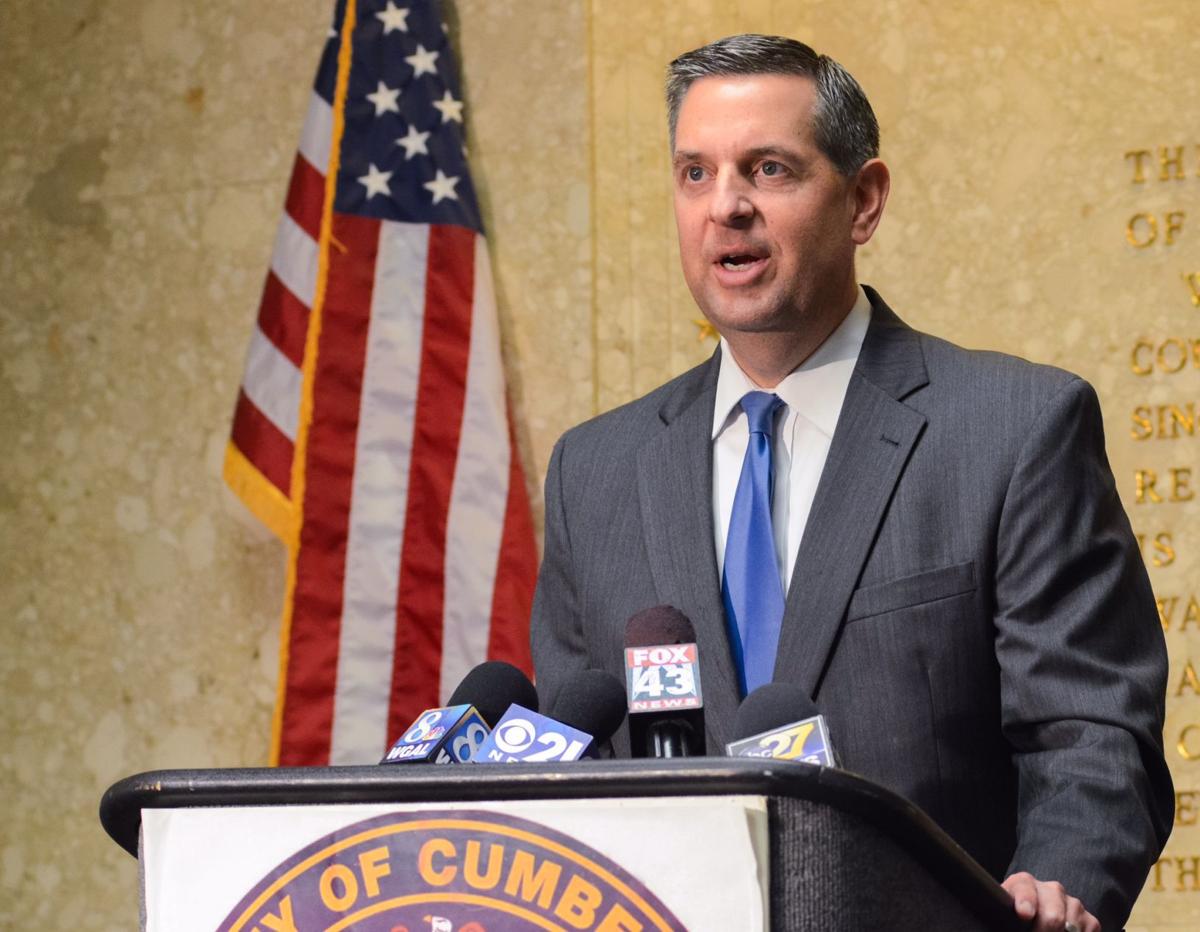 Cumberland County District Attorney David Freed has spent nearly 20 years as a prosecutor, but he admitted Wednesday that the case involving an HIV-positive Harrisburg man arrested for allegedly raping a 6-year-old child was difficult to process.
"I'm reminded today that after nearly 20 years as a prosecutor and having seen all manner of the damage that human beings can inflict upon one another, there are still cases that hit the most seasoned police officer or prosecutor in the core of our being," Freed said during a news conference. "Cases of behavior so calculated, depraved and debilitating to the victim that it makes plain that there are those in our society who will callously inflict evil on our must vulnerable, our children, to serve their own degenerate desires."
Ira Scott Task, 61, of Harrisburg, was arrested and charged Tuesday with rape of a child, conspiracy rape of a child, two counts of involuntary deviate sexual intercourse, aggravated indecent assault of victim younger than 13, two counts of recklessly endangering another person, filming a sex act with a child, conspiracy to film a sex act, dissemination of film of child sex act, criminal solicitation, child pornography, criminal use of communication facility and corruption of minors in relation to an incident that occurred on April 20.
Task is in Cumberland County Prison on $1 million bail. He was arraigned Tuesday morning by Magisterial District Judge Charles A. Clement Jr., and is scheduled to appear before Magisterial District Judge Paul M. Fegley Nov. 2 for a preliminary hearing.
Task is charged in conjunction to a case against William C. Byers-Augusta, 19, of North Middleton Township, who currently faces child rape and child pornography charges. Byers-Augusta faces additional charges filed against him Oct. 9, which stem from a search of his cellular devices, according to court documents.
A search of Byer-Augusta's cellular devices revealed 21 child pornography photographs and one video of two adult men raping a 6-year-old minor, court records said.
According to the affidavit of probable cause submitted by North Middleton Township Police Department, Task and Byers-Augusta engaged in sex acts, including rape, with a 6-year-old boy. Task admitted to administering the inhalant amyl nitrite, a drug that causes a high and is only available with a doctor's prescription according to the Mayo Clinic, to the minor during the course of the April 20 rape, and admitted that he was knowingly HIV positive at the time of the rape.
Task said he has been HIV positive since 1994, court documents stated.
"We would all do well to remember there is evil out there," Freed said.
Freed said based on the investigation, there is a strong possibility that there is at least one more child who could have been victimized. However, there is no evidence to suggest that, he said.
Arrests
Following the search of Byers-Augusta's cellular devices, police said they were able to identify key evidence that led them to believe it was Byers-Augusta and Task who were depicted in the video that shows the rape of the 6-year-old boy.
The affidavit said markings on the unidentified white-man's body depicted in the video, as well as jewelry and the scene in which the incident took place matched up with Task and his home.
In addition, detailed phone and Skype conversations obtained by police detailed the sexual relationship between Byers-Augusta and Task, and also revealed Task's participation in planning the rape of the 6-year-old boy, the affidavit stated.
"The devices clearly showed the abuse of the 6-year-old victim, not only by Byers but also by an unidentified white male," Freed said. "The chat transcripts, videos and still-photos depict Byers and Task administering an inhalant to the child and raping him, all while documenting their depravity."
In late November 2014, the affidavit said there are records of communication in which Task asks Byers-Augusta about coming over to his house with a minor. On Nov. 30, 2014, Task on his cellphone asks "Tomorrow okay?? Yourself?? Bringing someone??" and follows up the next day with "I guess (the minor) is in school today??"
Later that day after asking again about the minor and not receiving a response back, Task asks Byers-Augusta if he is having second thoughts about bringing the minor, to which Byers-Augusta said no, and Task answers that he is also not having second thoughts about it.
Additional phone and Skype conversations regarding the rape of the 6-year-old boy were included in the affidavit, but are too explicit for print.
A search warrant was served at Task's home Monday in the 1500 block of North 2nd Street, in Harrisburg. Task initially was apprehended at work, Freed said, and returned to his home in Harrisburg with officers, in which he identified himself as the other man in the child pornography photographs. Task admitted also his role in the rape of the 6-year-old boy, the affidavit said.
The affidavit references another individual involved in receiving child pornography from Task, as well as the person's attempts to set up a meeting with the two men and the minor for sex. "Certainly the investigation will continue into this third male ..." Freed said.
Investigation
Freed said it's highly likely that additional charges will be brought against Task in reference to his HIV positive status.
But, it may not stay at the state level, Freed said.
When Byers-Augusta was arrested back in July, he was live-streaming the sexual abuse of the 6-year-old boy via webcam, Freed said. This allows other people from different areas to log-in and watch the sexual activity.
Freed said that is how police were initially informed of the situation, thanks to a tip from the Royal Canadian Mounted Police. "They gave it to Homeland Security who routed it here, and then gave it to our locals who did the initial part of this investigation. "
With that in mind, Freed said Wednesday there is a parallel federal investigation going on at the same time, but is more focused on the larger scheme of disseminating child pornography. Freed said there is likely more charges to be filed against Task.
According to Cumberland County Insight, Cumberland County has had twice as many charges filed for child rape cases in 2015 as the county did in 2013 and 2014 combined. There were three child rape charges filed in 2013 and 2014, as opposed to the seven child rape charges filed so far this year.
Five men and one woman have been charged in connection to child rape charges in 2015. The men all received monetary bail at or above $100,000. The woman was released on a $40,000 unsecured bail.
"I hate to say it like this but I will," Freed said. "I would think that the number in 2015 is probably a more accurate number. I think sexual assault has everything to do with reporting, and when it gets reported, we are able to act on it."
Freed said Children & Youth has been involved in the situation, and the children at the household in North Middleton Township have been removed from the home.
"Imagining what that little boy was going through, that's the worst part of the case ... the criminal part will take care of itself," Freed said. "I worry about how he's (minor) going to do moving forward."
Sign up for our Crime & Courts newsletter
Get the latest in local public safety news with this weekly email.