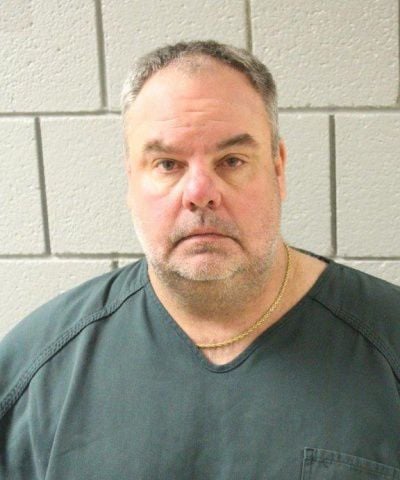 As police continue to investigate a softball coach accused of multiple sexual assaults, area sports organizations work to distance themselves from the facility at which he worked.
Joey V. Sullenberger, 48, of Carlisle, was arrested Friday and charged with one felony count of sexual assault, two felony counts of aggravated indecent assault and three felony counts each of corruption of minors and sexual assault by a sports official. He was also charged with five misdemeanor counts of indecent assault and a single misdemeanor count of hindering apprehension.
He was arraigned before Magisterial District Judge Jonathan Birbeck, who denied him bail.
Sullenberger was a coach for a travel girls' fast-pitch softball team, the Susquehanna Valley Slam based out of Hummelstown, and he coached players through private lessons at Central Penn Sportsplex, a multi-sport indoor training facility that opened in early 2018 in Carlisle, according to police. He primarily coached high school-aged, female softball players.
An area softball coach is being held without bail in Cumberland County Prison on multiple charges related to alleged sexual assaults involving…
According to the affidavit of probable cause, Sullenberger told police during interviews that he has been involved with coaching and offered hitting lessons for 20 years, and had been involved with NCAA Division I programs at Oregon and Mississippi State.
The offenses are alleged to have taken place at Central Penn Sportsplex.
A woman who answered the phone at the facility Monday afternoon said they had "no comment at this time," but a page on the facility's website referring to Joe Sullenberger came up as "unable to be found" on Monday.
Posts on social media show that organizations like Carlisle Youth Lacrosse and Carlisle Area Little League are moving indoor practices from the Central Penn Sportsplex facility.
A post on the Carlisle Youth Lacrosse Facebook page announced the suspension of winter practices at the facility. The organization is working to arrange practice time at district elementary schools, but will have a limited schedule due to basketball having the priority during this season.
On its Facebook page, South Middleton Youth Softball offered its support to the victims while announcing it would not be affiliated with the Sportsplex "under the current ownership."
A massive indoor sports complex is currently being built out inside the former Mid-Atlantic Millworks building at 419 East High Street in Carlisle.
"SMYSA would like to reassure our parents that your daughter was never left alone at the Sports Complex in Carlisle during our practice sessions last season," the post reads.
Carlisle Area Little League also posted on its Facebook page that its board of directors suspended its winter clinic program at the sports complex and that they would remain suspended until another location is found.
"We are not aware of any issues or allegations involving any Carlisle Little League players. The safety of our athletes is our primary concern," the post reads.
The post also indicated that parents of Carlisle High School softball players were sent email notifications about the police investigation on Dec. 31.
In a statement sent to The Sentinel, Carlisle Area School District said it was aware of the charges against Sullenberger and that the charges are unrelated to his employment as a softball coach in the district.
Sullenberger had been hired as the head varsity girls softball coach in September.
"Upon learning of the criminal investigation, the district immediately placed Mr. Sullenberger on leave and restricted his access to school property. He has had no contact with students or the softball program since the district was informed of the investigation. The district will continue to monitor his case and will take further action as appropriate. If true, the charges certainly do not reflect the values of the Carlisle Area School District or the high integrity of our staff. As this is a confidential, personnel related matter, we will have no further comment," Superintendent Christina Spielbauer wrote in the statement.
Incidents
According to the affidavit of probable cause, Carlisle police received a report on Dec. 22, 2018, of a sexual assault that had occurred the previous day at Central Penn Sportsplex while the 16-year-old victim was taking hitting lessons from Sullenberger.
As a private hitting coach, Sullenberger typically provided one-on-one sessions with teenagers that averaged an hour per week per student. Police said the lessons were conducted in the back of the facility in a partially obscured area.
The victim said she had started taking lessons from Sullenberger in January 2018. Sullenberger sat on a bucket behind the victim while she was hitting, and police said he occasionally would touch her legs, and he sexually assaulted her on Dec. 21, 2018.
Police said the victim told her parents and they began to tell other players and parents.
Through the investigation, police became aware of three other victims.
The second victim, also 16, started taking lessons from Sullenberger in February 2018. Around March, he began touching her thighs and later rubbed her buttocks over the course of several lessons. The victim also said he touched her inappropriately through her shorts.
The victim told police she didn't tell anyone because no one would believe her, and it "would break up the team."
The third victim also started taking hitting lessons from Sullenberger in February 2018. During a lesson in October, police said Sullenberger took her in a back room and assaulted her after she complained of back pain and he offered to rub out the "knots."
The victim also told police that Sullenberger touched her inappropriately through her clothes, telling her it would "make her a better hitter." After the lesson, he took the victim to the front counter area where he sexually assaulted her, police said.
According to the affidavit, no one else was in the facility at the time.
In November, the third victim was assaulted again in an incident that included Sullenberger performing oral sex on her without her consent.
Also during the latter half of 2018, Sullenberger communicated with the third victim via text messages and requested, and received, pictures of the third victim's underwear via Snapchat.
In December, the third victim went to Central Penn Sportsplex for a practice and found herself alone with Sullenberger, according to police. The victim said Sullenberger was mad that she wouldn't return his text messages and again touched her inappropriately. According to police, he also grabbed at the back of her pants, exposing her underwear as she walked out of the complex, according to police.
In January, Sullenberger and the victim exchanged text messages in which Sullenberger asked if she had deleted everything and told the victim what to tell police when she talked to them. According to police, he also told the victim to tell her doctor that nothing happened "other than you experimenting with yourself" during a gynecological exam, and that she should keep it simple.
The fourth victim, 18, had previously played for Susquehanna Valley Slam, and started to help out at Central Penn Sportsplex in July or August 2018, according to police. One day when they were moving equipment, Sullenberger told her to sit on his lap, telling her he was lonely and wanted a relationship. He attempted to assault her, but she stopped him and left the facility.
In October, the fourth victim went to help again at the facility and was alone in the building with Sullenberger after lessons were over. He began to rub her thigh, and she left the area, refusing to go the facility unless other people were there.
During an interview with police, Sullenberger told police he was involved with a hitting program that used a kinetics philosophy and used "touch recognition" techniques during the lessons. He also admitted that he may have touched a player's groin and vaginal areas during the hitting lessons.
Police are also aware that there may be other victims because Sullenberger's career spans a long amount of time and a large geographic area. Anyone who may be a victim or may know a victim is asked to contact Detective Thomas Dolan at the Carlisle Police Department, 717-240-6621 or tdolan@carlislepa.org.
Sign up for our Crime & Courts newsletter
Get the latest in local public safety news with this weekly email.