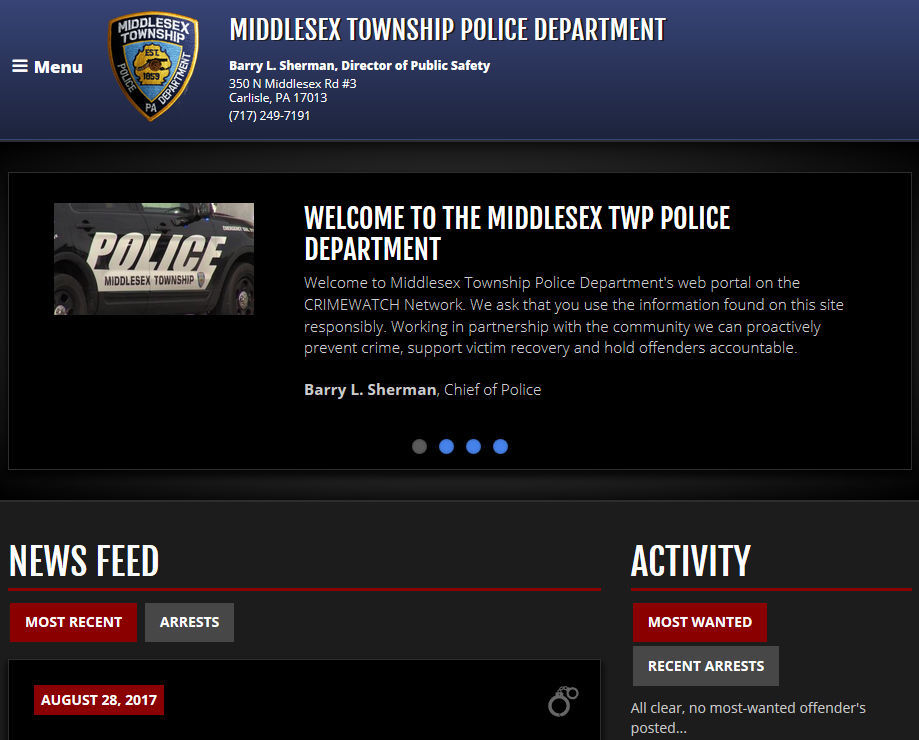 Middlesex Township Police launched a new website that will help residents stay better informed of crime and arrests in the township.
The new online tool will give the public access to crime- and public safety-related information in the community, the police department said in a news release Tuesday.
"This new website is the perfect entry point for establishing better police and public partnerships," said Barry Sherman, director of public safety for the township. "Technology gives us the opportunity to communicate with the public, and the anonymity of the tech avoids the potential risks of sharing information with the police. ... Several police departments throughout the region are having great success using this technology."
Middlesex Township Police is the sixth police department in Cumberland County to be part of the Crimewatch Network. Carlisle Police, North Middleton Township Police, Shippensburg Borough Police, West Shore Regional Police and East Pennsboro Township Police are already part of the network. The platform is developed so that law enforcement agencies can share geographically targeted information.
Residents are encouraged to visit the site or download the Crimewatch app from the Apple or Android App Store.
Residents on the site can sign up for a free account to receive email alerts regarding crime in the area, submit a tip to law enforcement, view recent arrests and "most wanted" lists, file a right-to-know request and share information through social media.