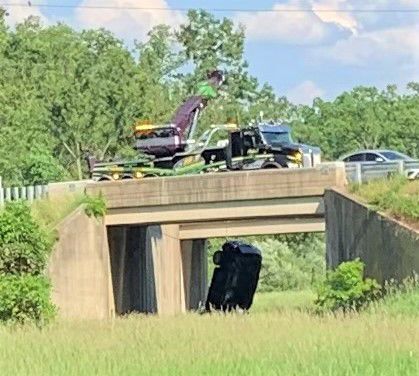 A driver was not injured after a one-vehicle crash that ended with the vehicle in a ditch off Interstate 81 in Dickinson Township Sunday.
State Police at Carlisle said Kate Simpson, 27, of Binghamton, New York, was driving a 2018 Chevrolet Equinox south on I-81 when she left the left lane of travel and went into the median. The vehicle struck an embankment, causing the vehicle to go airborne before dropping about 30 feet into a ditch. The vehicle came to rest in the bottom of the ditch of Alexander Spring Creek.
---
Posted June 7 on Cumberlink:
Local firefighters responded to the scene of a one-vehicle crash Sunday afternoon along Interstate 81 southbound in Dickinson Township.
Units from Carlisle, Newville and Penn Township were dispatched around 3:36 p.m. for a report of a traffic crash involving entrapment near mile marker 42.
The vehicle went off the highway and landed on its roof in a small creek that runs under the interstate, said Kirk Wilson of Carlisle, who was at the scene. He said the driver freed herself and, with help from first-responders, walked to a waiting ambulance for transport to UPMC Carlisle.
Firefighters from Union, Carlisle Fire & Rescue, Friendship Hose of Newville and Penn Township were dispatched to the scene. The incident was cleared two hours later at 5:36 p.m.