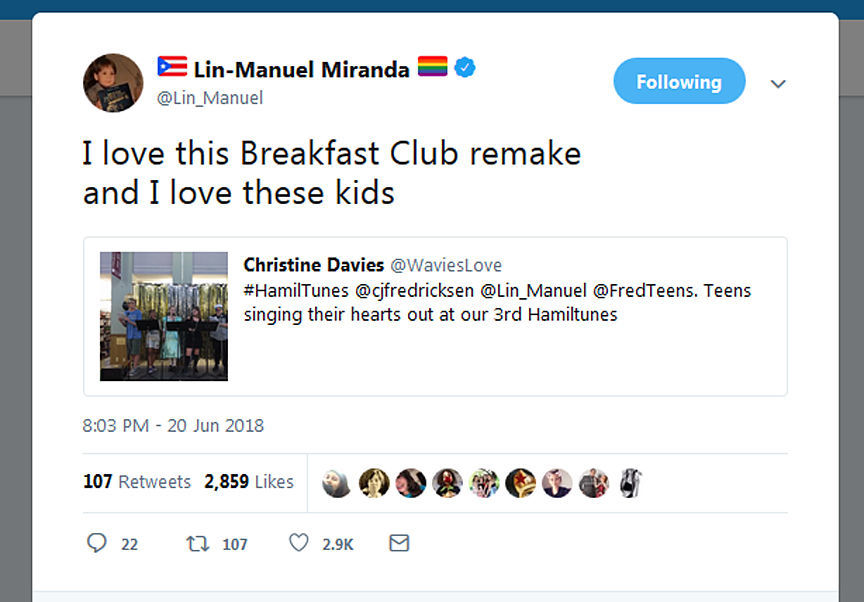 The teens at Camp Hill's Cleve J. Fredericksen Library did not throw away their shot.
On Wednesday night, teenage fans of the Broadway musical "Hamilton" gathered in the upper level atrium of the library for the Hamiltunes for Teens program in which teens sing along with the Tony Award-winning musical.
During the program, teen service coordinator Christine Davies snapped a photo of teens performing, and posted it to her Twitter account.
It's not uncommon to tag celebrities in tweets.
It is uncommon to have them repost the tweet and add a comment of their own.
Davies knew this, but thought she'd take a "shot in the dark" and tagged "Hamilton" creator Lin-Manuel Miranda in her tweet.
Minutes later, she was getting ready to take another photo when she saw a notification on her phone.
Only three minutes after Davies' original post, Miranda had retweeted the photo and added the comment, "I love this Breakfast Club remake and I love these kids."
"My hand just started shaking," she said.
She immediately told one of her colleagues, and they decided to interrupt the program after the teens finished the song they were singing to tell the gathering about Miranda's comment.
Cue immediate freak-out among the teens and their parents.
"They just started screaming," she said. "For them, it was validation of their fandom and their talent."
But, in a move that any theater veteran would appreciate, the show went on.
"Then we got right up and did the next song," Davies said.
As of Thursday afternoon, Miranda's tweet had more than 100 retweets and close to 3,000 likes, all of which brought attention to the library's program and its role in giving teens experiences as well as reading materials.
"We want to support them as a whole person. For a lot of them, that's performing," Davies said.
The attention from Miranda meant a lot to the teens, too.
"He's an inspiration to many, many of them for many reasons," Davies said.
Miranda's reference to "The Breakfast Club," a 1980s movie about a group of teens from different backgrounds who spend Saturday detention in a school library, was insightful, according to Davies. The teens who attend their programs are all so different, but they come together to share certain interests.
"Last night, the thing that they shared was 'Hamilton,'" she said.
Adults over the age of 21 get their turn to sing along with the musical at an after-hours event Saturday evening from 6:30 to 9 p.m. at the library when it hosts Hamiltunes: Raise a Glass. The title comes from a line in the song, "The Story of Tonight," from the musical. The library will provide popcorn and attendees are invited to bring their own bottle.
Be the first to know
Get local news delivered to your inbox!