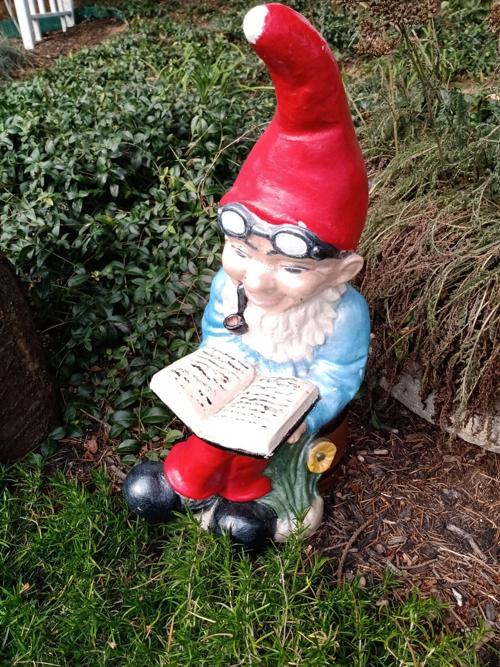 After seven years, Emilie Gables' gnome has finally returned home.
A hiker named Mark Houser called her house last weekend, asking if she was the Emilie Gables who had lost her gnome years ago, Gables said.
"My jaw just dropped," Gables said.
Houser had seen the gnome at a rest stop on the Appalachian Trail a few years earlier and thought it was strange, and when he saw it again last week he decided to investigate further, Gables said. He discovered the gnome was hers after finding the old Sentinel article about its disappearance and police report Gables had filed at the time.
To return the gnome, Houser carried it back five miles on the trail despite having shrapnel still in his back from his time serving in Afghanistan, Gables said. The gnome weighs 26.5 pounds.
The gnome went missing from the front yard of Gables' home on Rustic Drive in Shippensburg not long after she had placed it in a prominent location near her driveway in June 2013. The stolen gnome, along with two others, were gifts given in March that year from friends who are now dead, making it particularly special to Gables.
Out of the three gnomes, Gables said she liked the one that had been stolen the best and had been particularly proud after spending over 20 hours painting the gnome before placing it in her yard.
Karin and Joe Dalton had lived a few houses down from Gables, who said she began to clean their house for them after hearing that they needed a housekeeper. Gables remembers the couple fondly, and Karin as a good cook who always fed her delicious meals when she worked and left the back door unlocked for Gables to come in any time.
"Even though she wasn't old enough to be my mother, I'd always open the door and say, 'Hey Mom, I'm home!'" Gables said.
Joe Dalton died soon after Gables received the gnomes, and his wife Karin is also now dead, Gables said.
After the police report and Sentinel article, Gables said she had received a few phone messages from people at the time saying that they had seen it, but they all turned out to be prank calls. She had offered a $25 reward for the gnome's return and no questions asked at the time.
When Houser dropped off the gnome at Gables' house, Gables said he refused to accept the reward, saying that he said he was just happy that it was finally returned to the right owner.