The tour of Walnut Bottom started with only the vaguest of directions.
With the "unincorporated community" celebrating its bicentennial next weekend, a story about its history was already well underway, as was a story outlining the plans for the upcoming celebration. That's when the assignment came to me: Go talk to the people who live in Walnut Bottom to see what it's like there now.
Plans are moving forward to present a full slate of activities at two main venues in the unincorporated community.
I'm not prone to wandering the western end of Cumberland County and randomly knocking on doors, so I called Valerie Davidson, who I knew had been working on the bicentennial celebration.
"Can you introduce me to some people?" I asked her last Tuesday.
By Thursday morning, I was standing in the driveway of Davidson's Walnut Bottom home with her neighbor Susan Hartman and Gloria Hilsinger, who was also part of the bicentennial celebration planning.
Technically, Hartman told me we were in the Walnut Bottom suburb of Brookside, a collection of newer homes connected to Walnut Bottom proper.
Dorothy's
Stop one on the unofficial tour: Dutch Country Store.
Be warned, though, calling it by its proper name immediately signals you as an outsider. Everyone calls it "Dorothy's" as in Dorothy Hoover, the store's owner.
The store at 10 Mooney Road started in a little shed at the other end of the farm, but has been at its current location for 19 years. It's visible from Interstate 81, which is probably how word about her sandwiches and such got out among the truckers.
"They call their order in when they leave Carlisle. Then it's ready to pick up. All they have to do is come in and pick it up," Hoover said.
Hoover's store is known for its sandwiches, deli and baked goods, which is no surprise given the scent of sugar and spice that hits you when you open the door.
"It was named Walnut Bottom in 1850 when the U.S. Post Office decided that only one Jacksonville would be allowed in Pennsylvania," a history reads. 
The store is a crossroads of sorts for the community. It's the kind of place where the staff not only knows the customer's names, but the customers also know each other's names. If you want an announcement made, you make sure its on the table or bulletin board at Dorothy's.
While Hoover waited on a customer whom she, of course, knew by name, Hilsinger told me how much Hoover supports the firehouse and the church. If either organization is having an event, she will give them a discount. She also helps them out by ordering large amounts of rolls or other necessities for their events.
"She's very much in support of the community and, as a thank you, that picture on the wall was given by the auxiliary of the fire house for her support," Hilsinger said.
"Now, how long would it have taken me to get that out of her?" I asked.
"Never," Hilsinger paused, before repeating. "Never, never."
That's the key to doing business in a small town, according to Hoover.
"You get to know everybody and we help each other out," she said.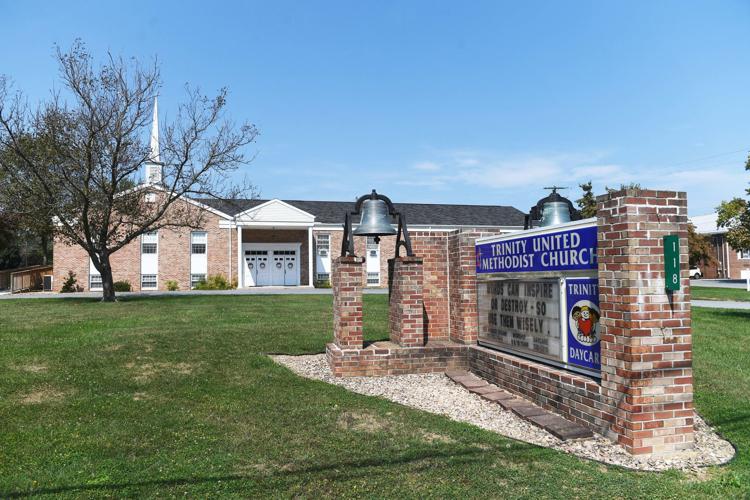 The church
Stop two of the tour landed at the office of Pastor Bob Stump of Trinity United Methodist Church. He and his wife moved to Walnut Bottom in June, and he officially became the pastor on July 1.
"We are probably the town's newest residents," he said.
Stump said he was excited that the bicentennial was coming up so soon in his pastorate because it would give him the chance to learn about the community and its history faster than he might otherwise have done. So far, he's found Walnut Bottom to be a welcoming community in a quiet town, except for Interstate 81 and the train, which Davidson, Hilsinger and Hartman assure him he won't even notice after awhile.
The train did, however, give Stump the chance to meet more of his Mennonite neighbors when he found them waiting by the railroad tracks one evening as he was out for a walk with his wife. The Mennonite family was waiting for a steam train to pass through on its way to Strasburg, Pennsylvania.
"We waited with them, and while we were waiting, it seemed like the whole Mennonite community came out so we had a chance to meet a lot of very interesting people," he said.
The Mennonites are good neighbors, but growing a church like Trinity with a "disproportionate number" of them moving into the area can be difficult, Stump said.
"Ordinarily, you would be attempting to reach out to people as they move into the community. If they're Mennonite, they already have their church, and our church can develop friendly ties with them," he said.
Lois
At stop three, Lois Porter told me she's only lived away from Walnut Bottom for 12 of her almost 91 years.
"What drew you back?" I asked her.
"This house," Porter said. "This house became available, and I didn't even think we'd be able to get it."
For the record, it would be impossible to pin her down as a nonagenarian. She talks about driving on 81, serving at the clothing bank and taking her almost 102-year-old sister to the hairdresser and grocery store.
And she also hosts card games at her house on the second Thursday of the month. The card game started up at the community center, but she invited the gang into her house rather than wasting money to heat the center in the winter.
Porter is a lifer in Walnut Bottom.
"I don't ever want to move away. Well, I probably won't. I said they're probably going to have to carry me out of here," she said.
Porter said there were more businesses in town when she was growing up. She recalled two stores — one right across the street from the other — as well as a pair of barbers, service garage, undertaker, an awning factory that's still in business and a gas station.
"We didn't even have to leave to get gas," she said.
There are fewer businesses now, and Porter thinks it may stay that way.
You have free articles remaining.
"I don't think it's going to ever change that much," she said. "I don't ever foresee anything like hotels or restaurants coming in here."
The town is somewhat protected by its distance from the nearest exits off of I-81, she said. It's three miles from the Newville exit at Route 233 and seven miles from Shippensburg's King Street exit.
It's also protected by the Mennonite families who buy many of the houses when they become available.
"We have an awful lot of Mennonite families and they are really keeping the farmland. I'm glad for them," Porter said.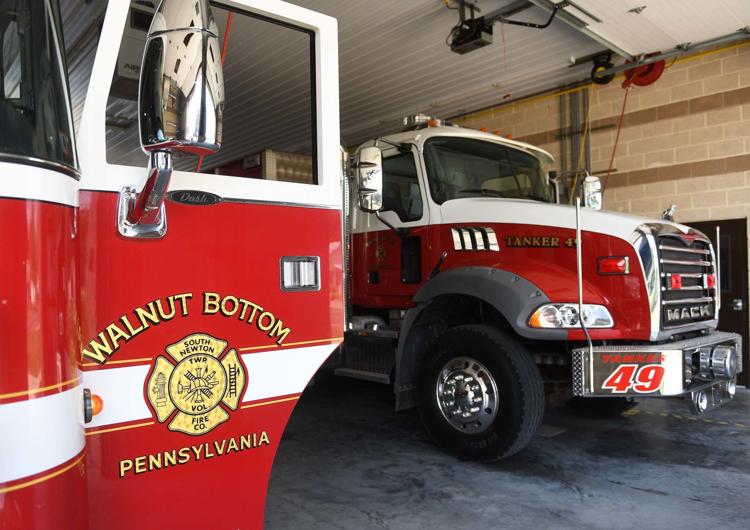 The fire chief
If the church is one of the major gathering places in Walnut Bottom, stop four, the firehouse, is the other.
"I think the fire company is a big central point of contact," fire chief Daniel Burkett said.
If people don't know how to reach someone, they call the firehouse to ask, he said. They also call with questions pertaining to the township and village residents.
"It's a small village where a lot of people know their neighbors and half the town," Burkett said.
The department isn't as busy as nearby departments like Shippensburg since they don't have businesses that might trigger automatic alarms. They do, however, help Penn Township with its calls, especially with the warehouses being built in the area.
"Our call volume averages between 275 and 300 versus Vigilant Hose is, I'm going to say, 600 plus," he said.
The firehouse is also home to the Lions Club, which meets in its community room and runs bingo there. The fire company stores the medical equipment for the Lions Club program, which loans the equipment out, for free, to people who need it for as long as they need it.
Though the firehouse is rented out for wedding receptions, family reunions and other social events, the big event is the meat raffle that is held on the third Saturday of the month, a type of fundraiser for which Burkett said Walnut Bottom was an early adopter.
The raffle includes a free meal, and Burkett likes to brag about the desserts, including homemade cakes, that are part of every meal held at the firehouse. He said he's been to other events that may or may not have desserts and the cake options are limited.
"Whoever wants to bring cakes in, it's really what you prefer to make. We've got chocolate with peanut butter icing. We got pineapple upside down cake. We got angel food cake," he said. "The people love the variety of the stuff."
As the leader of a volunteer organization, Burkett has seen what time has done for those organizations. Like others around the county, volunteers organizations in Walnut Bottom struggle to find people to help out, especially younger people who can fill the void as current volunteers age.
"It's not just the fire company but every volunteer organization," he said.
Choosing his words carefully, Burkett said the younger generation seems to be more concerned with what they can get out of volunteering with the fire company than with what they can give to it.
Davidson said the women's auxiliary used to spend at least a day baking pies for the fire company carnival, but they, too, are getting older and don't have the younger people to help out. Now, the Mennonite community bakes more than 100 pies for the carnival, Burkett said.
Burkett also points to inflation as a factor in dwindling volunteer numbers.
"At one time, 40 years ago, 50 years ago, a single working person could support a household," Burkett said.
Now, both parents are working and running with their children's school and sports activities. Anyone interested in being an active member is asked to help with fundraisers and firefighters have to put in required training.
"It's a lot to ask," he said.
The future
The conversation echoes the one at Porter's house, and touches on what may be one of the bigger concerns for the community as it looks to its next 100 years. What can be done to keep people active in the community?
Two factors seem to come into play. First, as discussed earlier, is the lack of interest among the younger people of the community, or at least what young people they have.
"I don't know what could be done to get more interest. We don't really have a lot of young guys in town, to begin with," Porter said.
In the past, people traveled to Harrisburg or Enola from Walnut Bottom for jobs. Now, it's jobs that pull the younger generation away from town, Davidson said.
"People don't want to drive that far anymore if they can help it. I don't blame them," Porter said.
The second factor is the shift toward more rental properties.
As the older residents died or moved, Burkett said their properties have become attractive for people to purchase and then use as rentals.
"We have a lot more transient families that are coming and going so we don't know each other like we used to," Hilsinger said.
No longer do residents know the names of every family of every house from one end of town to the other like they did when Porter was a little girl.
The major change in Walnut Bottom, though, was the closing of their local elementary school when Big Spring School District built Oak Flat Elementary.
"All the kids would go to the school. All the parents would go to the PTA meeting. That brought everyone together. That was a major blow to the cohesiveness of the community," Hilsinger said.
Regaining community cohesiveness can be a challenge, but Porter hopes the celebration of the past can spark a brighter future.
"I hope the centennial can bring people together," she said.