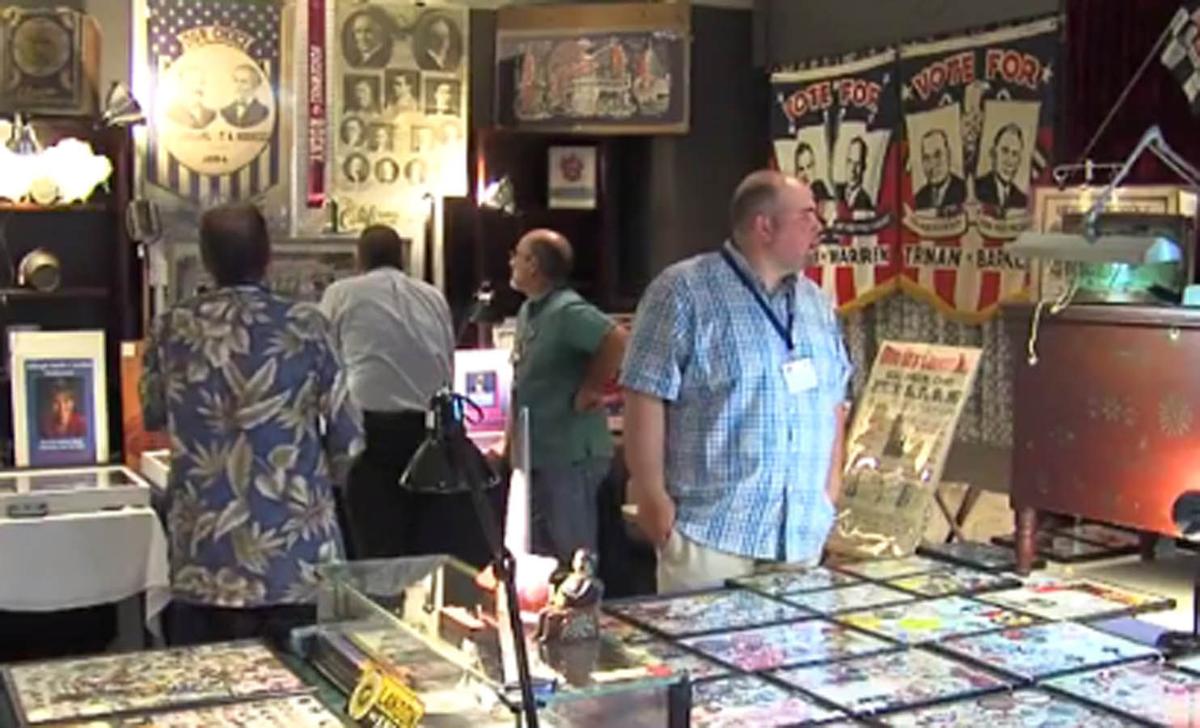 HARRISBURG – The commanders-in-chief will be heartily hailed in Harrisburg this weekend.
"This is Franklin Delano Roosevelt, 1932," said Scott Mussell, holding a license plate with FDR's image next to a frothy mug of beer. "Prohibition is a huge issue. He's gonna repeal it."
It's just one of thousands of items expected this weekend at the American Political Items Collectors National Convention at the Harrisburg Hilton. Many collectors have already arrived and converted their hotel rooms into mini-museums. Saturday and Sunday their stuff will be on display for sale or trade, and for the public to see, in a Hilton ballroom.
The APIC national convention happens every two years. It showcases buttons and busts, banners and flags.
An authentic flag used by Abraham Lincoln will be auctioned off during the event. Honest, it's authentic from Abe's era.
"It's from 1860. They would've used these in torchlight parades to promote his candidacy," explained Mussell, of Springettsbury Township, York County, and one of the conventions co-organizers.
There will be some buying, some selling and some trading, but mostly there will be lots of educating. Each item is like its own page in a history book.
"This tells a lot about the history of our country," said Lon Ellis, a collector from Raleigh, North Carolina. "And about the times, the turmoils, the good, the bad and the ugly."
Ugly like a photo of the Ku Klux Klan, in white hoods, proudly filling the steps of Pennsylvania's Capitol in 1925. It's selling for $350.
"It is part of history, whether you like it or not," Ellis said. "And collectors collect everything, thus the KKK."
Donald Trump is promising to "Make America Great Again" in 2016. But a Ronald Reagan campaign button from 1980 said, "Let's Make America Great Again."
Collectors say an election pitting Trump and Hillary Clinton, which is likely at this point, is a memorabilia maker's mecca.
"There's an abundance of pro and con," said Jack Dixey, a collector from Ohio. "There's so much controversy for both of the candidates there will be a lot of material this year, especially."
The APIC convention is underway and mostly for members until the weekend. On Saturday and Sunday, the show will open its doors to the public.