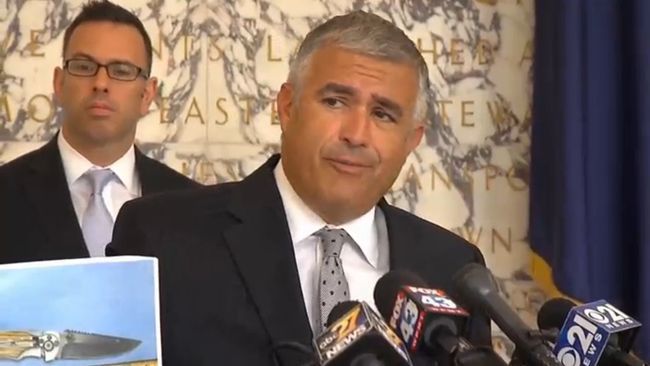 HARRISBURG — Authorities say a 20-year-old man was holding a knife to his mother's throat before a police officer shot him once and killed him inside the bedroom of the family's Harrisburg home Sunday.
Dauphin County District Attorney Ed Marsico said at a news conference Monday that police responding to a child's 911 call found Earl Pinckney holding a knife with a 4-inch blade against the throat of his mother, Kim Thomas.
Thomas is disputing that account, insisting her son didn't have a knife. She says Pinckney, the father of a newborn, was not dangerous.
Marsico says Pinckney didn't comply with police demands to drop the knife before the shooting that occurred around 9 p.m. Sunday.
The unnamed officer is on paid administrative leave while the shooting is being investigated.
Neighbors are calling into question the good relationship police Chief Thomas Carter says his officers have with the community. Residents in that neighborhood say they don't trust Harrisburg police and are afraid to call the cops even if they need help.
"For something like that to happen, it's just a sad situation, that's all," Leonard McDonald said Monday. He lives across the street from Pinckney's home.
"Just imagine how his mom, sisters, family feel," he said.
The two were close; McDonald said Pinckney was a new father, a "very happy father."
"If you knew him, you would feel the same way I feel right now," he said. "If you knew him, he, I mean, all smiles. Every time you'd see him he was smiling."
McDonald said the police account is "totally untrue," that the young man did not have a knife to his mother's throat, that police shot him just 10 or 15 seconds after going inside. He said Pinckney's mother watched the news conference live and was upset with what she heard.
"It just wasn't right," he said. "I could see that from a mile. It was just, you know, it wasn't handled right."
"The community needs to take a deep breath," retired state police Lt. Col. Rick Brown said. "This won't be figured out overnight. There's a lot of work that has to be done."
Brown, who spent more than 29 years on the force and now runs the accountability advocacy group Transparency Matters, is confident in Dauphin County's investigators.
"If there's accountability to be assessed," he said, "they will make the hard call either way."
"The relationship between police and the citizens here," he said, "it might be quiet because too much may not happen in that way, but it's not a good thing."