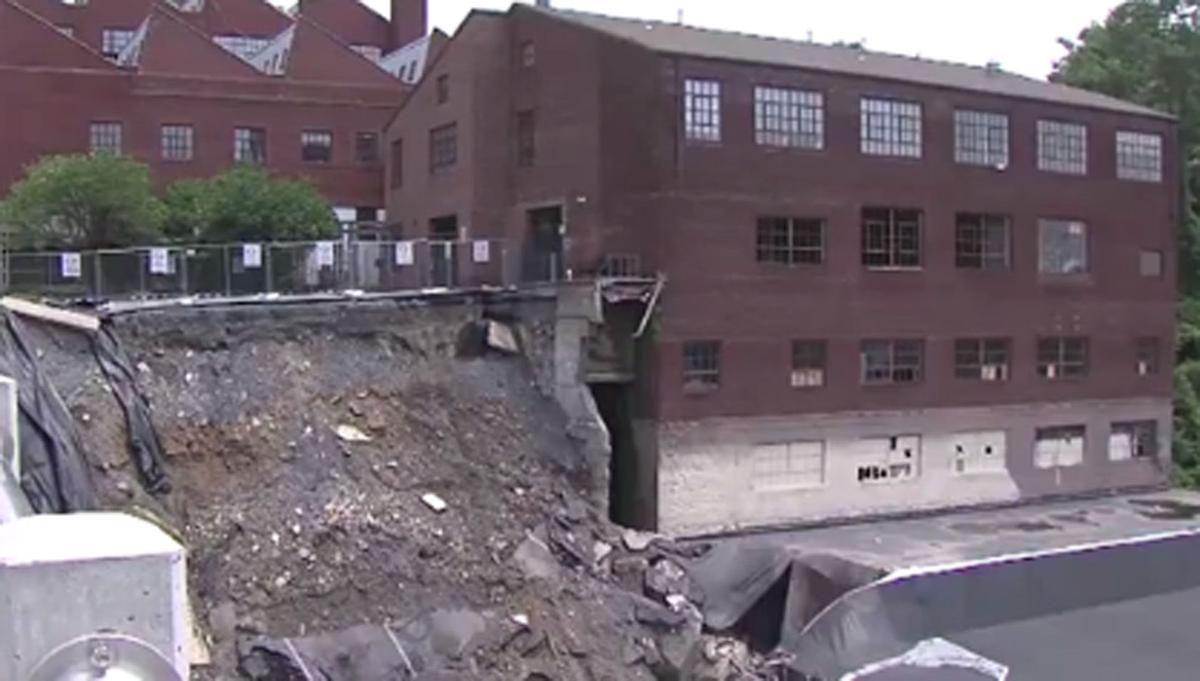 HARRISBURG – The city has condemned the McFarland apartment building and a Cameron Street warehouse damaged by a wall collapse, spokeswoman Joyce Davis said Tuesday.
McFarland must evacuate the 8-unit apartment building as soon as possible because it is considered unsafe. The Codes Bureau says the apartments must remain vacant until an engineer determines the building is completely stable, Davis said.
"I don't even think it hit me yet," said Kameron Ballon, a tenant in the condemned section.
With news of the city's actions emerged a tale of two emotions. For Ballon, it's frustration.
"You're putting me in an uncomfortable situation," he said. "Now, I have to scramble around, take off work, do what I have to do to have somewhere to stay."
"I've been here (since) April," he added. "So what? May, June; two months and now they're already saying I have to leave because the building is condemned."
McFarland also was cited for not complying with a "notice to correct" that was issued after the retaining wall next to the apartment parking lot collapsed May 5. Davis said a further collapse during a rainstorm on Saturday occurred after no action was taken to stabilize the wall.
City codes enforcement surveyed the new damage on Monday. Art Emerick, the city's assistant codes administrator, said the remaining wall is "not stable by any means" and there's a real risk of further collapse.
The city is holding McFarland responsible for the cleanup, saying it must remove all debris that fell on a tire storage facility at Howard Tire and Auto, at 205 S. Cameron St.
"We believe it is their responsibility to work with their insurance company to clean up the debris," Mayor Eric Papenfuse said. "We're basically trying to take the situation, which unfortunately has not moved quick enough, and get it to a safe resolution for all involved."
"I couldn't really be happier, to be honest," said Howard Henry, owner of Howard Tire and Auto.
This is where that second emotion comes in. Henry has waited two months for someone to start cleaning debris off — and out of — his tire shop warehouse.
"They have responsibility of it," he said. "Finally, it's no longer mine, which I just can't tell you how cool that is."
It comes with its own downside: Henry's warehouse is also condemned. He can't access 75 percent of his inventory.
"So, I can't let several days go by," he said. "I mean, it could be thousands and thousands of dollars."
Once the debris is cleaned up, he'll have to figure out what he's going to do with the building.
The city also condemned a vacant storage building at 1127 Mulberry St.
Davis said when work is completed at McFarland, the owners of 1127 Mulberry and 205 S. Cameron St., must determine if they if will repair or demolish their buildings.
McFarland has blamed PennDOT for the initial collapse. An attorney said the wall was compromised by work on the Mulberry Street bridge last year.
A woman who answered the phone at the apartment building on Tuesday declined to comment.