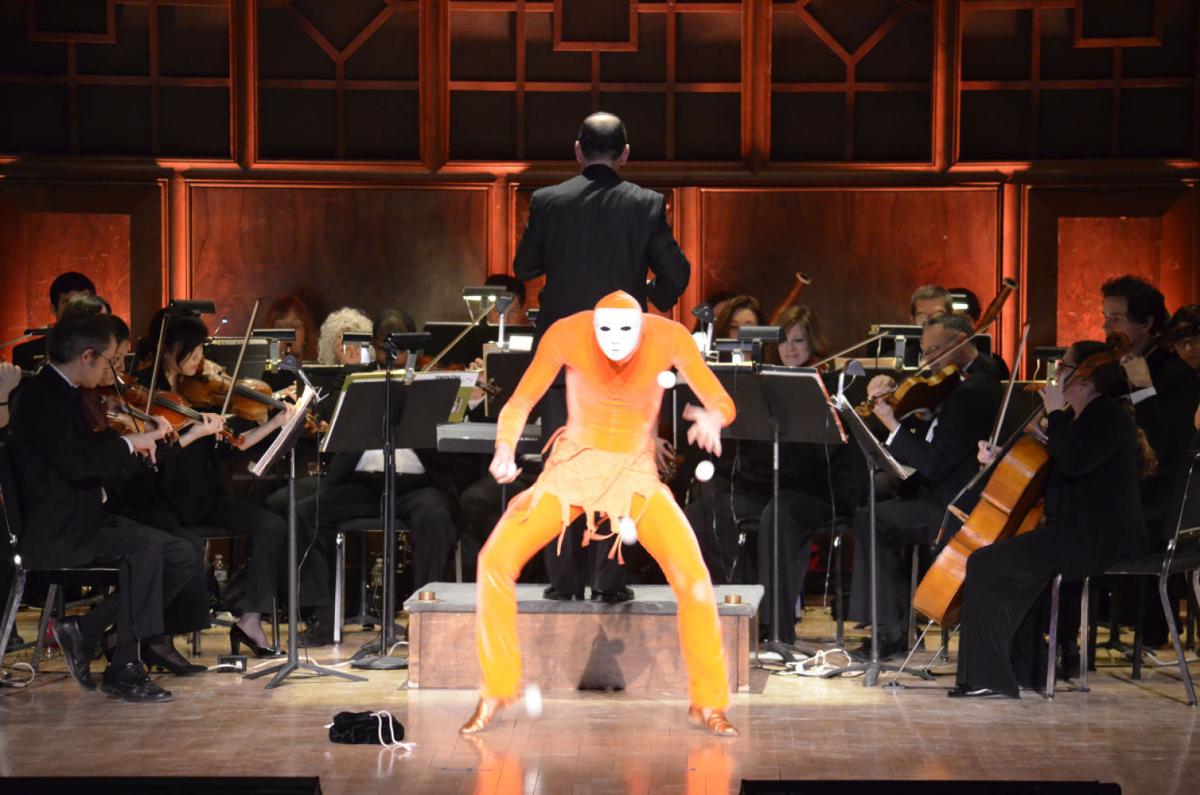 HARRISBURG — Cirque de la Symphonie aerialist Christine Van Loo swirled high above The Forum stage in seemingly effortless fashion on Saturday night, her limbs wrapped by yards of purple silk.
Many feet below the champion American gymnast, Maestro Stuart Malina led the Harrisburg Symphony Orchestra in a gorgeous slice of Johannes Brahms' Symphony No. 3 in F major, composed in 1883.
Van Loo's balletic maneuvers, perfectly choreographed to HSO's expert delivery of Brahms' complex music, presented a stunning marriage of sound and motion. And that was just the opening sortie in a spectacular night of performance art that had a capacity Forum crowd cheering wildly on multiple occasions.
The show, HSO's third Pops program of the 2014-15 season, will be repeated at 3 p.m. today in The Forum, but all tickets have been sold for that performance.
Cirque de la Symphonie, in a manner that is reminiscent of Canada's more famous Cirque du Soleil, presents a spectacular parade of beautifully costumed, incredibly fit athletes performing remarkable — and often risky — feats of physical prowess taken from centuries of circus tradition.
What sets Cirque de la Symphonie apart is its use of history's most beautiful music, which enable it to partner with orchestras such as HSO in ways that are surprisingly fresh and intriguing.
HSO also ventured some unaccompanied offerings, lending the night a Spanish touch with lovely renditions of works by Mexican composer Geronimo Gimenez and Spaniard Manuel de Falla.
Saturday night's program featured lush orchestral pieces by composers such as Rimsky-Korsakov, Leonard Bernstein, Respighi-Rossini, Tchaikovsky, Stravinsky and a piece from the movie "Hook" by the great John Williams. Although this was a Pops concert, the music was drawn from classical masterpieces that could easily be included in one of HSO's Masterworks programs.
Atlanta-based Cirque de la Symphonie has been a runaway success since its inception, selling out concert after concert with the nation's foremost orchestras. This weekend's visit to Harrisburg marks the company's second appearance with HSO, following two sold-out shows in 2013.
The colorful troupe combines world-class acrobats, aerial artists, jugglers, illusionists and contortionists with the world's finest classical music to create physical works of art on stage.
The combination of old-world circus tradition with new-world theatrics is eye opening, but the skills of the performers are not lost in the shuffle. When aerialist Vitalii Buza made a one-handed flyover of the audience to the strains of Williams' "Flight to Neverland," the effect was electric.
Elastic-limbed juggler Vladimir Tsarkov's amazing skills actually seemed enhanced when set against the Overture from Bernstein's "Candide," while Alina Sergeeva did things with hula hoops that defied belief while Malina and HSO hammered out Rimsky-Korsakov's "Danse des Bouffons" from "The Snow Maiden."
Among the highlights of the show's second half was an aerial duet featuring Van Loo and famed Russian aerialist Alexander Streltsov, whose high-flying maneuvers seemed perfectly suited to Tchaikovsky's "Swan Lake."
The artists of Cirque de la Symphonie bring a rare combination of power and artistry to their work, which marries seamlessly to the orchestral soundscapes produced by HSO. There may come a day when this will get old, but that day certainly has not arrived yet.
Be the first to know
Get local news delivered to your inbox!